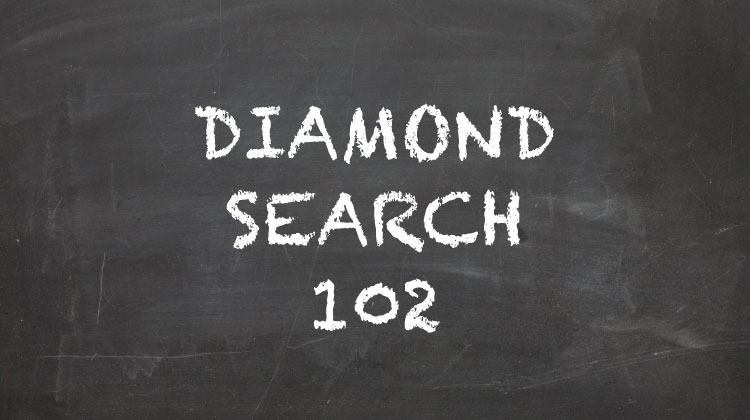 At the beginning of my diamond search, I wasn't prepared for the many decisions that I would end up having to make. Before even considering the 4Cs of diamonds (carat, color, clarity, and cut), I was just trying to figure out what kind of shape my wife liked.
Did she want a round diamond or something more fancy looking?
Fancy Diamonds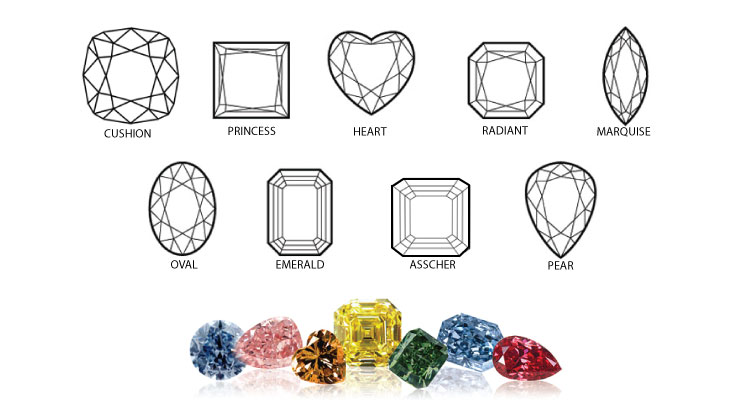 Diamonds come in many fancy shapes and colors.
Shape should be easy, but I find many people mix up shape and cut. When the pros talk about cut, they are referring to the facet structure within the context of a particular shape.
The most popular shape is round, then princess, cushion, and oval. All of these are brilliant-cut, but some of the most beautiful diamonds are step-cut such as the Asscher and emerald cut diamonds. Brilliant-cut diamonds are generally brighter and display smaller flashes of light compared to step-cuts, which are cut to display larger flashes.
Any shape that is not a round diamond is considered a fancy shape and you will find that fancies are generally less expensive than rounds because more of the rough diamond is preserved when cutting these shapes. However, the round brilliant has the most brilliance out of all the brilliant cuts.
The most popular fancy color diamonds are yellow, blue, and pink, with pink being one of the rarest colors. The rarest color is green, but the actual rareness of any particular fancy color diamond depends on how intense its color is. Fancy color diamonds are much more expensive compared to colorless diamonds and their value is determined primarily by the intensity and distribution of its color.
For more information you can read my article on Fancy Color Diamonds.
Whether you're looking for a round or a princess, a colorless or a fancy pink, there are a few things every diamond buyer should think about at the beginning of your diamond search.
What's the purpose?
Is the diamond going to be a forever stone or one that you are likely to upgrade in the future because this should affect where you should be buying your diamond from. I know no one wants to think about the resale value of a diamond when buying an engagement ring but I really encourage you to. Although my wife and I never plan to sell our diamond, I still like to think about it like it's the last $100 in my bank account.
You don't know when you might need it and hopefully you will never need it, but when you do, it's best if it's worth as much as possible.
Also if there's even the slightest chance you may consider upgrading your diamond in the future, then you must take a look at those upgrade/trade-in options. I have had so many people reach out to me for help because trying to sell a diamond yourself can be a nightmare if the stone is not high quality. At the time I purchased my wife's engagement ring, I never really considered an upgrade either but looking back now I would have seriously reconsidered buying a diamond from Blue Nile based on their limited upgrade policy.
If you need to resell a diamond, expect to lose at least 30% of the price you paid regardless of where you bought it from. Expect to lose even more if the diamond is not high quality and you're selling in distress.
Where to buy from?
Avoid the mall unless you want a particular branded diamond ring like a Harry Winston, Tiffany or Cartier. Local jewelry stores provide you with the advantage that you get to see the diamond before you buy it. The problem is that jewelry stores are designed so that most people cannot tell the difference between a good diamond and a great one and if you can tell the difference in a jewelry store, it's because the comparison stone is a dud.
If you want to know whether you're paying a high markup for a diamond, just ask whether the store owns their stones. Rent and inventory costs a lot of money and this ultimately gets passed on to you.
If a seller doesn't own the diamond they are selling you, then they are considered a virtual diamond seller and this includes smaller local stores, dealers, and brokers. Many online sites like Enchanted Diamonds also work in a similar way and due to their size and popularity means they can often access preferred pricing which gets passed onto you. Virtual diamonds will usually have some form of cutting defect that was the reason why a retailer had to reject it.
True wholesalers in the industry specialize in certain types of goods so make sure you know who you're dealing with. If you have the right connections to a wholesaler specializing in high quality goods then it is possible to get a good deal on a diamond. Do bear in mind that high quality diamonds at wholesale usually cannot compare to the highest quality diamonds at retail.
Also, if you are dealing with someone who claims they are a diamond wholesaler, the truth is end-consumers simply do not buy at the wholesale price unless you believe the person you are dealing with is willing to work for nothing. If you are the end-consumer, then the price you pay is the retail price of that diamond.
Buying a diamond from a manufacturer is usually the least expensive way to buy a diamond as an end-consumer and you might get closer to that wholesale price. You can do this usually only at trade fairs. You are offered absolutely no consumer protection and you have to pay in cash. This is by far the riskiest way to buy a diamond and the few times I have helped local clients do this have simply not been worth it to me.
Once you factor in the return policy, trade-in or buy back policies, peace of mind, the experience, and convenience, you will realize that manufacturers and wholesalers are simply not where you want to buy your diamond from.
Ultimately the best place you can buy a diamond is from a reputable online jeweler because they have a low-cost business model, it gives you the greatest selection with access to the highest quality diamonds, and it offers you the best consumer protection both in the short and long-term. Buying something so expensive online can be stressful so I guess that's where I come in. Hopefully having my experience and guidance on your side will help make you more comfortable with buying a diamond online.
How much to spend?
I want to rid your mind of some of the traditions that you might be thinking of following. In America, the diamond industry recommends spending two months salary on a diamond. In Japan, when it was at the peak of its economy, the industry decided that Asian markets should spend three months salary!
Although two or three months salary may seem like a reasonable place to start, you should really just spend what you are comfortable with. It might be true that your partner is expecting you to experience some financial pain to demonstrate your commitment to the relationship, but don't get sucked in to the idea that the amount you spend on a diamond is proportional to how much you value your partner!
A common problem that I encounter are people who come to me with a budget in mind that they have set based on a search from online virtual diamond sellers. Now regardless of whether it is a half carat diamond or a 3 carat diamond that we are talking about, the problem is always that they end up having to choose between carat size and cut quality. What you will find is that if you're looking for a virtual diamond in the 1.4 – 1.6ct or the 1.8 – 2.2ct ranges that the odds are against you in finding a well-cut stone.
For more information you can read my article on how manufacturers force a higher carat diamond.
So don't base your budget on what you think is a good deal for the carat, color, and clarity that you've chosen. First think about how much you would be comfortable spending on the diamond and the color/clarity range that you would consider. I can then help you figure out what carat size you're likely to be able to get for the cut quality you've chosen.
Alternatively, you can decide how big a diamond you want to get and a budget you need to stick to and we'll figure out what color/clarity combination you'll have to be in or whether you need to make some compromises.
Timeframe
Let me tell you right now from personal experience that the more you learn about diamonds, the pickier you will become. Some might say this is dangerous knowledge and that ignorance is bliss. It takes time to learn about diamonds, find the right diamond, get it set, and have it checked out by an expert. Leave yourself enough time to exchange and look for another diamond. Diamonds that are coming from India usually take 5 – 10 business days to ship and any ring customization usually takes 3 weeks.
Many people come find me for help because they have their proposal all planned out but have still not found that perfect diamond. Trust me, you don't want to rush this process and this is something you want to get right the first time. If you need help along the way, whether just to check if your budget or timeframe is realistic, come find me and I'll be happy to point you in the right direction.
In the next few tutorials, I will be going through each of the basic 4Cs the prosumer way so I hope you're ready because you're about to become a diamond prosumer.