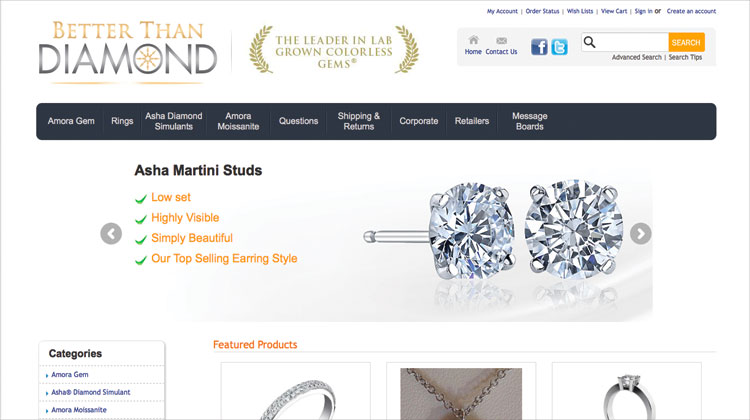 Today I am going to be reviewing the Asha, a lab-grown colorless gemstone from BetterthanDiamond.
Background
BetterthanDiamond (BTD) is a company headquartered in Issaquah, Washington. The 19-year old privately owned company is primarily an online retailer but they've set themselves apart by also conducting research and development of lab-grown gems. In my opinion, BTD has become the leader of lab-grown gems and is on the cutting edge of innovation.
The President of the company Less P. Wright has, through the BetterthanDiamond forums, taken such a transparent approach to the way they do business in a way that I have never seen before in any industry.
BTD's success comes from differentiating their products from diamond by educating consumers that the best-cut lab-grown colorless gems can be every bit as beautiful as diamond. What's more is that throughout their success they have maintained integrity and excellent customer service.
They have even gone as far as taking down some of the internet's most prolific false advertisers in order to build up an industry where consumers can find it safe to purchase lab grown gems.
The brands that they carry include the Amora Enhanced Moissanite, the Asha, the Takara lab-grown diamonds, and most recently the Amora Gem. The Amora Gem has received tremendous praise and reviews from those lucky enough to have seen one in person. I have yet to get my hands on one, but once I do I will definitely make a full review of it. I know many of you are still trying to figure out just how good the Amora Gem is.
Although without question the Amora Gem is the most exciting BTD offering at the moment, my review today will be focused on BTD's current most popular product, the Asha, which is in its 6th and final version.
The Asha
The Asha is a colorless gem that has a Diamond Like Carbon (DLC) coating that is bonded to a core of cubic zirconia.
I was so interested in the Asha V6 that I couldn't resist and ordered a pair of 1ct martini studs for my wife, back when she was my fiancée. We were both super impressed with the Asha earrings and my wife loved them so much that she wore them on our wedding day.
To give you a better appreciation of what you're getting in an Asha V6, I'm going to take you through the R&D involved in each of the previous versions.
Version 1
The Asha was developed in order to remedy the problems faced in a typical cubic zirconia such as color change and becoming cloudy over time. BTD privately funded research that led to the introduction of the Asha V1 in 2001 and backed it with a lifetime warranty against color change and clouding. Thus it can be said that the primary objective of the Asha V1 was to achieve the kind of color that, even under direct sunlight, makes a diamond beautiful.
Version 2
Having successfully achieved the color that was desired, the Asha was already able to fool the majority of consumers. Experienced jewellers however could still rely on the differences in cutting that were expected from diamonds as diamond cutters would add finishing touches to a diamond that they would not on a cubic zirconia.
Thus BTD's efforts began focusing on improving the cutting quality in version 2. The Asha V2 was only a brief offering that could be thought of more as a stepping-stone towards the V3.
Version 3
In version 3, the Asha really started to come into itself when it was given a hearts and arrows cut. As cut is the primary determinate of whether a colorless gem looks dull or sparkly, the Asha V3 Hearts and Arrows (H&A) cut was now really visibly better looking than the majority of typical diamonds available at the time. Asha V3 owners were consistently able to fool jewellers that could not tell whether or not the gems were diamond. The new cut was not without financial cost to BTD as the Asha V3 took 8 times longer to cut than previous versions.
Version 4
After V3, BTD began experimenting with different types of coating in order to enhance to optical properties of the Asha. Version 4's coating process, known as Amorphous Diamond Treatment (ADT) introduced around 33% of diamond bonds that were detectable through Raman spectroscopy on the surface of the Asha. The ADT improves the hardness of the Asha so that it is actually harder than sapphires. Sapphires are commonly known to be one of the hardest gemstones scoring a 9 on the Mohs scale after diamond.
Version 5
Not satisfied with the ADT in version 4, BTD improved version 5's coating with 85% of diamond bonds detectable on the surface. With this improvement, the V5 has a diamond signature under Raman spectroscopy. However please note that the Asha does not test as a diamond under a diamond tester as the differences in thermal conductivity gives the Asha a different heat signature to that of diamond.
An additional benefit of an improved ADT was that the contact angle the Asha makes with water is lower and this helps keep the Asha cleaner longer than diamond as oil and grease is less attracted to the Asha. If you've read my tutorial on how to clean a diamond, you will know that diamonds are actually naturally very attracted to oil and grease.
Version 6
The current version of the Asha, and one which my wife is a proud owner of, is primarily improved due to a new optical layer that goes in between the cubic zirconia core and the ADT coating. The Asha V6 has a refractive index of 2.244 compared to the Asha V5's 2.183. This makes the V6's optical properties that much closer to diamond, which has a refractive index of 2.418.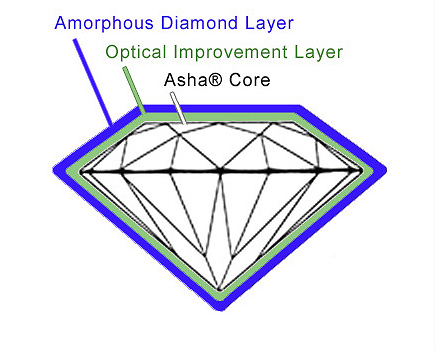 Image courtesy of Less from BetterthanDiamond
The benefit of this new optical layer is increased lustre and sparkle but this comes at a cost as the process introduces some feathering of the cubic zirconia core making the clarity in most version 6 Ashas to be in the VS range compared to the internally flawless V5s. The move to the V6 is indicative that BTD considers light performance to be much more important than clarity, a traditionally highly valued characteristic in natural diamonds.
Version 7?
Less has stated that there are no plans for an Asha V7 because pretty much everything that can be improved has been improved in the V6. The company's R&D efforts for the past couple years have been primarily on developing the Amora Gem, released in 2013 but currently unavailable to the majority of countries due to patent blocks until 2015.
Here are the technical specifications for the gems I will be comparing.
Diamond v Asha
| | | |
| --- | --- | --- |
| | Diamond | Asha |
| Refractive Index | 2.418 | 2.20 – 2.244* |
| Refraction Type | Single | Double |
| Hardness (Mohs) | 10 | 8.5 |
| Dispersion | 0.044 | <0.066 (<CZ) |
| Color | D | F |
| Clarity | VS1 | VS |
| Carat | 1ct | 1ct |
| Diameter | 6.43mm | 6.5mm |
| Cut | H&A | H&A |
*Note Asha is a composite material so has a range for refractive index
Based on the technical specs, I would expect diamond to have better light return and lustre but the Asha will display more fire. With the amorphous diamond coating, the Ashas are going to be fairly scratch resistant, but for earrings, it's not really a big concern anyway.
Everything else seems fairly comparable.
Here is a side-by-side comparison of my wife's engagement diamond against her Asha earrings.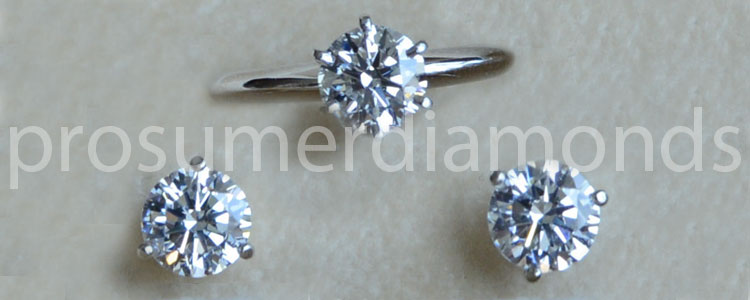 Although the diamond is a D-color and the Ashas are F-color, the body color is not the observable difference in these gems. As you can see, there isn't much difference between the Asha and the diamond. Honestly I was blown away the first time I saw the Asha.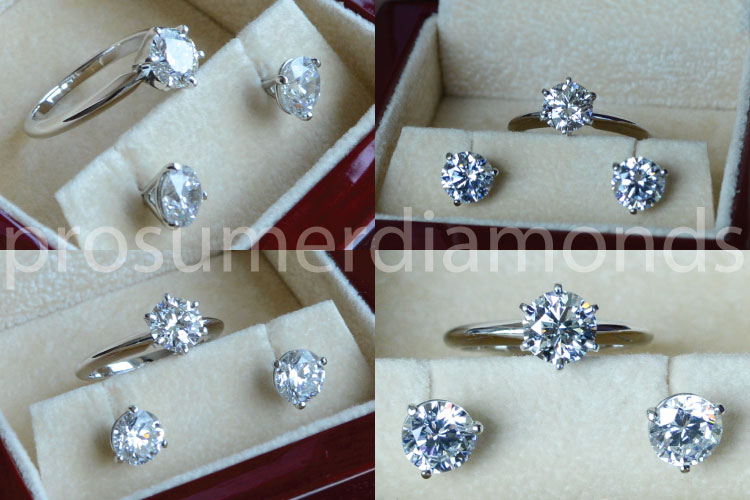 These shots are meant to show you the different character the gems take on at different angles. What I observed was that the Asha is noticeably less crisp than a diamond under diffuse and indirect lighting.
At an angle, the Asha appears to be a bit more 'glassy' than the diamond and it is also less bright on the edges making it look smaller than the diamond despite being physically larger.
This characteristic of diamond that I'm speaking of is often referred to as 'depth'. In my opinion the diamond handles light better displaying a nicer contrast pattern at a greater range of viewing angles.
The difference goes away when more light falls on the diamond. With my naked eyes, I could really not tell the difference in the brightness once I had all the stones pointing towards the window.


These shots are meant to show you that an Asha can be just as a bright as a diamond.

When you get the stones facing up correctly, very few people would be able to tell the difference between an Asha and a diamond. In fact, the Ashas are very similar to the diamond.
The main difference is that the proportions in the Asha have to be different in order to achieve the same look as the diamond. The Asha has a fairly large table facet, but its table reflection is smaller than what would be expected if that same table were on a diamond.
Again, for me the biggest difference is in the contrast at the outer edges of the gems. I have a certain preference for the contrast pattern a diamond displays when it is given an H&A cut and has no painting or digging of the girdle. Face up, the Asha does have edge-to-edge brightness but it just doesn't have the same kind of balance I like seeing.
If you look carefully, you can also see that the double refraction of the Asha causes the table reflection to look round and splayed rather than an octagon like what it should be if it were a true reflection of the table facet.
In terms of fire, the Asha does display noticeably more fire than a diamond. The Asha's fire is what I think sets it apart from it's competition because it is much less disco-bally than what you would expect from a typical CZ.

Unfortunately it's not something that I can capture well with a photo but maybe I will try to capture it on a video one of these days. The only thing I can say is that I find the fire in the Asha less distracting than any of the other CZs I have seen.
Price
To just be compared to natural diamond is a compliment to any lab-grown gem. To compare the Asha head to head against a diamond that I picked and have the results so close is a testament to how good the Asha really is. But the biggest difference between the Asha and the diamond isn't in their light performance; it's in their pricing.
A 1ct FVS1 ideal cut diamond at today's price costs around US$10,000. The equivalent 6.5mm FVS1 Asha costs only US$189. That's less than 2% of the price of diamond.
Buying Experience
Before you decide to buy an Asha, there are just a few things that you should be aware of.
Unlike buying a diamond, an Asha doesn't come with any certification and they don't come with measurements. This is one of the problems with buying an Asha because although they are machine-cut, each one is different and you don't get to be as picky as you can with a diamond.
In terms of presentation, as long as you're not expecting the glamorous packaging that comes with buying a diamond then you won't be disappointed with the wooden lacquer box that BTD offers with Asha jewellery. Just remember that shipping isn't free so you may want to have a few things in your cart to share the shipping costs.
Conclusion
Before I made the decision to purchase the Asha, I researched many different types of lab-grown gems. I found the Asha to be the best diamond simulant out there at the time. For me, it will keep holding that title perhaps until I have a chance to review the Amora Gem.
I know that it is extremely difficult to make a decision on whether it is worth it to pay more money for a diamond-coated CZ when the typical CZ only costs around one US dollar.
All I can say is that in gemstones, a subtle difference can make all the difference between looking like a fake and fooling someone who deals with diamonds every single day. Equally important is to get a setting that you would get for a diamond and BTD has a great offering of settings.
It's fairly easy for me to spot the typical CZ from a distance based on the appearance of its fire and it's even easier when the CZ is in a sterling silver setting. But I would never be able to tell that an Asha in a white gold/platinum setting isn't a diamond unless it's under close inspection.
Mind you, once you factor in the setting, the Asha earrings were not cheap so you should treat them like any other piece of expensive jewellery. My experience with the Asha was very positive and I would recommend the Asha to anyone who is considering a lab-grown gem.
Buying an Asha will probably give you all of the satisfaction of buying a diamond but at a fraction of the price. And even if you have decided to invest in a natural diamond for your e-ring, you should still consider an Asha because it is a great option for those looking for a travel ring, right-hand ring, earrings, or pendant.
---
The
Asha
scores
5
out of 5 stars in this review by
Vincent Chan
---