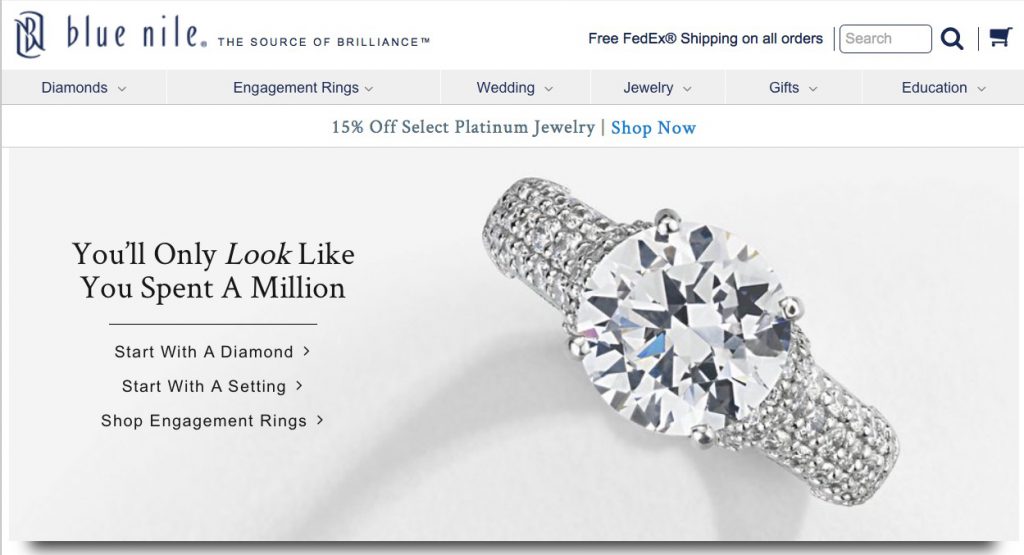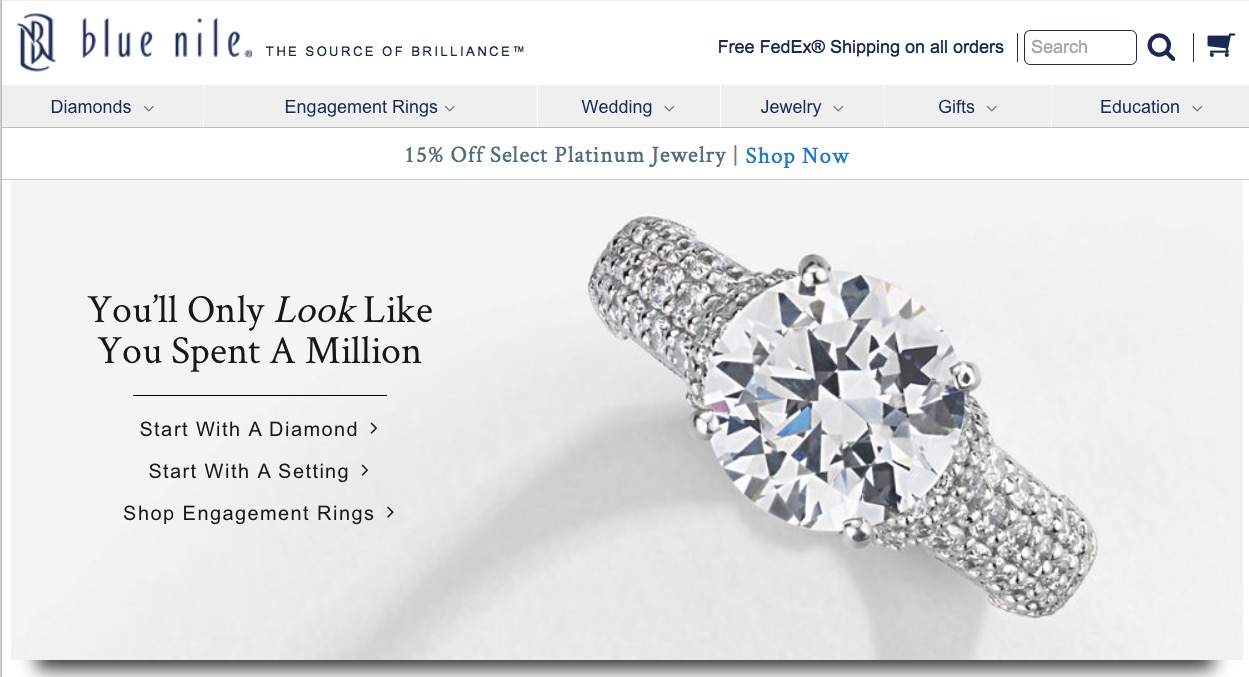 With an 18-year history and annual sales of $480M,  Blue Nile is the largest and most well-known player in the online diamond industry. A few years ago, I bought my own engagement ring from Blue Nile and since then I have worked with hundreds of readers and clients who have also purchased from them. In this in-depth review, I'm going to break down their business model, evaluate the cut quality of the diamonds they offer, and take a closer look at their value adding policies to help you decide whether Blue Nile is right for you.
One of the things at the core of Blue Nile's concept is to transform the customer experience of purchasing a diamond. Buying a diamond at a traditional jewelry store is stressful and you're exposing yourself to salespeople who might not have your best interests at heart. Most people expect to pay less when they buy a diamond online, but the real advantage of buying online is having access to a huge selection of diamonds so you're not only limited to what a salesperson is willing to show you. Blue Nile promises this stress-free buying experience and access to high quality diamonds and designer jewelry without any sales tactics or pressure.
Blue Nile revolutionized the diamond industry when they pioneered the drop-ship business model for diamonds. A drop-shipped diamond ring means that a diamond you purchase will be sent directly from that diamond's manufacturer to the setting supplier who then ships the completed ring to you. This business model eliminates many of the costs of running a traditional jewelry store such as inventory, salaries for salespeople, and renting a physical store.
The downside of a drop-shipping model is that the diamond will doesn't get inspected before it goes to you. Blue Nile recognized the problem of the drop-ship model and since August 2016 have completely phased out drop-shipping . Blue Nile now operates 2 fulfillment centers, one in Seattle and another in Ireland. Every diamond that is purchased will first be brought to these fulfillment centers for inspection by two GIA certified gemologists to verify the diamond is the correct diamond before shipping it out to customers.
Diamond rings shipped within the USA and the EU are set in-house at Blue Nile's fulfillment centers. Diamond Rings that are shipped to other locations will first have the diamond sent to Blue Nile's facilities to be inspected by their gemologists and then shipped to their partner facilities for setting. These partner facilities operate under the same quality assurance standards as Blue Nile's own facilities.
As the largest player in this space, Blue Nile commands the highest margins and has the most leverage with their suppliers so if you find a diamond that is priced much lower than what you can find at Blue Nile, chances are something else is wrong with it. Blue Nile has a no negotiation policy, but sometimes you'll be able to find the exact same diamond listed on a different website listed for a price that is lower than what Blue Nile is selling that same diamond for.
This is where you can take advantage of Blue Nile's price matching policy so that you are essentially guaranteed the lowest price possible for that diamond. A price matching policy allows you to focus on comparing sellers on what really matters such as their selection of diamonds and rings, customer service, value adding policies, and financing options.
In my four years of helping readers and clients buy diamonds on Blue Nile, I have never experienced a customer service related complaint or had a problem with shipping. Customer satisfaction is a top priority at Blue Nile and this has been independently verified by Bizrate.com who has awarded Blue Nile with their Circle of Excellence Platinum Award twelve years in a row. This reward means that they need to achieve 9 out of 10 in seven key customer satisfaction categories.
Cut Quality
Blue Nile offers diamonds that range from GIA Good to GIA Excellent cut diamonds.
Blue Nile Good = GIA Good
Blue Nile Very Good = GIA Very Good
Blue Nile Ideal = GIA Excellent
In addition, Blue Nile offers a range of diamonds that they brand as Blue Nile Signature Diamonds, which is a hand-selected list of diamonds that Blue Nile has chosen that they feel meets a higher standard than a typical GIA excellent cut graded diamond.
I recommend that you limit your search to diamonds in their Ideal and Signature Ideal categories as a bare minimum. Don't worry, you'll still have lots of choice.

You will also find it helpful to put in some additional filters and you can refer to my how to pick a diamond tutorial that will help you get started with your diamond search. If you need help choosing a diamond on Blue Nile you can feel free to send me an email or use my contact form found on my consultation page.
Blue Nile Ideal Diamonds
Blue Nile's Ideal category of diamonds is appropriate for you if you don't mind sacrificing a bit of cut quality and light performance for getting the absolute lowest price on a diamond. You can still find a decent diamond here, but it won't be the best.
There are two things that you absolutely must have in order to buy a diamond online:
A high-resolution face up image of the diamond
A GIA report
Also helpful is a side view image of the diamond. This is critical for fancy shape diamonds in order to evaluate the crown height and pavilion bulging, but it can also be used to evaluate the color of the diamond.
In order to evaluate cut fully so that I can help you determine whether a diamond meets the criteria for a super-ideal hearts and arrows cut diamond, you will also need light performance images such as an idealscope, ASET, and hearts and arrows images of the diamond.
Let's take a look at the information that you will typically get with a Blue Nile Ideal diamond.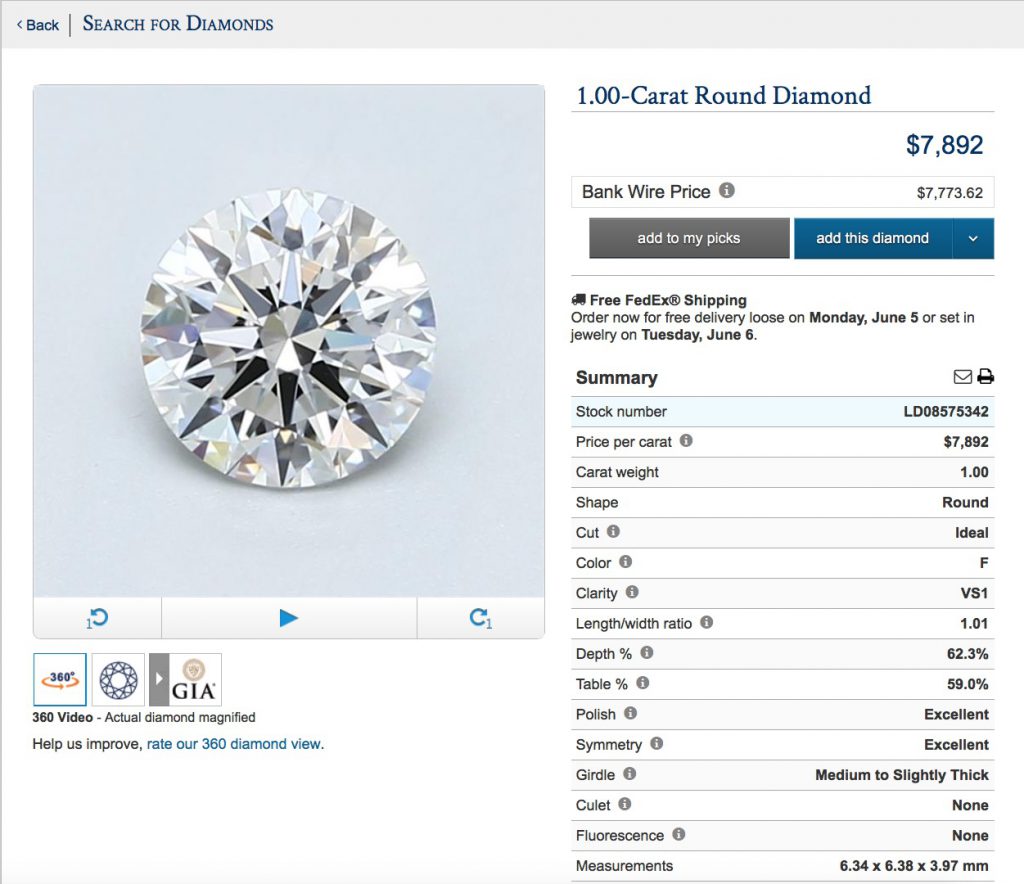 Blue Nile provides a high-resolution 360 video that allows you to evaluate the contrast and clarity of the diamond from face up and you can spin the diamond around to evaluate the color of the diamond because the video is taken against a neutral colored background.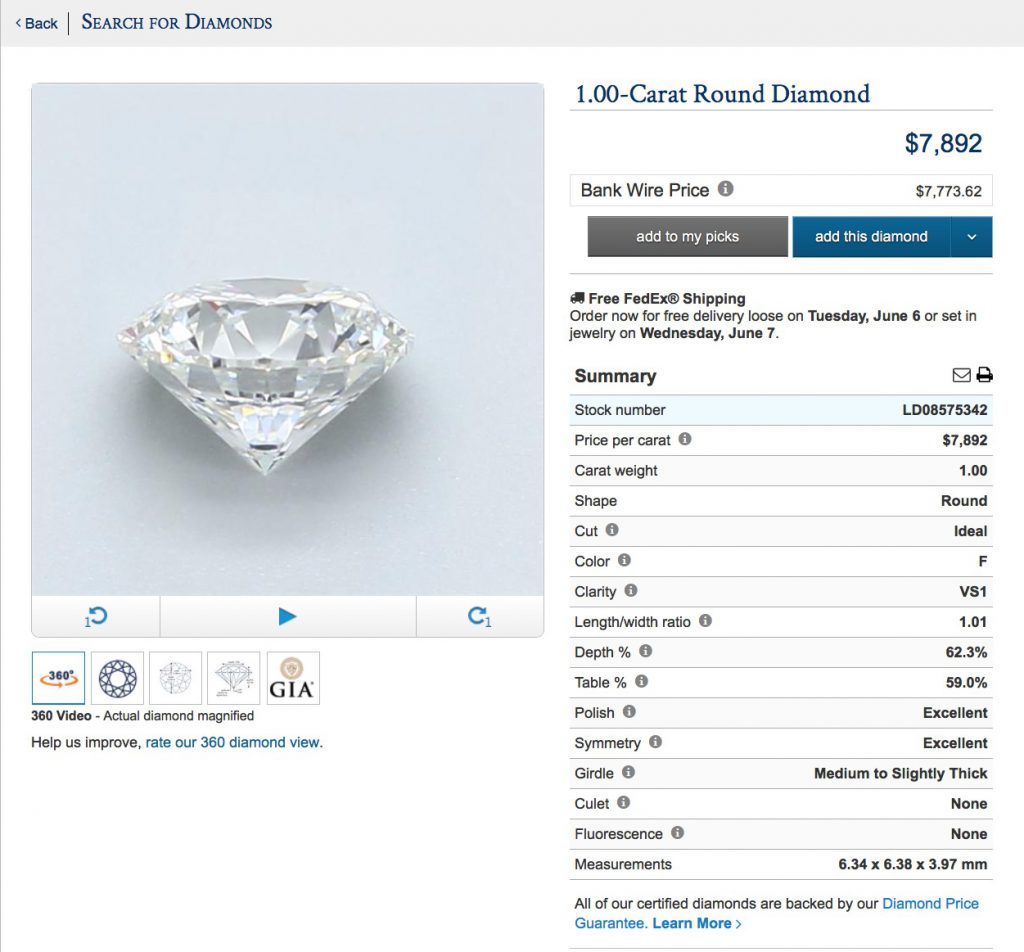 The GIA report tells us important information about the diamond such as the dimensions, 4Cs, the proportions, the inclusion map, and any other comments the grader wanted the reader to know about the diamond. I can use this information to help you calculate how much wasted weight is in a diamond.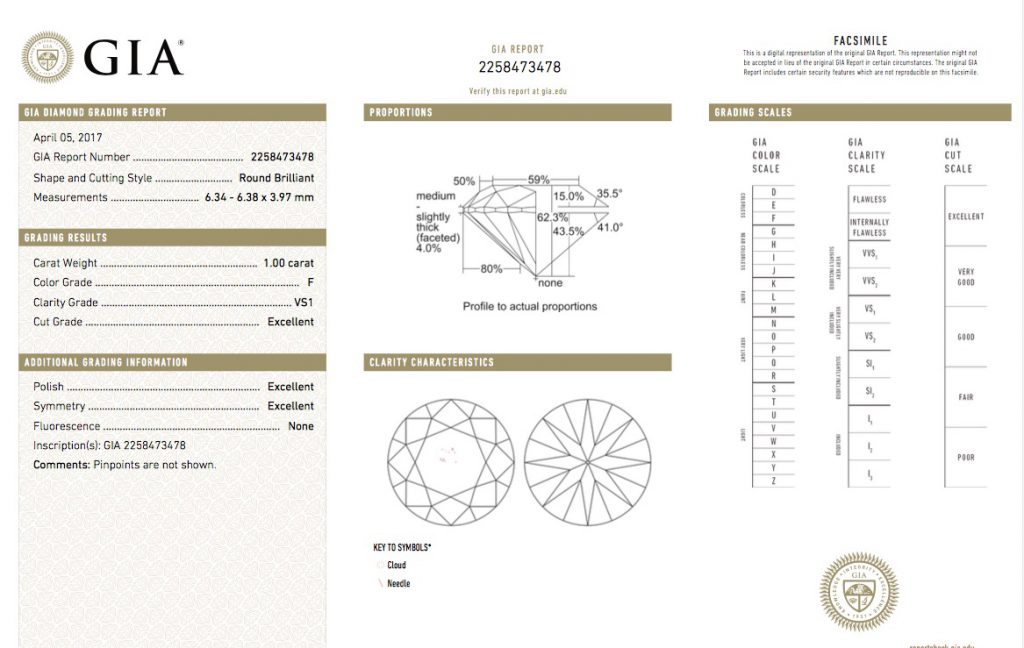 Although Blue Nile goes beyond the two critical pieces of information by providing us with a 360 video, it is not possible to determine how close a Blue Nile Ideal diamond is to a super-ideal cut diamond. Just remember that super-ideal cut diamonds are specially cut so that it is not possible to find a true hearts and arrows diamonds in the Blue Nile Ideal selection.
Blue Nile Signature Ideal
Blue Nile's Signature Round category of diamonds is appropriate for those who want to get the best possible price on a super-ideal cut hearts and arrows diamond. There are many good diamonds in this category but you will have to get really lucky to find one that has the best cut.
In addition to generally being of a higher cut quality, Blue Nile Signature diamonds are I-color and above so that they will face up white, especially when well-cut. All Blue Nile Signature diamonds will also meet Blue Nile's own eye-clean definitions, but they will not necessarily meet my own more conservative and subjective completely eye-clean standard that many readers and clients are looking for.
Blue Nile Signature Diamonds come with all the information Blue Nile Ideal diamonds have and also an additional GCAL report.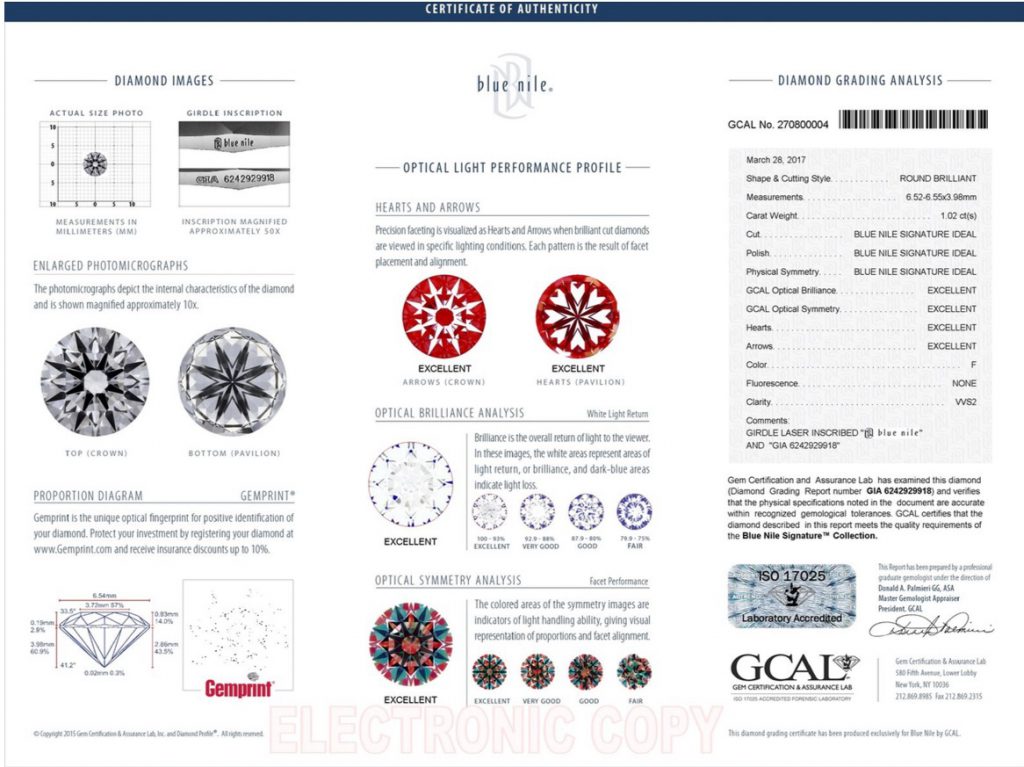 The GCAL report contains a photomicrograph of the diamond from both the top and the bottom view that can be used along with the hearts and arrows images to evaluate the optical symmetry of the diamond.
It also has an optical brilliance analysis which can be used to detect light leakage in the diamond more accurately than in an idealscope. The optical symmetry analysis can be used to identify if there is any painting or digging in the upper girdle facets of the diamond in the same way as an ASET.
Blue Nile Signature diamonds therefore have all the information that you need to fully assess whether a diamond meets the criteria for a super-ideal cut hearts and arrows diamond.
However, as you can see from this random example, there is some light leakage under the table of this diamond that you would not expect from a diamond with ideal light performance. This shows you that not all Blue Nile Signature diamonds are superior in cut and only diamonds that meet the standard for a super-ideal cut diamond deserves a higher premium to be paid.
Blue Nile also offers Signature Diamonds in the princess, cushion hearts and arrows, emerald, and Asscher cuts. For more information, please contact me directly.
Policies and Other Important Information
Blue Nile has a conflict-free policy. They only purchase diamonds from the largest and most respected suppliers who follow the standards established by the Kimberly Process.
Blue Nile offers free shipping and a generous 30-day return policy. Blue Nile may also reimburse you for return shipping at their discretion so make sure you speak with them before shipping a diamond back to them. Do remember that it is your responsibility to fully insure the return package.
Blue Nile offers a 100% store credit on an upgrade. The only caveat is that you have to spend twice the price of your original diamond. Blue Nile does not offer any trade-in or buy-back policy so there are definitely more flexible policies elsewhere.
Blue Nile offers a 1.5% wire discount on purchases over $750. Financing options are available with 12-months interest-free on purchases over $1500 through their Blue Nile Credit Card program.
Blue Nile has a price matching program. The matching diamond must have the exact same specifications at a recognized competitor. You can call 800-0353-0016 with a diamond and Blue Nile will help you identify a matching diamond.
Conclusion
If you plan to own your diamond for a long time, it's important that the company you buy your diamond from is reputable and has a long history. There are many other online sellers that come and go but Blue Nile has proven that it is difficult to compete with them on pricing alone.
With their price matching policy, Blue Nile is my go to source for readers and clients who are looking for the best pricing period. Blue Nile offers their educationalist affiliates a limited number of $100 coupons which are the highest discount codes available. I provide these on a first come first serve basis please contact me if you would like one.
---
Blue Nile scores 4 out of 5 stars in this review by Vincent Chan
---
SaveSave
SaveSave
SaveSave
SaveSave
SaveSave
SaveSave
SaveSave