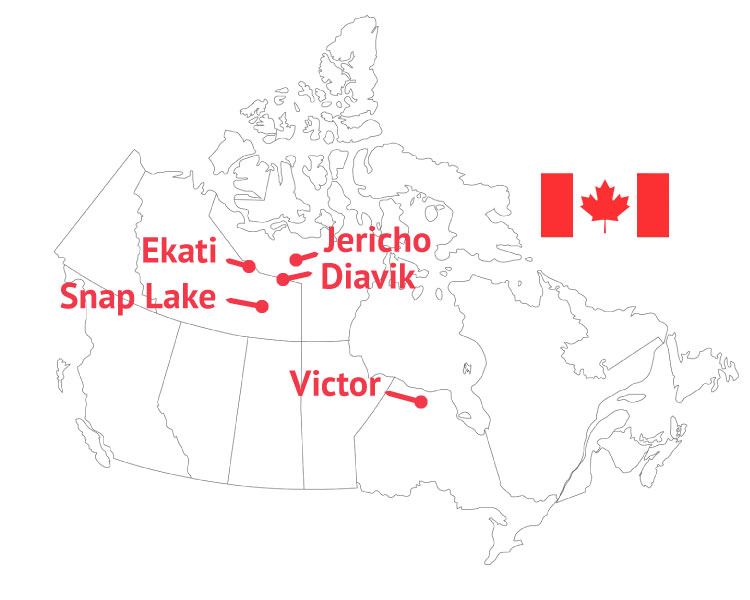 This month's feature article is written to celebrate our move back to Canada. Now that Prosumer Diamonds is a Canadian corporation, I thought it would be a good opportunity to spend a little time to take a look at Canada's diamond mining industry.
Canada accounts for approximately 10% of the world's diamond production by volume and 15% by value. With Canada's abundance of natural resources, Canada's role as a major diamond producing country is bound to increase in the future. But first let me take you on a journey back to when it all began.
History in Brief
The history of diamond mining in Canada can be traced back to 1889 when an American professor, William Hobbs, first theorized that diamonds could be found in glacial deposits. This theory was revolutionary because almost all the diamonds being mined at the time were from kimberlite pipes or alluvial deposits mostly in Africa.
Kimberlite is a type of volcanic rock that rough diamonds are typically found in and alluvial deposits are places where minerals have been transported by rivers. Hobbs proposed that diamonds could also be transported to glacial deposits by moving glaciers via the process called glacial drift.
Diamond prospecting in Canada must have been difficult because it took over six decades after Hobbs' theory was published before De Beers began serious diamond exploration in Canada. It took another 30 years or so before actual diamond mining began but as it turns out, Hobbs was right all along.
Ekati
In November 1991, geologists Charles Fipke and Stewart Blusson discovered 81 small diamonds in the Lac de Gras area of the Northwest Territories approximately 300km northeast of Yellowknife where Ekati is located. However it was only in October 1998 when BHP Billiton finally began production and Ekati became Canada's first diamond mine.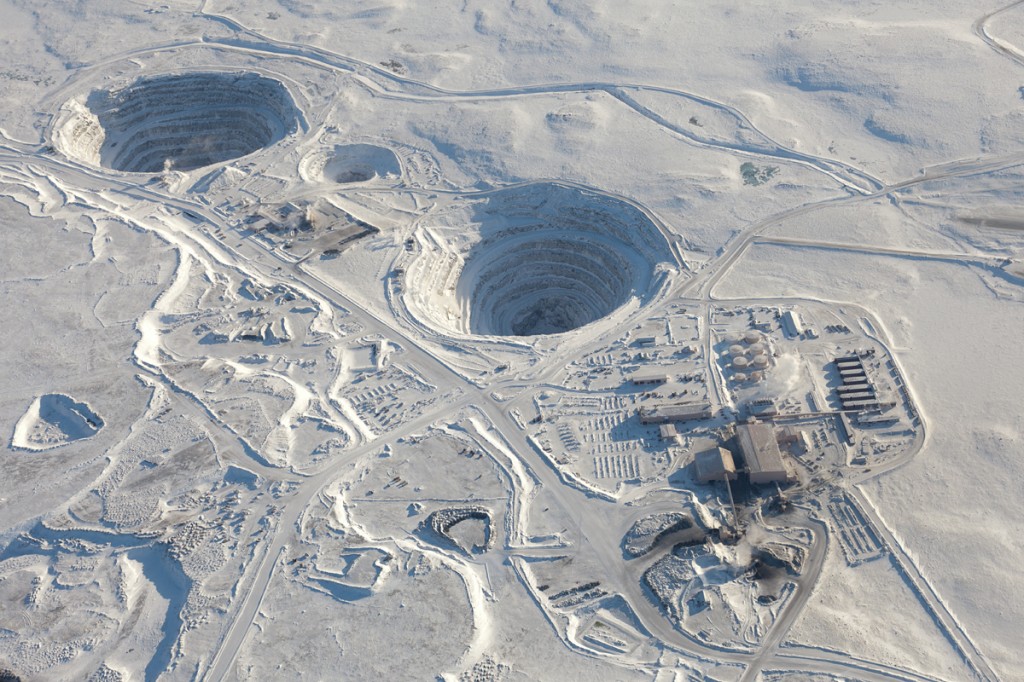 The Ekati Diamond Mine – Photo credit: Jason Pineau (www.jasonpineau.com)
Ekati, which is the aboriginal word for Lac de Gras, also means 'fat lake' and refers to the white stripes of quartz veins that are in abundance in the area which resembles caribou fat. The mine is currently owned and operated by the Dominion Diamond Corporation.
Ekati is known for having a high concentration gem quality diamonds. It has an ore grade of 1.1 cts/tonne with approximate value of $300/ct. The average production varies between 3 to 5 million cts/year and accounts for 3% of the world's supply of diamonds. The largest gem quality diamond to be recovered from Ekati was the 78ct Ekati Spirit.
Diavik
Also located in the Lac de Gras area is the Diavik mine, which is owned and operated by Rio Tinto who first invested in the mining project in 1992. Diamond production began in 2003. Diavik is Canada's largest diamond mine by production volume.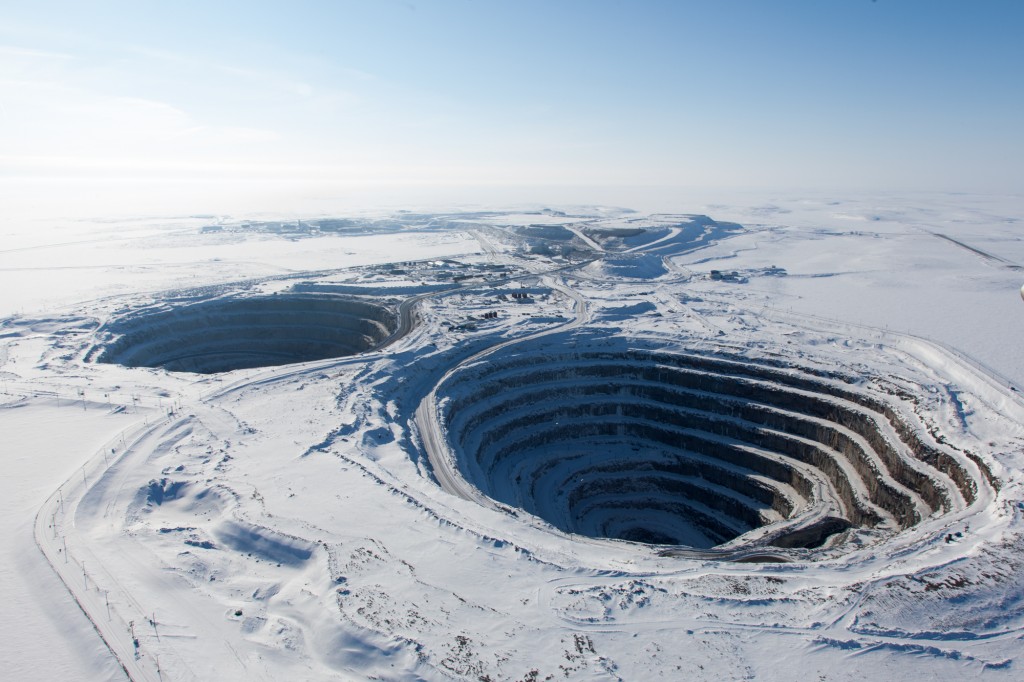 The Diavik Diamond Mine – Photo credit: Jason Pineau (Jason Pineau on Flickr)
Remarkably, a surprisingly large number of the gem quality diamonds found in Diavik are over a carat in size. The ore grade varies from 3.0 – 5.2 cts/tonne with approximate value of $135/ct. The average production varies from 8 to 11 million cts/year and accounts for 6% of the world's supply of diamonds. Earlier this year (2015), a 55.07ct rough diamond was recovered and was crafted by Birks into the North Star diamond.
Snap Lake
The Snap Lake mine is special because it is very rare to find an economic source of kimberlite in the form of a dyke. A dyke is type of geological formation that cuts across the structure of an existing rock. Snap Lake is also Canada's first underground mine which gives it a much smaller footprint than an open-pit operation.
Snap Lake is currently operated by De Beers. The ore grade is 1.46 cts/tonne with approximate value of $180/ct. The average production varies from 1.3 to 1.5 million cts/year and accounts for about 0.6% of the world's supply of diamonds.
(Update: A day after releasing this article, De Beers announced that they are temporarily shutting down operations at Snap Lake effective immediately laying off 434 workers. Source: Rapaport News)
Jericho
Jericho was Nunavut's first diamond mine. The open-pit mine was mined from 2006 to 2008 and has since been dormant.
The Jericho Mine was owned and operated by the Tahera Diamond Corporation, a Canadian diamond exploration, development, and mining company. Tahera faced financial difficulties and eventually had to file for corporate bankruptcy. The mine was purchased by Shear Diamonds who subsequently also defaulted on a debenture agreement owed to the Crown. This resulted in the Crown taking ownership of the Jericho Mine.
Victor
The Victor Mine is Ontario's first diamond mine and is De Beer's second diamond mine in Canada. The open-pit mine covers 15 hectares and is composed of a cluster of 18 kimberlites, 16 of which are suitable for mining.
The Victor Mine began production in 2008 and has a production capacity of 600,000 cts/year, which makes up 0.3% of the world's supply. The grade of the ore in the Victor mine is highly variable but the average is around 0.22 cts/tonne. While the grade of diamonds is low, the value of the diamonds is high at an approximate value of $560/ct.
Other Advanced Mining Projects
There are several other mining projects that have not yet begun production. The Gaucho Kué mining project is led by De Beers. Gaucho is located only 80km away from Snap Lake. The Renard mining project is wholly owned by Stornoway Diamond Corporation and is located in Quebec. The Star and Fort-à-la-Corne mining projects are located in Saskatchewan and are owned by Shore Gold Inc.
Glacial Diamonds
Historically, only 1% of kimberlite discoveries are economic. Glacial deposits have proven to have a much higher rate of economic kimberlites, averaging at around 5% in the Lac de Gras area. This reflects the fact that Canadian diamonds tend to be of a higher quality.
The importance of glacial diamonds has increased due to the exhausting of alluvial deposits in Western and Southern Africa. Alluvial deposits generally also tended to be of a higher quality, as poor quality diamonds would have been destroyed during the transportation process. The theory that transport results in higher quality diamonds has been supported by what has been recovered from glacial deposits.
Ethical Mining
As a result of increasing awareness of diamonds being used to fund civil wars in Africa and the human rights abuses arising from diamond mining operations in Zimbabwe, the number of consumers demanding the ethical sourcing of diamonds has never been higher. Diamonds from Canada are sought after because the companies selling Canadian diamonds adhere to a strict code of conduct from mine to market.
Canadian diamonds are special because they are the only diamonds that are being marketed based on their origin. The success of this marketing has led the government of the Northwest Territories to introduce a certification program for all diamonds that have been mined, cut, and polished in the Northwest Territories.
Mining is a huge challenge in the Northwest Territories of Canada because there are no roads and although there is an airfield, it is not economic to transport supplies and equipment by plane. Instead, an ice highway is maintained for 6-8 weeks from January through to March of each year. The mines have to be fully resupplied for the remainder of the time during this period.
Diamond sorting and cutting facilities were set up in the Northwest Territories to support this initiative. Although the standard of cut is relatively high compared to typical diamonds, I have not yet seen any Canadian diamond being marketed to the super-ideal standards that maximize the light performance and optical symmetry of the diamonds. Canadian diamonds that have been mined, cut, and polished in the Northwest Territories will be able to carry the distinction of the GOVERNMENT CERTIFIED CANADIAN DIAMOND™ trademark.
If you want to look for these diamonds, you will have to look for vendors who carry Eskimo Artic Diamonds, ArticMark Diamonds, Canadamark Diamonds, or Polar Bear Diamonds. Make sure that your diamond has a Diamond Identification Number (DIN) that matches the proof of origin document in the form of a Government Certificate of Authenticity issued by the Government of the Northwest Territories.
The certificate will bear the government seal with the official polar bear insignia. A certificate stating that the diamond meets the Canadian Diamond Code of Conduct is only sufficient for identifying that the diamond was mined in Canada and not exclusively from the Northwest Territories.
Environmental Impact
Despite not being troubled by the issues surrounding conflict diamonds, the mining of diamonds is never entirely 'clean'. Diamond mining involves creating huge open pits in the land that destroy the natural landscape and affect the surrounding environment and natural wildlife.
The diamond mining activities in the Northwest Territories are undoubtedly linked to the impact on the air and water quality in the region. Most alarming is the significant reduction in the sizes of the caribou herds. Diamond mining also has significant social and cultural impact on the region's aboriginal people.
Conclusion
Canada produces some of the best quality diamonds in the world. But apart from the natural component of quality (color, clarity, and fluorescence), diamonds also have a human component of quality (cut). A skilled diamond cutter is needed to unlock the potential beauty and brilliance of a diamond. Today, although you might be able to find Canadian diamonds that have GIA Triple Excellent/AGS0 cut grades if you're lucky, I have not yet seen Canadian diamonds marketed as being super ideal-cut.
Buying a diamond that has been certified by the Government of the Northwest Territories is the only way that you can be sure that a diamond has been ethically mined. These diamonds are sold under the Eskimo Artic Diamonds, ArticMark Diamonds, Canadamark Diamonds, or Polar Bear Diamonds brands. You will be paying a high premium for this distinction but the aboriginal people in the region will see very little of that money.
Provided that the mining companies and the government is vigilant and does everything they can to ensure that the environmental, social, and cutural impact due to diamond mining is minimized, Canada's diamond mining industry has a very brilliant future.
For diamond consultations and quick questions, please contact Vincent Chan.