Today I received a request from Dennis to evaluate 4 diamonds and he's really curious as to what makes the price per carat on these diamonds so different.
Dennis is comfortable spending between $10,000 – $12,000 but he says he can stretch up to $14,000 for that really special diamond.
The Desired Specs
1.25 – 1.35ct
Super-ideal hearts and arrows cut
G-color (or better)
VS2-clarity (or better)
The Current Options
Diamond 1: 1.31 GVS1 James Allen True Hearts
Price: $10,620
Diamond 2: 1.29ct GVS1 Blue Nile Signature Ideal
Price: $12,510
Diamond 3: 1.24ct GVS1 Black by Brian Gavin
Price: $11,949
Diamond 4: 1.3ct FVS2 Whiteflash A Cut Above
Price: $12,728
The Analysis
The 4 diamonds here are not all directly comparable because the Whiteflash ACA and the BGD Black are true super-ideals whereas the JA True Hearts and the BN Signature Ideal will not necessarily meet the same standards.
So the first thing I am going to do is to compare Diamonds 1 and 2 to answer Dennis' question on why Diamond 1 is less expensive than Diamond 2 and whether this is because Diamond 2 is over-priced or whether something is wrong with Diamond 1.
Price is often a good indicator that something is wrong. In this case, Diamond 1 is a JA True Hearts and the cut is really good. It has hearts and arrows optical symmetry but there is a pair of upper girdles that are too steep due to digging so it shows up as bright green on the computer-generated ASET in the lab report.
This is considered a minor defect and this could be sometimes sold as a hearts and arrows diamond by a vendor with less strict cut parameters. However, I would still expect there to be a cut premium on this diamond versus a typical GIA Ex/AGS0. Diamond 1 is actually priced too low in this case and causes a red flag with me. If it isn't the cut then it could be the color or clarity of the diamond which could be the issue.
In this case it is actually both.
Let's start with color.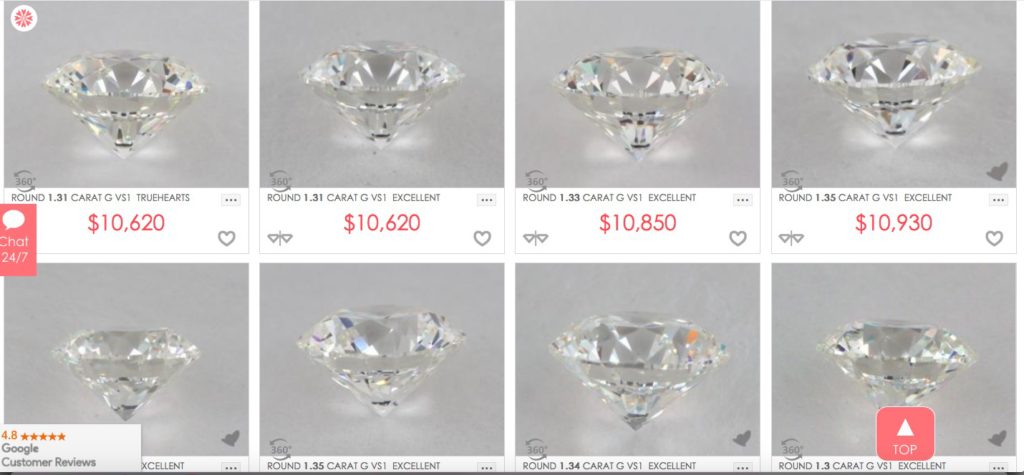 Diamond 1 is the top left diamond and I've used the side-view function on James Allen so quickly compare against a random selection of other G color diamonds. The reason I did this is because I suspected the color was low for its grade, and it's just easier to see when you have a few more diamonds to compare against.
As you can hopefully see, the color in this diamond is among the darker diamonds in this range and the saturation of color is also among the most saturated. To me, this is a low-G and that is one reason why this diamond is discounted. In many cases a manufacture might grade a diamond as an H internally and then the lab gives it a G and then they are able to discount the diamond and still make a bigger profit.
Now let's move on to clarity.
This diamond is an eye-clean VS1, but it doesn't mean that it is a good VS1. If you take a closer look at the 360, you should be able to make out some faint parallel lines all over the diamond and they are especially noticeable when you look at the 10 o'clock arrow and tilt the diamond to the left. This is the internal graining that is noted in the lab report in addition to the cloud that is the grade setting inclusion and additional clouds that could not be drawn on the clarity map.
Small clouds and graining, when internally reflected, can cause some haziness to the diamond that you might not notice at first but it does have an impact on how crisp the diamond looks. This is why this is a low VS1 as well. If you price this diamond as a super-ideal HVS2 it actually makes a lot more sense. Of course being a GVS1 you would pay a bit more for that and being a near super-ideal means you pay a little bit less for that and it all evens out.
Diamond 2
The first thing I notice in this diamond is that the lab report is very old. It is from 2013 and it hasn't been updated. This is a diamond that we can quickly reject, not only because of the certificate but because it doesn't meet the standards of a hearts and arrows diamond.
The major proportions on paper appear fine, but the minor facets especially the stars and the lower girdles is a risky combination at 55% stars/80% lgfs. Whenever you have longer star facets and longer lower girdles together, this can exaggerate the impact on any asymmetry in these facets and negatively impact the contrast pattern of the diamond.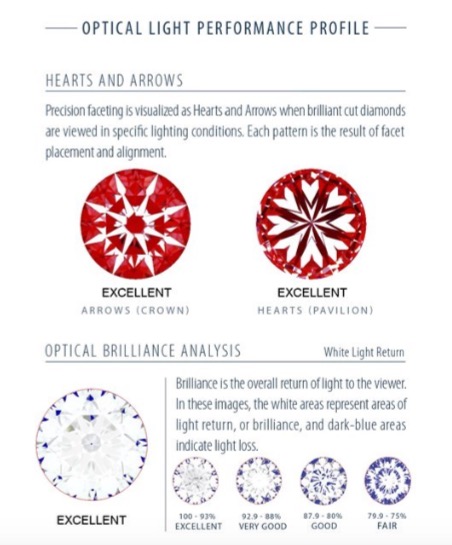 Opening up the GCAL image we can easily see that this is not a hearts and arrows diamond at all and many of the hearts and Vs are distorted. The optical brilliance analysis also reveals unwanted light leakage under the table facet.
Diamond 3
Now we get to the true super-ideal diamonds and with the BGD Blacks, I expect nothing short of cut perfection as these diamonds are cherry picked from cherry picked diamonds. I don't know if it makes my job easier or harder but I guess it just means we have to split more hairs.
If this was the only BGD Black option then it's probably not worth splitting hairs. But it just so happens that there is also this diamond that serves as a great comparison stone that I'll refer to as Diamond 5 and it's list price is $11853 ($96 less than Diamond 3).
Here's the link to Diamond 3 again.
1.24ct GVS1 Black by Brian Gavin
Both of these diamonds actually have excellent hearts and arrows. However, if you take a look at Diamond 3's hearts image, at the 7 o'clock position, the V is actually slightly longer on one side than the other. If you look closely at Diamond 5's H&A image, you'll find that not all of the Vs are perfect either, but it's not quite as noticeable.
A more significant difference is that Diamond 3 has a 40.9° pavilion angle whereas Diamond 5 has a shallower and more ideal 40.8° pavilion angle. With Diamond 5's crown angle also slightly shallower you can expect Diamond 5 to be brighter.
Diamond 3 does have the more ideal girdle thickness and this gives it the better total depth. I've calculated Diamond 3's weight ratio to be 1.044 versus Diamond 5 has a weight ratio of 1.053. Both are within an acceptable range, but this means that Diamond 3 has a better spread.
The ASET on both diamonds are perfect, and actually Diamond 3 is a rare one with the proportions just right so that face up the table reflection is actually mostly red. Whether the table reflection is red or green really doesn't matter because the table reflection is returning light that is borderline red/green on an ASET. Whether it is red or green just depends on the ASET scope design and there's not practical implication.
Diamond 4
Diamond 4 is also cut with a 40.9° pavilion angle. It does have a better crown angle to balance out the steep pavilion so expect this diamond to be brighter than the 2 BGDs. What's interesting is that it manages to do this and a the same time it has a higher crown too so you get both more fire and brightness.
You would expect there to be some trade-off for all that goodness so what's the weight ratio? I calculated it to be 1.053 which is the same as Diamond 5. This is great because it looks like you're not really giving up much of anything for a brighter more fiery diamond.
What are the negatives?
This diamond is almost perfect and there is nothing wrong with the hearts image at all. The only thing I can point out is on the ASET there is a pair of slightly painted upper girdles between the 5 and 6 o'clock position. There's basically negligible impact on light performance and this is common even among the best cut diamonds.
Recommendation
It's clear that in this case Dennis has his choice of creme of the crop diamonds and has the luxury not many people have of splitting hairs between super-ideal diamonds. It really comes down to a difficult choice between diamonds 3, 4, and 5.
Comparing the severity of the flaws in super-ideal stones is difficult and I would be happy to recommend any of these stones. If maximizing brightness and fire is more important than face up optical symmetry, then I would recommend Diamond 4 from Whiteflash. If optical symmetry is more important to you than that tiny bit of light performance, then I would go with Diamond 3 from BGD.
I know this is a tough one but and I'm dying to know what you make of all of this! We're definitely well into the hair-splitting territory though and you can be rest assured that any of these 3 diamonds represent the top 1% of ideal cut diamonds out there.
If you guys reading this want to weigh in on these options please leave a comment because I'm sure your opinions will be very appreciated!