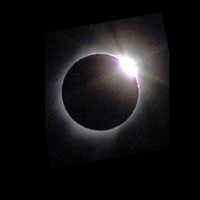 Today was a historic day for Americans and I have to say that I was super jealous of everyone who got to experience today's solar eclipse, especially those who got to see it in totality. Even sitting at home, watching on TV experiencing it vicariously, I got the chills and I immediately messaged my wife to start making plans for 2024 when the solar eclipse is going to pass through Toronto.
What really amazed me was the moment of darkness, the calm and peace that came with it while everyone just stopped everything they were doing to take in what they were seeing. Then followed something that surprised me, I saw a picture of what looked like a diamond ring! I heard there were many people out there celebrating, even popping the question and getting married so to all you lucky couples out there where today meant extra special I just want to say congratulations!
Certainly the Sun, the Moon, the Earth, and your hearts were in alignment today.
Did you get a chance to see the Eclipse? I'd love to hear your stories!
SaveSave