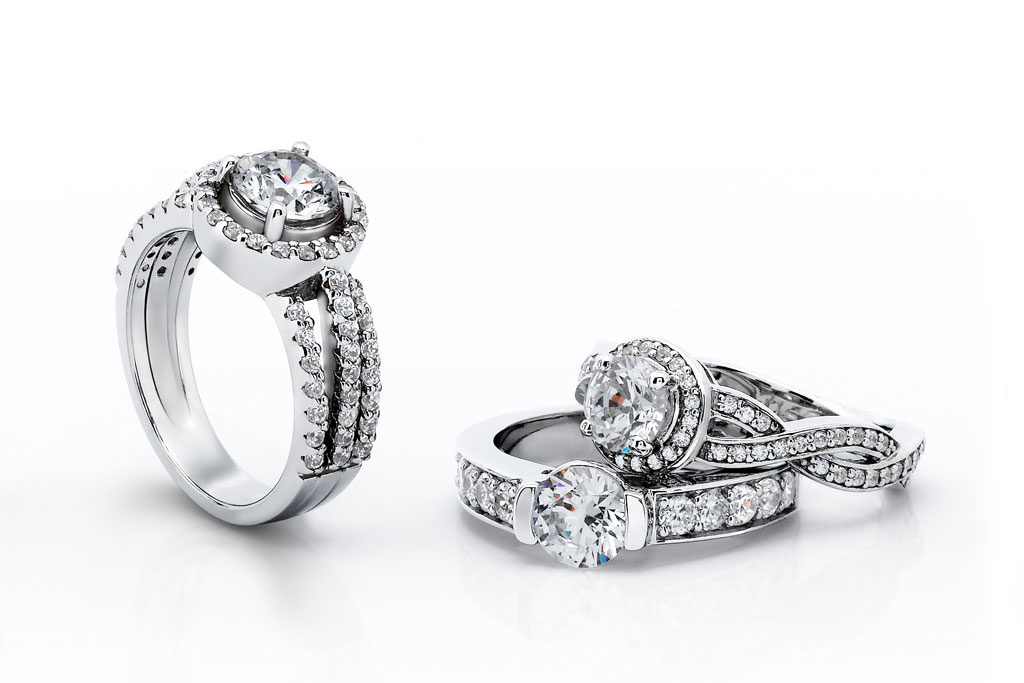 Pavé (pah-veh) is a type of jewelry setting where very small 'melee' diamonds are set very close to each other, as if they are paving or cobble stones. Micro-pavé specifically refers to a type of pavé that can only be done under magnification and is distinguished by the use of melee diamonds that are 0.005ct or smaller.
Micro-pavé settings are an extremely popular choice for engagement ring settings, but every mirco-pavé ring comes with a durability concern. The issue is that melee diamonds are susceptible to falling out of pavé shanks and nobody wants to look down at their ring and realize that they've just lost a diamond. To help you avoid this problem, this article will explore the technical aspects of different micro-pavé styles with a particular focus on the durability of pavé shanks in diamond rings.
Before we begin, I want to make it clear that I only recommend pavé where the prongs (known as beads) are hand-made and not pre-casted. This doesn't necessarily have to mean that the entire ring needs to be hand-fabricated. For example, a pavé ring can be made with the 'cups' the melee diamonds sit in done as part of the CAD-casting process as long as the pavé beads are added by hand afterwards.
Why this distinction matters is because pre-casted pavé bead (a tiny prong) are of a different quality to hand-fabricated pavé bead. I interviewed several jewelers for this article to find out more about their pavé work.
Wink Jones at High Performance Diamonds said that while the cups are usually cast as part of the mold, his pavé beads are always hand-fabricated.
Brian Gavin at Brian Gavin Diamonds has a broader range of products available at varying price points that he can manufacture in his workshop. From complete hand fabrication, which means burring out the cups by hand and then pulling the beads by hand (like how Victor Canera would do it in a hand-forged setting) to doing a complete CAD/CAST including the pre-casted pavé bead. Brian is also able to combine production methods for projects that are suited for it, and this includes casting the cups and hand pulling the beads (like how it's done at High Performance Diamonds).
It's best when you're talking to your jeweler to make sure you know what type of pavé you are getting.
Bright Cut Pavé
There are two umbrella categories for micro-pavé. Bright cut is where the melee diamonds sit in a channel on a flat surface and the diamonds are protected by channel walls that frame them.
Bright cut pavé is most typically seen in antique and vintage designs, especially from the art deco period. It is distinctive and when done right is very durable, as the many surviving antique jewelry pieces with bright cut pavé can attest. Plus, unlike other styles of pavé, the walls allow milgrain to be applied to it.
Melee diamonds in bright cut are secured with either two or four beads per stone. If you are working with a good bench (which for pavé you should always work with the best you can afford) then I'd recommend going with four beads if the jeweler can execute the look you want with it, but even two beads is durable enough with bright cut.
Modern Pavé
The other category, which I will refer to as modern pavé, is where scalloped cups are carved out of the metal and this allows more of the diamond to be exposed. While researching this article I discovered that there are lots of different names being used for modern pavé so you might find it being referred to as 'French style' or 'U-cut' depending on who you're talking to.
Modern pavé is characterized by not having the channel walls that a bright cut pavé has. This gives modern pavé a distinctive look where it appears as if the diamonds are floating above the ring, with only a small amount of metal seen from the top down. Since there is no channel wall, modern pavé can accommodate larger melee stones than bright cut pavé when using the same size piece of metal and the diamond will be nearly the full width of the piece.
Again, there are many terms and sub-styles that fall under the modern pavé umbrella category so whether your jeweler calls it a U-cut, V-cut, Mushroom, or French style, doesn't really matter and as far as I can tell every bench uses different terminology.
Modern pavé is created by taking a piece of metal and using a burring tool to carve out v or u-shape scalloped grooves into the metal into which each diamond sits. As a reminder these are called 'cups'. The cups can be cut shallow or deep and you can see the depth of these cups by looking at the profile of the ring.
Shallow groove styles mean less metal needs to be dug out from the sides of the stone setting and this style will produce a more durable ring because more of the stones are covered in metal. Deeper grooves leave more of the tiny diamonds exposed but will mean less metal, creating potential instability. Modern pavé can also be set side-by-side in rows right next to one another, to resemble a sequence fabric or a honeycomb.
The number of prongs that hold each stone in modern pavé can vary quite a bit, but most have four prongs dedicated to each stone. I have seen a two-shared-prong style, which I will not ever recommend.
I also own one band that has 6 tiny beads dedicated to each tiny stone. Now, the band that uses 6 beads is, frankly, ugly under magnification, but to the naked eye it's a beautiful piece and is easily my most durable piece. Unlike all my other pavé pieces, I wear it 24/7 and have never had a stone so much as think of wiggling.
Choose the Right Bench
Before making your selection, you will want to ask your jeweler to show you highly magnified images of any pavé style that they are proposing for your project, verify how many beads will be on each stone and whether they will be dedicated or shared beads. If they can't give you a satisfactory answer – don't use them. Any bench that routinely does pavé should be able to answer these questions without a problem.
Additionally, don't settle for a jeweler telling you the style is 'U-cut' or 'French' or whatever term they use without images or further input. There is simply no industry standard on what these terms mean and every jeweler has a different interpretation. Why? Because jewelry making is not a standardized industry where everyone goes to the same schools and studies a set curriculum.
Master jewelers are made through apprenticing, whether formally or informally, they spend years of training with their masters working on increasingly difficult projects until they reach their own master status. Typically a jeweler will learn a technique from his master without knowledge or care for how another jeweler might use a different technique to achieve a similar result.
So even if the high-level task is the same, like using a bur to create the cups that pavé melee sit in, how a jeweler moves their hands and their fingers to form those cups will influence the shape of the divot and the end result will differ from one master to the next.
Also, jewelry making is an international and an old art. The US and Canada are relatively 'new' countries in comparison to much of the old world. In North America, we are nations of immigrants and jewelers who come here from different parts of the world will use different words to describe the same thing and this also gets passed down from one generation of jewelers to the next.
Bear this in mind if you want a specific look. To prevent miscommunication, send the bench you're working with detailed images of what you have in mind and then ask them to see their version of that look to make sure it is what you want. If you need you can contact us and we can help, but please understand that there will always be some variation when it comes to hand-made pavé.
Durability of Bright Cut vs Modern Pavé
From an engineering standpoint, given the lack of the sidewall, modern pavé styles will be less durable than bright cut styles. Instead of the diamonds sitting in a protective channel that keeps them from being dinged and jostled, the diamonds are floating on the surface and held onto only by tiny beads with their girdles and pavilions exposed.
In addition, by cutting out a row of cups in the metal that go from edge-to-edge, you are making the metal weaker so the metal choice in pavé is important. White gold is harder than platinum but platinum is stronger. If you are going for a 'white' metal pavé setting, spring for platinum, especially if you are going for modern pavé styles.
Now that you know all about how pavé is made, you should be able to understand why pavé can often be difficult and even impossible to re-size. Stretch or compress the ring and the cups will deform, pulling the small melee diamonds away from their tiny beads/prongs.
The more pavé you have on a shank, the more stones you have that are waiting to pop free. This is why I recommend pavé styles where the melee diamonds cover a maximum of 2/3s of the shank. In fact, I have a strong preference for having pavé extend just past the halfway mark of a shank. This is because the solid metal part of the ring makes re-sizing easier, but it also keeps the diamonds to the top of the ring where they will take less damage from you grabbing items or dinging it against doorknobs, steering wheels, or a hundred other things you don't even think about.
Wearing diamonds on the bottom of your finger, in general, is asking for chipping and cracking; but with micro-pavé it is also a wonderful way to knock stones completely free. It's not one single hit that kills the pavé. It's those hundreds of small ones, every day you wear it, or even while you're asleep. I've done this myself, I used to sleep with my pavé halo ring, and then in my sleep I hit my ring at just the right angle against the headboard and cracked a diamond completely.
With that in mind, you can understand why wrapping a bunch of pavé all around your finger isn't something I'd recommend, but if you are going to do it make sure it's low to your finger and well-protected. It's also important to remember that even the highest quality modern style pavé shank/ring can lose the occasional stone.
But a much less expensive quote can mean the jeweler intends on using less metal which means a thinner shank and less metal around a diamond on top of poorer craftsmanship, which together means a much higher chance that you will lose diamonds.
Conclusion
Modern pavé is a luxury item much like an Italian sports car. It's not a workhorse like a Toyota that can be abused on your daily commute, which in jewelry would be like the all-metal solitaire. Wearing a modern pavé ring 24/7 is not recommended.
If you or your intended wants a ring covered in modern pavé, it's important to ensure that the wearer understands the delicacy of their ring, and to make sure that they take proper care of it. Try to choose a style of ring that will work with the lifestyle of the wearer.
If the wearer loves the look of bright cut and modern pavé equally, my recommendation is that you chose bright-cut pavé. There is a reason that so many antique rings have intact bright cut pavé after decades of wear. It is beautifully durable and enduringly classic.
But, if you must have a modern style, be reasonable and remember that this is not a sprint. This is a long-distance event and you want your ring to pass the test of time. Stick to shanks that are at the minimum 1.8 – 2.0mm in all dimensions and go for platinum if you can.
Most importantly, go for shallower cup styles instead of the more extreme deep cups that leave your melee stones largely exposed. That way the shank will have enough metal to keep your tiny diamonds safe and secure.
SaveSave
SaveSave
SaveSave
SaveSave