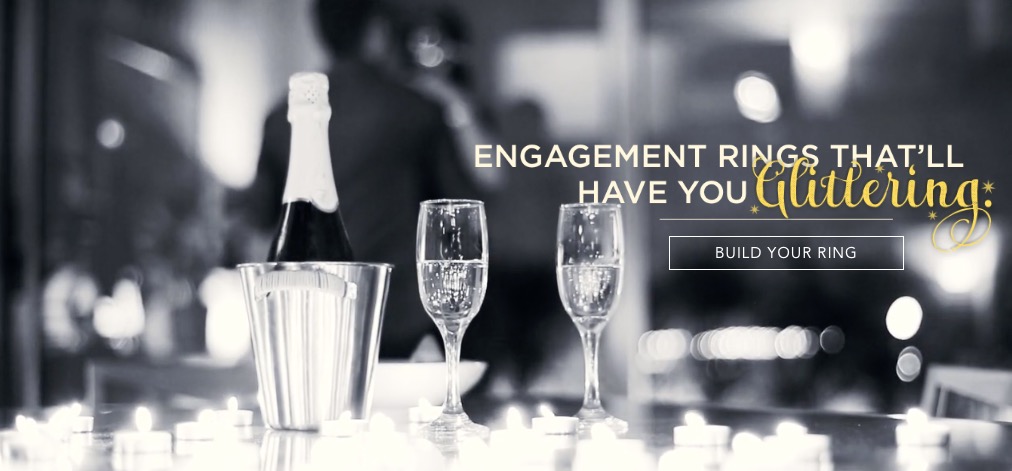 Enchanted Diamonds is the New York City online diamond broker.
Before it was commonplace to purchase a diamond online, New York City was the place where you would want to go if you wanted access to the highest quality diamond jewelry. These days, if you make the trip down to the diamond district on 47th street you're more likely to just find access to some overpriced diamonds.
Enchanted Diamonds takes the traditional New York City experience and puts a modern spin to it. All of Enchanted Diamonds' rings and earrings are made in NYC. Every piece is inspected before it leaves their office and they're confident enough to offer a lifetime warranty on all of their settings.
In a city where appearances matter, Enchanted Diamond targets those consumers who are looking to get the best bang for their buck. Their business model is extremely lean and they operate on the thinnest of margins while focusing on the things that matter like quality, pricing, customer service, and providing you with the tools to make an informed decision.
What sets Enchanted Diamonds apart from other online vendors is their use of technology. They are the only diamond company that scores the diamonds they sell using algorithms to filter out the diamonds that are known to be bad. I have a love-hate relationship with their Enchanted Diamonds Cut Score, but it's a great example of their innovation.
Enchanted Diamonds' website is one of the easiest to use and at the same time the most advanced so the prosumers out there will definitely appreciate some of the unique features. For example, Enchanted Diamonds is the only vendor that allows searching by crown angle and pavilion angle, as well as allowing you to search only for diamonds that have certain light performance images (idealscope, ASET, and hearts and arrows).
Enchanted Diamonds Master Cut and the Enchanted Diamonds Cut Score
The Enchanted Diamonds Cut Score was developed to filter out diamonds that had known cut issues. Like all cut calculators, the Enchanted Diamonds Cut Score must be treated as a rejection tool and not to be used for selection. The reason I have mixed feelings about this cut score is that it's so misleading for the average consumer.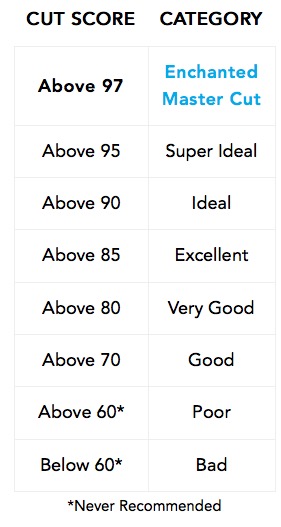 In all my years of being a diamond consultant, I have never needed to consider a round diamond that had a cut score lower than 97 and certainly Enchanted Diamond's use of the terms ideal and super-ideal are not aligned with my own definitions. What is useful though is that diamonds that have a cut score of 100 generally will have proportions that fall within my recommend range of proportions, which makes this a useful filter to use – again for rejection, not selection.
On rare occasions I find it appropriate to recommend a diamond that receives a 97.2 cut score because all cut calculators are susceptible to rejecting diamonds that are good and accepting diamonds that are bad. The Enchanted Diamonds Cut Score is no different.
A recent change is Master Cut. Enchanted Diamonds reserves this label for diamonds that score above a 97 cut score and they have a "master cut" button on top of the search filter that is actually quite useful for those looking for fancy shape diamonds like cushions, ovals, and pears. When you switch on the master cut filter, Enchanted Diamonds' search algorithms will filter out diamonds that are known to be crushed-ice (in the case of cushions), and those with distracting bow ties (in the case of ovals and pears).
Diamond Cut Quality
Enchanted Diamonds has only a few suppliers who commit to providing them with diamonds that have a full set of diamond light performance images as well as 360 video. These are the diamonds you should be choosing from because not only is this information useful for me to help you evaluate cut quality, these are going to be the suppliers that they have the best relationship with and for which they can obtain the best pricing for.
As a proxy for determining how many different suppliers they use, my old trick that I shared with you in my first review of Enchanted Diamonds back in 2014 is still useful today – that is, each supplier has their own type of image. At the time of writing this, I counted approximately 8 different types of images. Why this trick is useful is because it allows us to identify which supplier provides the most reliable information.
Even though Enchanted Diamonds' suppliers are likely to be constantly evolving you should still be able to make use of the concept behind this trick. So let me give you some examples.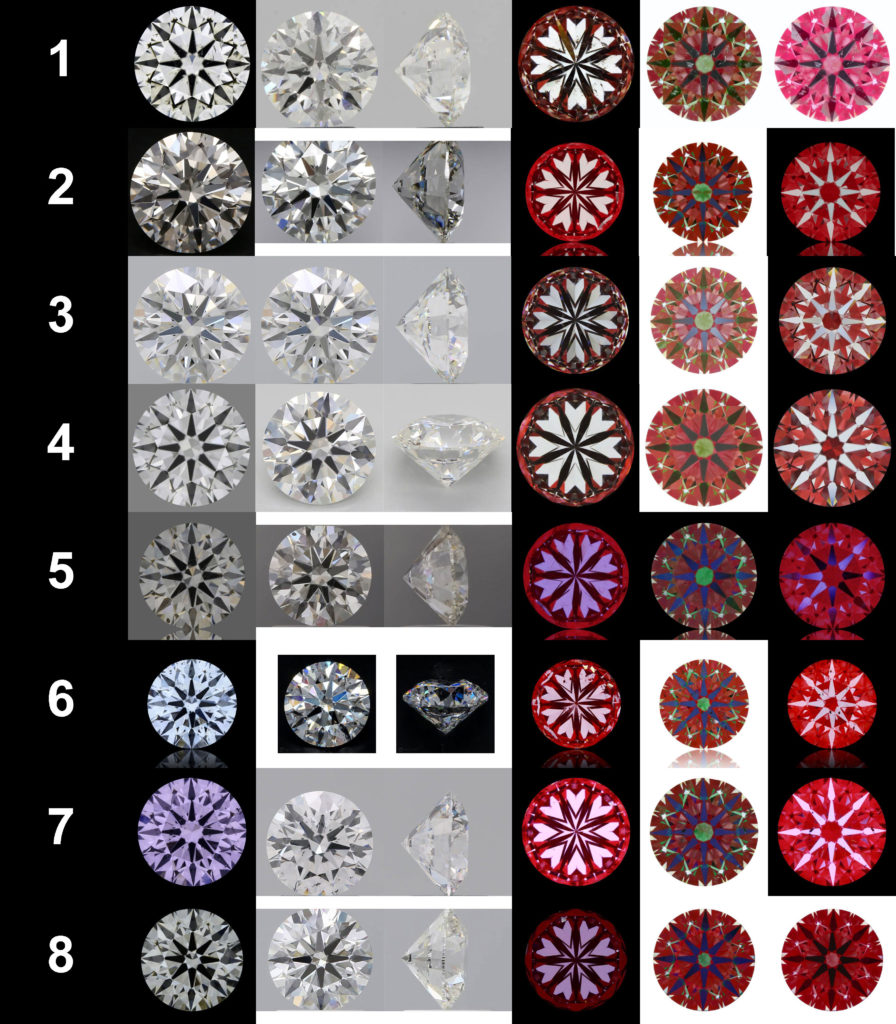 What you want to look for are 360 images with a light neutral color because a dark background can hide the body color in the diamond. Supplier #2 below has a background color that is too dark. Also avoid the diamonds where the images are cropped so that you cannot see the whole diamond.
Sometimes the actual face up image isn't very useful, but if the first frame of the 360 is high quality then that is sufficient. You should also be aware of the differences between an arrows image and an Idealscope image. Arrows images are taken using a H&A viewer and cannot be used to identify light leakage. Out of the 8 suppliers in the example, only supplier #8 provides a good quality Idealscope image.
There are obvious shortcomings in the consistency of images when trying to coordinate between different suppliers. In my opinion Enchanted Diamonds has done a pretty good job, especially compared to the many other online diamond vendors who fall far short of the standard that Enchanted Diamonds is setting. What's important is that many of their diamonds have all of the information that is required for me to help you fully evaluate a diamond.
One thing I want to point out though is that none of these diamonds are true hearts and arrows diamonds and they are not super-ideal cut by our definitions here at Prosumer Diamonds. If we focus on the hearts images, you can see that some of the diamonds certainly have better optical symmetry than others and I would consider a few of these near-H&A that represent excellent value for money.
Custom Ring Consultation
Enchanted Diamonds now offers an exciting new service where they will provide you with a free custom ring consultation including a free design service. The custom rings from Enchanted Diamonds are true bespoke settings that are designed from scratch. You'll be able to sit down with a CAD designer and together come up with an original design that you can customize to your hearts desire.
Enchanted Diamonds will provide you with photorealistic computer renderings of your ring so that you will know exactly how it will look before it gets created. This process is seamless and there's no attempt to over complicate things. You're not over-paying for an expensive designer and you're not compromising on the quality of the metal.
Pricing does depends on how complicated your design is but generally this is going to be one of the most affordable truly custom shops out there. So when the founder of the company, Joshua Niamehr, told me how much he typically charges for this process (starting at $900 for a solitaire), quite simply I was shocked at how affordable it is.
People often get intimidated by the custom process because they don't really know how to design a ring, but really it's about putting together ideas from existing designs or modifying certain elements to exactly how you want it to be. You can change the width of the shank, the shape of the halo, and the shape of the prongs. You can also incorporate unique features like your initials into the design for a truly one of a kind heirloom.
Remember you're spending a lot of time, effort, and money to find the perfect diamond ring. Do not underestimate the importance of the setting. A setting is more than just a ring that holds your diamond, the right setting will help the diamond look its best and protect it from daily wear. A beautiful diamond ring requires both a well-cut diamond and a high quality setting.
NYC Showroom
If you're lucky enough to be in the area or willing to make a trip to NYC, you should definitely take advantage of Enchanted Diamonds' showroom appointments. You can choose any 2 diamonds and have a private viewing experience at the Enchanted Diamonds office. This is great if you want to see before you buy and it's also a great chance for you to meet Josh.
Josh has a reputation for speaking his mind and he's not shy about sharing his views on what he thinks is important in a diamond and what's not. He'll show you the diamonds and walk you through how he sees them and he might even make new suggestions after getting to know you a bit better.
Policies and Other Important Information
Enchanted Diamonds offers free return shipping to customers in the United States, Canada, and Hong Kong. There is a 30-day return period for most items except for final sale diamonds and custom jewelry.
Enchanted Diamonds offers 100% store credit on an upgrade to a new purchase of twice the original amount.
Enchanted Diamonds offers a 3.3% wire discount. Financing options are available through a third party lender. Enchanted Diamonds also provides a layaway plan for up to 6 months on an order $3,500 or more with a 25% non-refundable deposit.
Enchanted Diamonds has a lifetime warranty on all of their settings. This covers both manufacturing defects and accidental damage such as damaged prongs, missing side stones, and even scratches. They even pay for insured shipping within the United States so they really go over and beyond what is expected to provide you with peace of mind.
Enchanted Diamonds also offers a price matching policy on diamonds with a bank wire price of $10,000 or more. You can read up about the terms and conditions here or you can contact them directly to enquire whether a diamond meets the criteria for price matching.
Conclusion
Not everyone needs to have a super-ideal diamond. And for those of you who understand and appreciate the value of a super-ideal cut diamond, the premium can certainly be justified. But for many others, the objective is to get the most impressive looking diamond for the amount of money spent. If this is you, then Enchanted Diamonds is a great place for you to buy your diamond ring.
Enchanted Diamonds promises high quality diamonds and jewelry at rock bottom prices and an excellent customer experience and in my experience that's exactly what they deliver. Their true to New York business combines the traditional with the modern and their industry leading technology and website keeps them one step ahead of their competition.
---
Enchanted Diamonds
scores
4
out of 5 stars in this review by
Vincent Chan
---