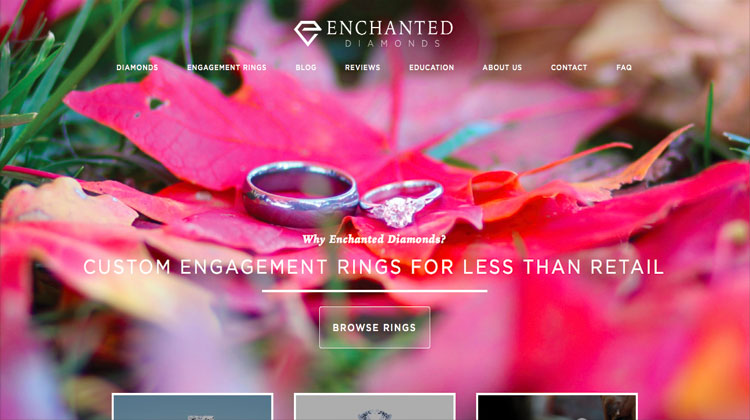 Enchanted Diamonds recently revamped their website with some awesome new features so I got in touch with co-founder, Jonathan Las, to find out more about their company.
I asked Jon what sets Enchanted Diamonds apart from the competition and he told me:
"Enchanted Diamonds leverages technology and a lean business model to provide our customers with access to diamonds of the highest cut quality, at the lowest price possible, with the best customer service".
Modern technology like high-definition video and imagery has made online diamond buying safer than ever. I was interested in Enchanted Diamonds because they provide sufficient information for me to make confident online assessments on their diamonds.
To reduce costs, Enchanted Diamonds doesn't keep a physical inventory meaning that their suppliers hold the diamond until it is sold. What you need to know is that, unlike Blue Nile, Enchanted Diamonds never drop-ships. This means every diamond is brought in-house where the jewelry can be customized by you, as the diamond is being inspected by GIA gemologists.
As with all my reviews, I will be assessing Enchanted Diamonds on the ease of use of their website, whether they live up to their marketing material, the quality of their diamonds, and their value-adding policies.
Ease of Use
Let's start with search. The diamond search system on Enchanted Diamonds is one of the best I've used. It can be conveniently hidden and doesn't automatically update until you press the 'submit search' button. The automatic updating on some diamond sites can quickly become annoying if you're changing specs frequently.
You can choose to view only the diamonds with photos or videos and in the advanced search, you can even specify the type of image (idealscope, ASET, H&A) you want to see. If you want to see the diamond before you purchase, make sure you choose from the diamonds that are available to view in their New York showroom.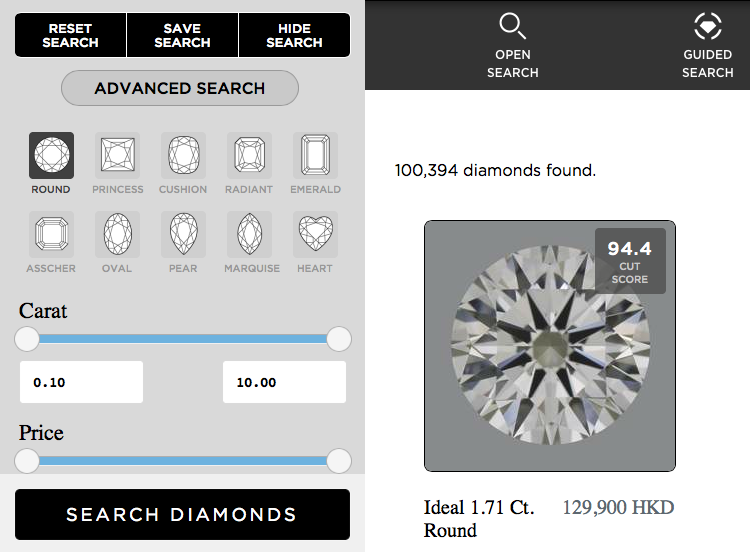 For beginners, there's a step-by-step guided search and also live help with a GIA graduate gemologist. There's even the ability to set alerts for new diamonds that meet specific search criteria.
Diamond browsing is easy with two views to choose from. The default is a 'grid view' that shows diamonds with a large thumbnail. You can conveniently add these diamonds to a comparison list. One caveat of their browsing experience is that the size of the thumbnails cannot be changed so you're limited in the number of diamonds that can be looked at simultaneously. I also wished there was an option to reset all the search parameters without having to deselect everything manually.
The other view is 'list view' that you can use to copy and paste all of the information into an Excel spreadsheet potentially saving you a lot of time. This feature would be even better though if it showed the stock number so you could easily find the diamond again. Perhaps the best feature is the ability to sort by cut score so the best diamonds appear at the top of the page.
There's a big focus on imagery and video on Enchanted Diamonds, which makes them stand out as there aren't that many budget vendors out there that provide high quality images that enable me to do what I do to help my clients. Many diamonds come with a 360-degree close-up video and some allow you to freely drag and stop the diamond at any angle to inspect it thoroughly.
Don't expect all diamonds to have the same type of images or video available because these media are provided straight from their suppliers. But even if you find that a diamond you're interested in doesn't have an image you need, Enchanted Diamonds encourages you to request the image to be sent to you.
One trick I developed that helps a lot is that diamonds from the same manufacturer usually have the same photography setup and I've noticed that the information available from the same supplier is usually consistent. Please note that the following seems only applicable to 1ct and above diamonds.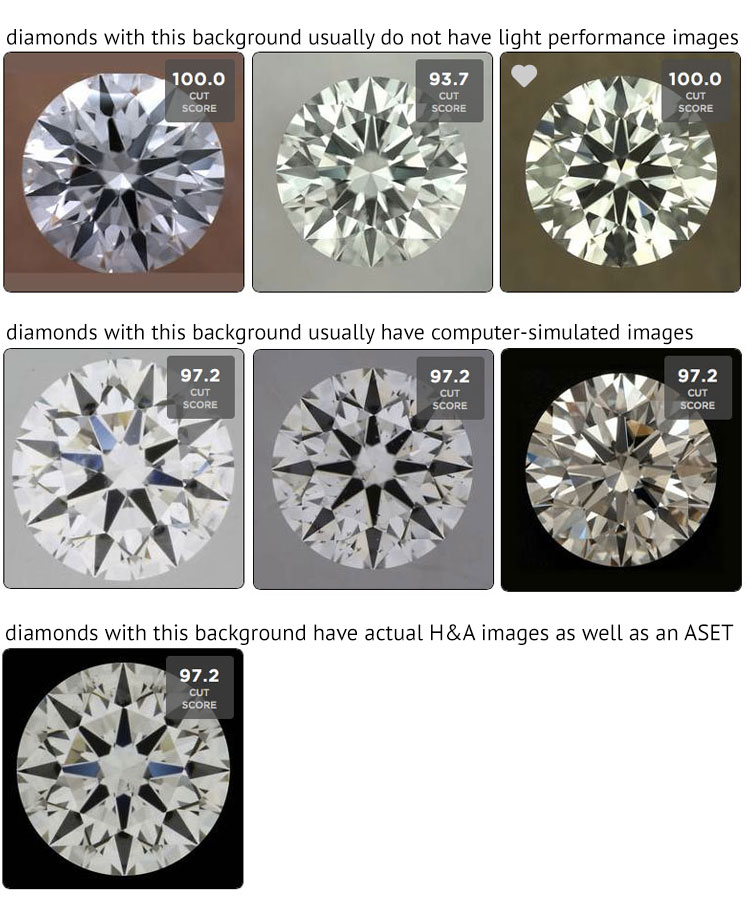 What you should therefore be looking for is not only cut score, but also diamonds from their supplier who provides H&A images and ASET.
(Edit: Enchanted has since implemented tags on all their diamonds to indicate what kind of images are available. It still doesn't identify whether images are photographs or computer simulated images so you can still use the trick that I've shown you to find the better suppliers.)
Marketing Material
The most prominent feature that is different to all other diamond websites is their diamond cut score. I'm going to be evaluating this to see whether it is a useful consumer tool, or simply a marketing gimmick.
Enchanted Diamonds describes the cut score as ranging from 0 to 100 with 100 being a perfectly cut diamond meaning that the diamond has "ideal light return, brilliance, fire, and sparkle". The cut score is "based on an advanced math formula" and "every angle, dimension, proportion, and ratio is analyzed to determine the light return and cut quality of a given diamond". A cut score above 90 is considered ideal and a cut score above 95 is considered to be a super-ideal diamond.
Analysis
Enchanted diamonds currently don't have a signature range of diamonds so I'm going to be evaluating diamonds with cut scores of 100 that they claim to be super-ideal cut. I'm also only going to be reviewing diamonds that have H&A images and an ASET.
Jon told me during our chat that their cut score doesn't add a premium to the diamonds, so I will also be evaluating whether the cut score has an additional influence on the price of the diamond over what is justified by the cut quality. I've randomly chosen 6 diamonds that meet the above criteria to analyze. Let's first look at the proportions of these 6 diamonds.
| | | | |
| --- | --- | --- | --- |
| | Diamond 1 | Diamond 2 | Diamond 3 |
| SKU | Stock # R109-FQTBZQ | Stock # R112-SYP7EY | Stock # R131-3MF4DE |
| Measurements | 6.58 – 6.61 x 4.07 mm | 6.64 – 6.67 x 4.11 mm | 7.04 – 7.07 x 4.31 mm |
| Carat Weight | 1.09 carat | 1.12 carat | 1.31 carat |
| Color Grade | G | H | E |
| Clarity Grade | VVS2 | SI1 | VS1 |
| Cut Grade | Excellent | Excellent | Excellent |
| Depth | 61.70% | 61.80% | 61.00% |
| Table | 57% | 57% | 57% |
| Crown Angle | 34.5° | 35.0° | 34.0° |
| Crown Height | 14.50% | 15.00% | 14.50% |
| Pavilion Angle | 40.8° | 40.8° | 40.8° |
| Pavilion Depth | 43.00% | 43.00% | 43.00% |
| Star Length | 50% | 50% | 50% |
| Lower Half | 75% | 80% | 75% |
| Girdle | Medium to Slightly Thick, Faceted, 4.0% | Medium to Slightly Thick, Faceted, 3.5% | Medium, Faceted, 3.5% |
| Culet | None | None | None |
| | | | |
| --- | --- | --- | --- |
| | Diamond 4 | Diamond 5 | Diamond 6 |
| SKU | Stock # R150-92YH9Z | Stock # R177-78HGF7 | Stock # R202-EWVRU8 |
| Measurements | 7.35 – 7.38 x 4.49 mm | 7.71 – 7.76 x 4.79 mm | 8.04 – 8.10 x 5.00 mm |
| Carat Weight | 1.50 carat | 1.77 carat | 2.02 carat |
| Color Grade | E | F | F |
| Clarity Grade | VS1 | VS2 | VS2 |
| Cut Grade | Excellent | Excellent | Excellent |
| Depth | 61.00% | 61.90% | 62.00% |
| Table | 57% | 57% | 57% |
| Crown Angle | 34.5° | 35.0° | 35.0° |
| Crown Height | 15.00% | 15.00% | 15.00% |
| Pavilion Angle | 40.6° | 40.8° | 40.8° |
| Pavilion Depth | 42.50% | 43.00% | 43.00% |
| Star Length | 50% | 50% | 50% |
| Lower Half | 80% | 80% | 80% |
| Girdle | Medium to Slightly Thick, Faceted, 3.5% | Medium to Slightly Thick, Faceted, 3.5% | Slightly Thick, Faceted, 4.0% |
| Culet | Very Small | None | None |
I'm not surprised that the proportions fall within my recommended range in my how to pick a diamond tutorial. This is great for consumers because it saves a lot of time going through each diamond looking at the crown and pavilion angles in order to shortlist your diamonds choices.
This list literally only took me a few minutes to generate and coming up with a similar list on Blue Nile or James Allen would have taken much, much longer.
Also interesting is that the star lengths are all 50%. Although not entirely representative of their entire line, this suggests that the Enchanted Diamonds cut-score favors 50% stars. This is a good thing because short stars look better in diamonds with slight defects in optical symmetry.
The only criticism I have regarding the proportions in this selection is that the girdles range from medium to slightly thick with a couple with 4% girdles. I don't usually recommend medium to slightly thicker girdles, but since the girdle thickness doesn't really have much of an affect on appearance, it really depends on whether the price can make up for the difference.
Now let's take a look at the actual images. I want you to focus on the contrast patterns and overall brightness of these stones. Diamonds 1, 2, 3, and 5 all share very similar contrast patterns.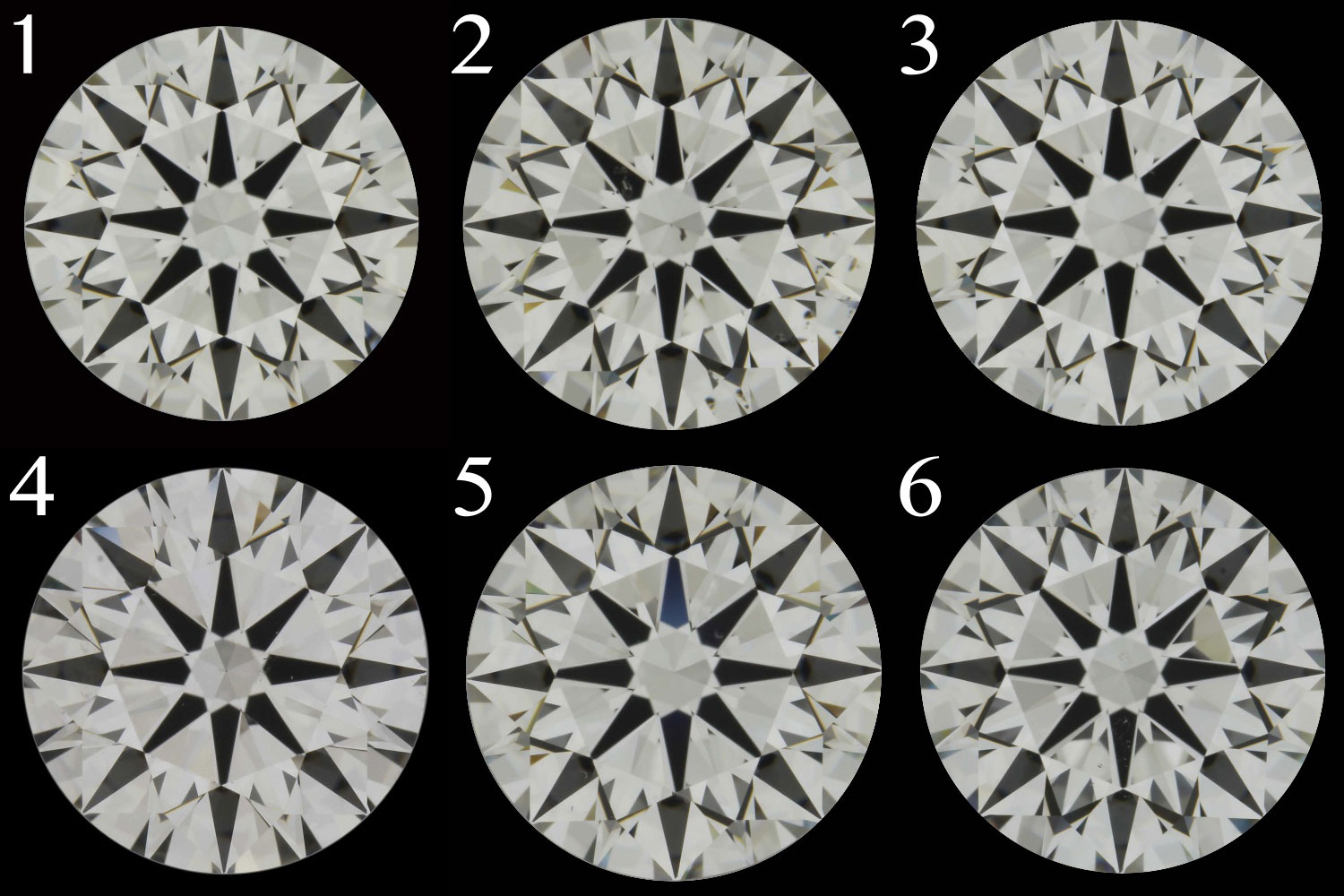 Diamond 4 is a painted diamond and these images do well to show why some people prefer painted diamonds for their brightness. Diamond 6 has several larger hotspots around the table reflection. Larger hotspots are indication of smaller hearts so my prediction is that Diamond 6 will have 3 smaller hearts affecting its optical symmetry.
Arrows images highlight the alignment of the facets. What you're looking for is a crisp pattern with the arrow tips aligned with the arrow shafts. The bottoms of the arrows should form a nice star shape in the center of the diamond if a diamond is perfectly symmetrical.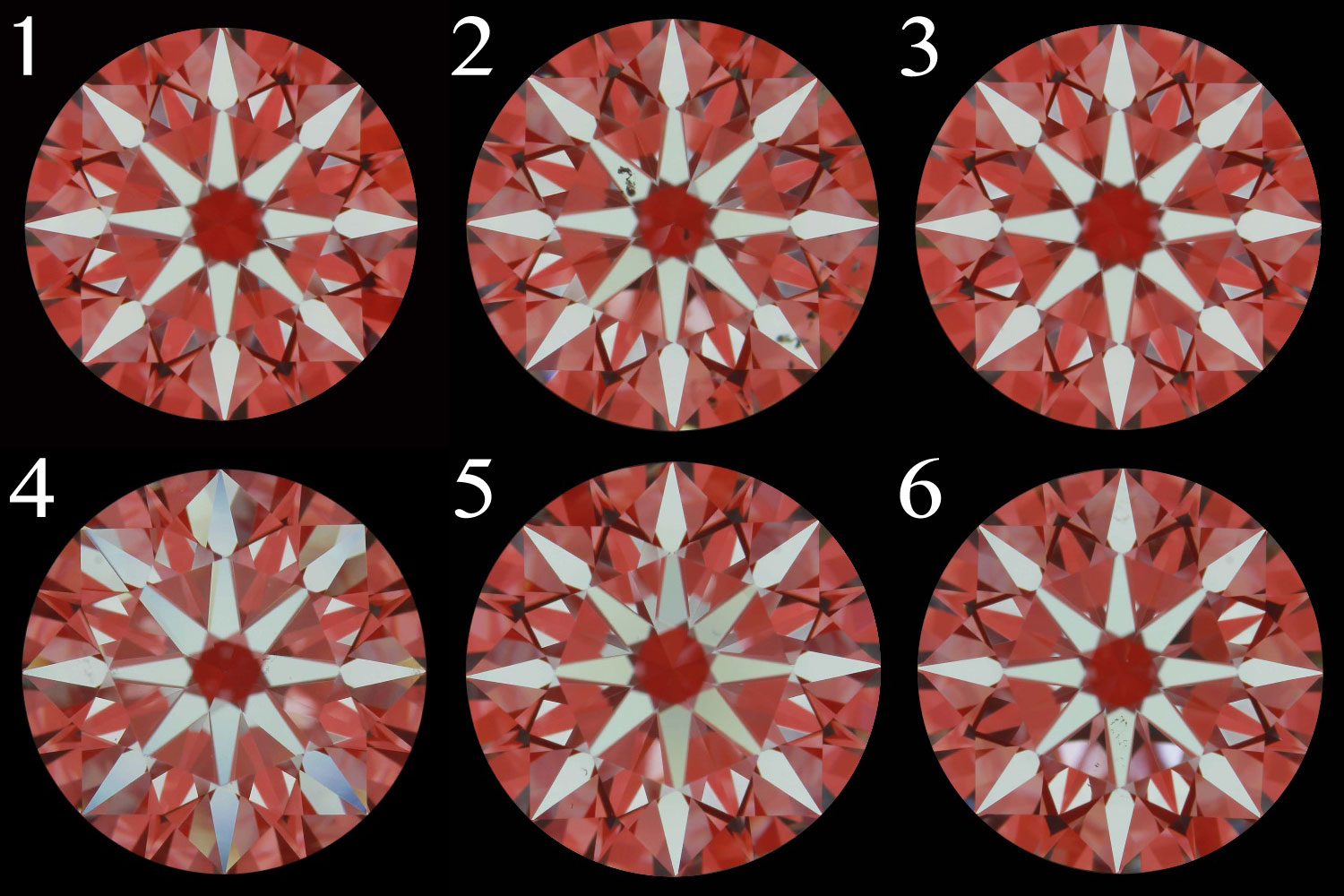 Diamond 3 is beginning to look like the standout here, with Diamonds 1 and 2 having acceptable arrows images. Diamonds 4 and 5 have at least one misaligned arrow, so these would miss the mark here. The arrows in Diamond 6 are perfectly aligned, but the arrows image also highlights the defects of the lower girdle variation and the asymmetry in the hotspots is fairly obvious.
Now I'm going to evaluate light performance using these ASET images. What we're looking for in the ASET is to see where the light is coming from but we can also use the ASET to form some conclusions about the strength of the light return. Interpreting ASET images can be difficult for beginners and you can see that this supplier's ASET images show the arrows as dark green rather than blue like we expect to see. I want to reassure you that this is due to the photography and ASET set up and not reflective of the diamond.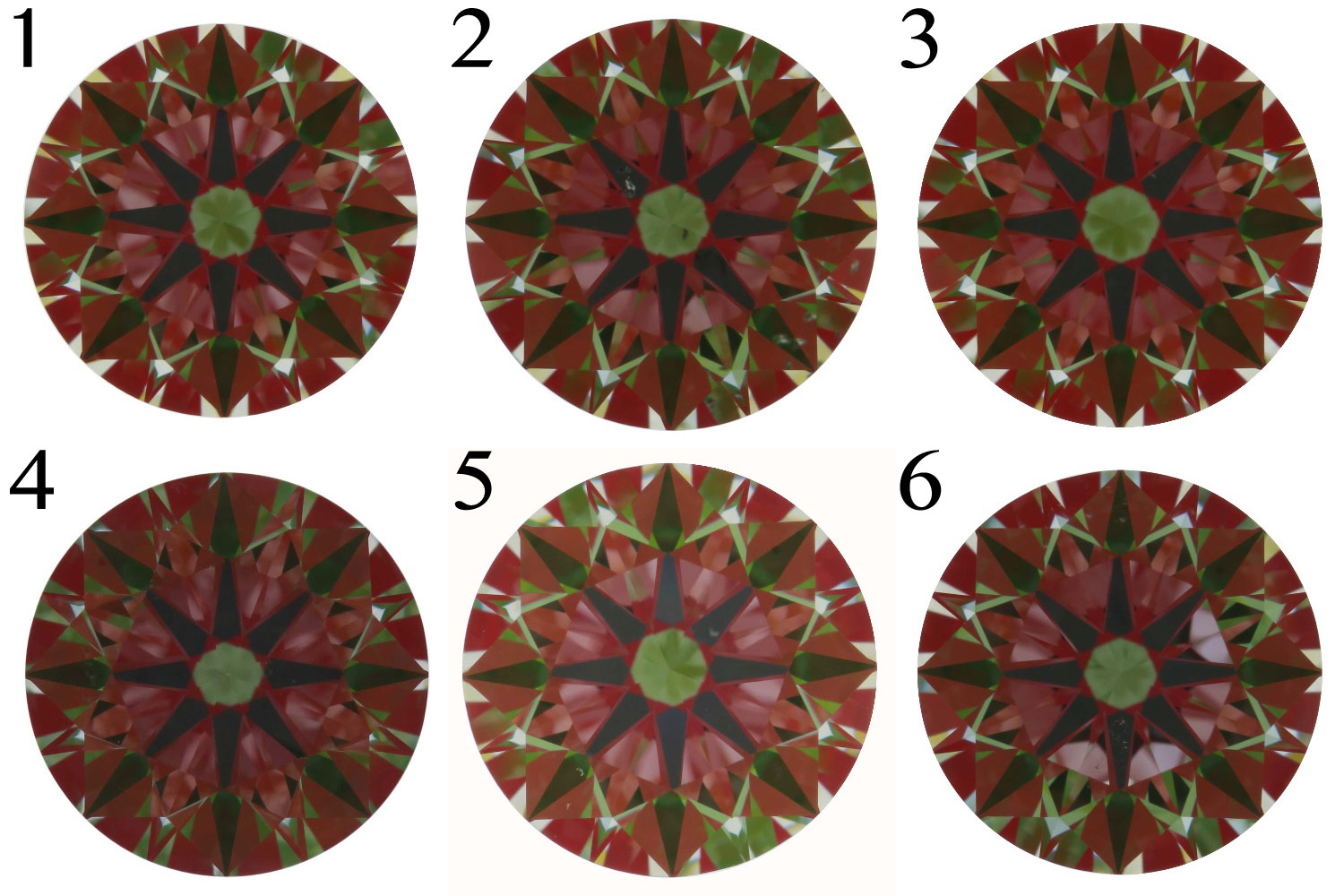 The ASET of Diamond 3 confirms how good of a diamond it is. Diamond 3's ASET is nearly perfect with only slight crown-only painting of the girdles causing the minor green in the upper girdles, which has become more of the norm than the exception these days. Diamond 5 has a different looking ASET, and it looks like the light source was brighter in this image.
Based on everything I've seen, Diamond 2 and 5 should have a similar looking ASET if the set up was exactly the same. It looks like this ASET was retaken to correct some of the camera tilt that can be seen more in the arrows image.
Regardless, Diamonds 1, 2, 5, and 6 all have a few steeper upper girdles that show up as green on the ASET. Although very minor, these are the kind of things you will need to get into to differentiate between several top performing diamonds. The effect of painting in Diamond 4 can be evaluated easier with an ASET by looking at the larger green m's at the edge of the diamond.
To evaluate light return, I look at the difference in the red areas of the images. You can see how Diamond 6 has the worst light performance out of this selection with some whitish areas under the table. Overall this selection of diamonds does very well in terms of light performance.
Finally, let's take a look at the hearts images. Hearts images show the diamonds in the most critical light. If you look carefully, you should be able to see a small white circle cutting across the Vs in the image. The sharper this circle is, the more level and in focus the image is.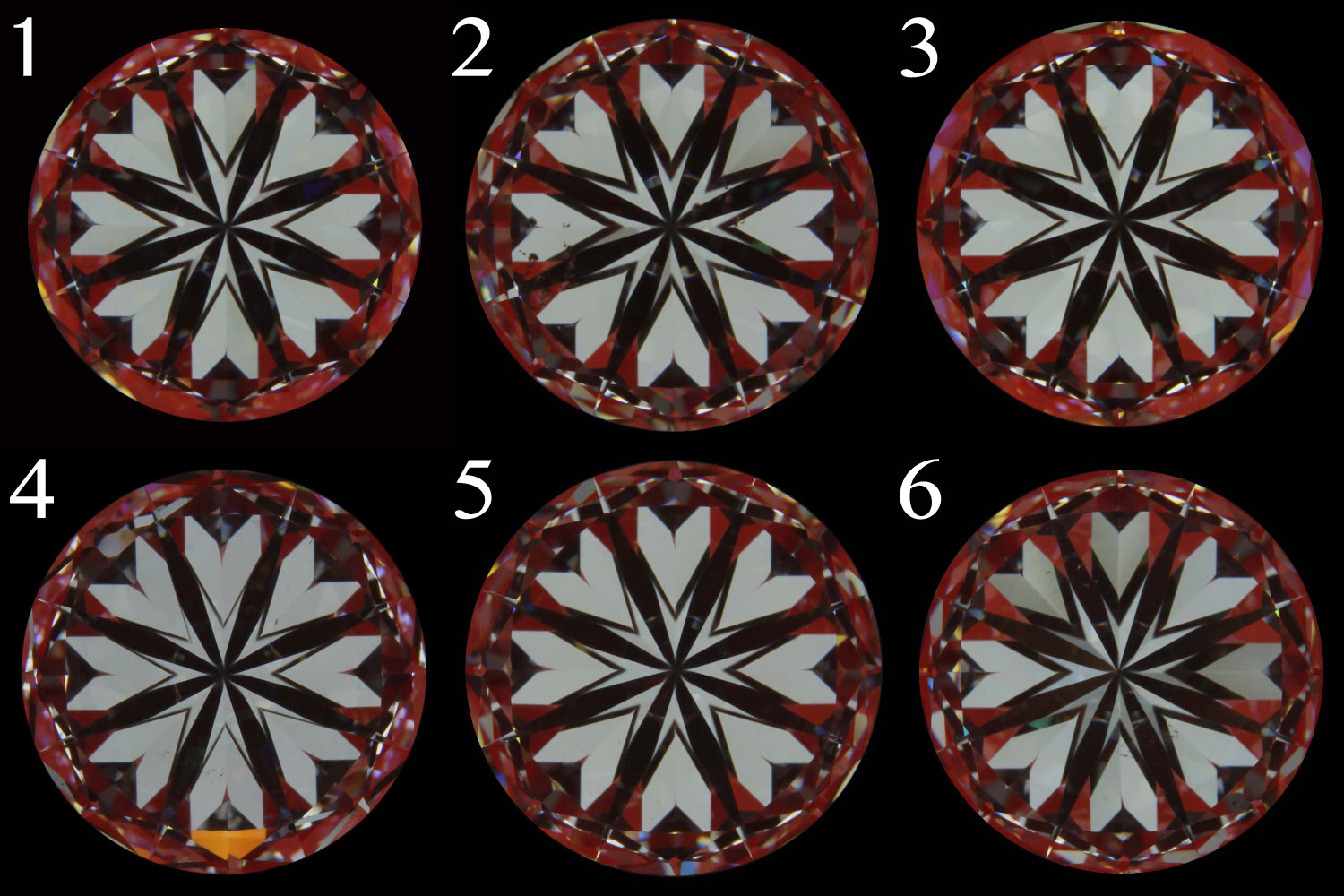 I'm pointing this out because Diamond 1 has significant camera-tilt and doesn't actually have that much yaw. In comparison, Diamond 6 doesn't have camera-tilt and so the apparent yaw or 'twist' that can be seen is real. Similarly Diamond 3 seems like it has some minor defect in the hearts image in terms of yaw but it's actually also only camera-tilt.
Diamonds 2, 4, and 5 do not have camera-tilt and have very minor yaw that is to be expected in all but a perfectly symmetrical diamond. I personally do not consider these to be defects at all.
The hearts image is also great for revealing the length of the lower girdles. When the lower girdles are around 80%, the heart shapes begin to show a clef in the center. The larger the clef, the longer the lower girdles. If you look at Diamond 6, you can see the 3 smaller hearts at the 11, 12, and 3 o'clock positions. Finally, you can also see that Diamond 3 has around 77% lower girdles from the size of the gap between the hearts and the Vs, making it the only 'true' H&A in this selection from an H&A purist perspective.
Value Adding Policies
Enchanted Diamonds has a pretty standard shipping policy, which covers free shipping via FedEx worldwide. They also provide free return shipping making returns fairly easy and on par with James Allen's shipping policy. However, their return policy is 30-days on all diamonds except for those marked as final-sale and certain custom jewellery, which is only average for the industry.
Enchanted Diamond's upgrade policy is 100% store credit when you purchase a diamond twice as expensive as the original diamond, in other words, the same as Blue Nile. They also provide a lifetime warranty, which includes repair, cleaning and resizing.
The policy that I love is their 'Price Match Guarantee'. Just bear in mind that there are lots of limitations. The comparable diamond has to be an online, publically available diamond that is priced in USD. It also has to be comparable based on the GIA, AGS, or EGL USA report. Pawnshops and eBay are excluded from this policy.
Basically, as long as you legitimately find a cheaper diamond from another online site, they will do their best to match the price on one of their diamonds. I'm very impressed with this policy and it goes to show how confident they are in their pricing.
Price
At the end of the day, price is the most important factor when considering Enchanted Diamonds. The table below shows the credit card price for each diamond in comparison to a similar diamond on James Allen.
| | | | | |
| --- | --- | --- | --- | --- |
| | Enchanted Diamonds | Comparable James Allen Diamond | JA Stock# | Price Difference |
| Diamond 1 | $8,800 | $10,020 | sku-361104 | 14% |
| Diamond 2 | $6,250 | $6,630 | sku-338163 | 6% |
| Diamond 3 | $13,090 | $14,220 | sku-311703 | 9% |
| Diamond 4 | $18,340 | $20,140 | sku-72663 | 10% |
| Diamond 5 | $20,140 | $23,230 | sku-359031 | 15% |
| Diamond 6 | $29,640 | $32,970 | sku-359207 | 11% |
Looking at the table above, it is obvious that Enchanted Diamonds offers a really good value compared to James Allen. This comparison doesn't really even do justice to Enchanted Diamonds because I'm comparing what essentially are near-H&A quality diamonds and Diamond 3 is a super-ideal hearts and arrows diamond.
To find a diamond comparable to Diamond 3 on James Allen would have cost $16,030 (SKU: 360944), which is 22% more expensive. Suffice to say that Whiteflash, Brian Gavin Diamonds, or Good Old Gold would have to offer this diamond at an even higher cost. Even a poorer cut Blue Nile Signature costs $15,091 (SKU: LD01899298), a 15% price difference. It's pretty clear that Enchanted Diamonds have the cheapest price by far.
Conclusion
I have found the Enchanted Diamonds cut score to be more than just a marketing gimmick. However, I'm not a fan of the decription Enchanted Diamonds provides for its cut score. Although there are no official standards for what a super-ideal diamond means, it is definitely clear to me that not all diamonds with 100 cut score are super-ideal according to the definitions given on this site.
Using the tricks that I've told you about in this review, Enchanted Diamonds allows prosumers to quickly find diamonds that I can help them analyze and be confident in recommending. If you're interested in my help in your diamond search, please feel free to contact me.
Above all, Enchanted Diamonds delivers on their promise to provide the most cost-effective solution to buying diamonds without compromising on quality. Instead of branding their highest quality diamonds and charging a premium, they have created a cut scoring system that doesn't make these diamonds more expensive but rather lets you find them easier.
The number of super-ideal diamonds I found on Enchanted Diamonds are limited. So if you have specific color, clarity, and carat requirements, then you may find it difficult to find a well-cut diamond on Enchanted Diamonds. But if cut is the most important, and you're willing to be flexible and patient then Enchanted Diamonds may be a really good place to bargain hunt. Overall, I am very impressed with Enchanted Diamonds and highly recommend all my readers to seriously consider them in their diamond search.
---
Enchanted Diamonds
scores
4
out of 5 stars in this review by
Vincent Chan
---