Jewelry quality and form is inextricably linked to the manufacturing process so it's important to understand the pros and cons of each option, especially if you're intending to pay a premium for a more labor intensive manufacturing process. In two previous articles, Is your custom CAD work done by a CAD artist? and Casting Defects to Watch For, I discussed CAD-casting as one method of jewelry fabrication. Today I will be discussing two other methods: hand fabrication and die striking.
Die Striking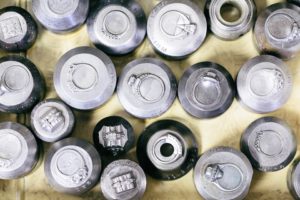 Die-struck construction starts with the creation of the "hub". A steel engraver carves the desired design into a heat-resistant block of steel. Once the design is created, the hub is used to create a "master die" out of another steel blank. The master die now has the shape of the piece pressed into it, but is never actually used to make the piece.
Instead, a copy of it called the "working die" will be made and used to create the piece (the master die is put away for safe keeping). Now, we're ready to craft. To do that, powerful drop-hammers or presses repeatedly strike the precious metal working in between the hub and working die creating "the workpiece".
The extreme pressure put on the workpiece eliminates many of the flaws common in casting like porosity and results in a piece that is stronger, denser, and more durable. In a complicated ring, each individual component is individually die-struck and then assembled into one piece of jewelry using various methods, like welding, soldering, sawing (for some design elements), filing, and are then set with stones and polished into the finished piece of jewelry.
Hand Fabrication

Hand fabrication (also referred to as hand-forging) means manufacturing directly from metal without the use of any wax, molds, casting or die. You start with ingots of whatever metal you're working with, and heat it. Then, the metal is worked by pressing, bending, forming or pulling it into the component parts of a piece. Then, as in die striking, the components are soldered, sawed, joined and otherwise assembled, stones are set, and the surfaces polished into a completed piece.
As the metal is folded, rolled, pulled and worked, this too produces a denser material than your typical casted metal and porosity is eliminated. A denser material with no porosity is what makes it durable and strong. Victor Canera and Steven Kirsch are examples of two designers who hand fabricate their pieces. Whitehouse Brothers, Stuller, and Jabel are manufacturers that produce die struck pieces.
Hand Fabrication vs CAD Casting
So why do jewelers even bother with casting jewelry given that there is a much higher risk for defects? Well, actually most jewelry from around or before the turn of the last century was hand fabricated or, in some cases, die struck. In fact, the casting methodology for some metals (such as platinum) wasn't truly perfected until as late as the 1990s.
Before we had CAD and 3D printers, carving waxes by hand and casting pieces was not a popular method because it was time consuming and prone to error leading to costly remakes. Designers therefore had a strong incentive to stick to methods they knew worked better, which they did. Today, top-designers who employ hand fabrication and die striking methods are an exclusive group and they can, with completely honestly, say their pieces are 'heirloom quality'.
As casting methods were refined and the risk of defects shrank, casting increased in popularity. Once computers became more prevalent and CAD design became commonplace, the manufacturing time for creating a wax mold shrank significantly. This eventually made wax casting a preferred method of modern jewelry manufacturing because it allowed for settings to be produced inexpensively and at high volume.
Casted rings would have a much lower price tag than die cast or hand forged jewelry and customers became spoiled by the ease of CAD design for custom projects. Die striking in particular, with its time-consuming die creation process, no longer provided the value that consumers sought.
In addition to density and strength, the aesthetic advantages of hand fabrication are in the crispness of the metalwork of the final product. Joints are sharp where you solder them together, angles are crisp, and wires and wirework retain their perfect cylindrical shapes. There are sharper, cleaner connections all around.
There are no limitations to hand-fabrication when it comes to fully custom designs. Each piece is wearable art and every hand-fabricated ring is a one of a kind piece. They may be very similar to one another like cut diamonds, but each ring is intrinsically unique.
With die-struck you get similar advantages. The beauty of die-struck designs is that they can create a look nothing else can replicate. If you look at the filigree and open work possible with die striking, in my opinion, nothing else compares. And again, each piece is wearable art of the highest quality.
Drawbacks of Hand Fabrication and Die Striking
However, both these methods also have drawbacks compared to casting. With hand fabrication, each component of a piece is shaped, formed, and created individually by hand by an artisan, who only has two hands and one body. Most artisans skilled in hand fabrication learned how to do so as apprentices and journeymen, learning their craft by being intensely curious and determined to learn this intricate craft at the knee of a master.
Such people are rare. And each artisan, even with the fancy tools to help them, can only create a piece at a certain speed, and that means there is only so many pieces they can make.
I interviewed Victor Canera while researching this article. He told me that a simple platinum solitaire setting takes him one eight-hour day start to finish. A pavé with a halo like his Emilya takes three whole days to create.
Compare this to a CAD-casting manufacturer, where one person can literally create dozens of castings in the same amount of time. This means that hand fabricators are limited in the number of projects they can handle and hand fabrication projects take up much more of a skilled Master's time to create. Both of these factors mean a significantly higher cost per piece.
When I asked Victor if he ever turned projects away he very candidly said that sometimes he has to because the value to the customer is poor. For example, for Victor to craft an eternity band with five-pointer (0.05cts) diamonds, this might take him days to hand carve each divot. This is why whenever he gets a request for a project he first evaluates it based on his value-added to his customer.
Victor will only take on a project if he believes that it is worth it for his customer to pay the extra amount it would cost for him to make the piece by hand. He says he has to do this to ensure that he focuses his time on the projects that can fully make use of his skill, but most of all because it ensures customer satisfaction, which is his first priority.
If you are familiar with the CAD-casting jewelry making process, an aspect of hand fabrication that may cause you to worry is that hand fabrication designers typically do not provide CADs (and some don't even provide sketches). This means that hand forging requires a level trust, and even faith, in your designer. Hand fabrication therefore may not be appropriate for control freaks or micromanagers.
There are also limitations with die striking when it comes to making custom designed jewelry. Remember when I explained that die striking involves an engraved steel die? Well, these steel dies once created cannot be altered. This means every time a design change is made, for example if a customer likes the flowers from one design but wishes to substitute the leaves from another, a new steel die has to be made from scratch.
It may seem ridiculous but yes, this would involve carving a new hub and making new master and working dies. For jewelers, this limitation of die striking presents serious practical issues. A customer may absolutely love the design of a particular ring, but the jeweler's die is carved for a 6.5mm round center stone while the customer wishes to have a 8mm center stone and then you have to make a new die for this.
So to reiterate, the main drawback of die striking is the lack of flexibility. In today's world where consumers are able to have literally any design they want (structurally sound or not) created by a CAD and a simple mold and casting, die striking cannot compare to the high speed and low cost of CAD-casting. Notwithstanding my opinion that die-struck pieces are wearable art, the vast majority of consumers and jewelers do not see die struck pieces as a good value for the investment of time and money that is required.
Conclusion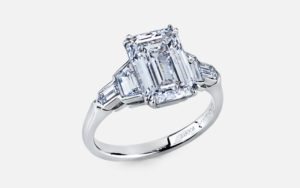 Recently, in trying to strike a balance between strength and flexibility, some jewelers have started using hybrid methods of manufacture. High Performance Diamonds, for example, uses a casting company that uses a propriety high-pressure process in their platinum casting that eliminates the possibility of porosity. By combining high pressure with casting, the resulting cast is denser and stronger yet still retains the benefits and flexibility of the all the custom CAD-casting process.
New manufacturing methods like the one High Performance Diamonds uses may be the sweet spot between cost and quality. Nonetheless, you should expect to pay a little bit more for a higher quality casting. If you're in the market for a custom designed piece, try to understand which manufacturing process is best suited to creating that unique look that you want.
There are some features that only look a certain way because of the particular manufacturing method used. The next step is to research the reputable jewelers (again, this is an exclusive group) to find a skilled jeweler. Vet them carefully to make sure that you understand how they will create the ring and to make sure that you're okay with the way that they work. Compare multiple jewelers to determine whether your budget is realistic and if you get wide ranging quotes. A good jeweler like Victor Canera should be able to explain to you what you're getting and whether it's worth it.
SaveSave