"I will never sell a diamond that I would not proudly give to my wife." – Wink Jones
High Performance Diamonds and Crafted by Infinity are two companies that have an almost symbiotic relationship, which stems from the close relationship between two old friends Wink Jones (owner of High Performance Diamonds) and Paul Slegers (owner of Crafted by Infinity). Wink met Paul in 2001 during Paul's first trip to the United States and simply put, it was a match made in heaven.
Wink, who is based in Boise, Idaho was in search for the best looking diamond to sell on his newly launched online store. Paul, who ran a small diamond manufacturing operation in Antwerp, came to the United States looking for the most reputable jeweler that he could trust to sell his beloved Crafted by Infinity diamonds. Back then, Wink had only wanted to sell ideal-cut diamonds, but once he saw what Paul had to offer, he knew that Crafted by Infinity diamonds were going to be the only diamonds that he would want to sell for the rest of his life.
When I was first introduced to Wink Jones a few years ago, we instantly hit it off not only because of our shared passion for diamonds, but also because we share very similar ethics, values, and approach to doing business. Wink Jones has a reputation as one of the most trusted jewelers in the online community and if you do a quick search for his name, you'll find lots of excellent testimonials left for him by countless of satisfied customers.
The Crafted by Infinity Diamond


High Performance Diamonds is the official exclusive online distributer for Crafted by Infinity so when you buy a diamond from High Performance Diamonds, what you're really buying is a Crafted by Infinity diamond. I evaluate a diamond brand by looking at their entire production and I have found that Crafted by Infinity diamonds are consistently cut to the strictest cut parameters that I know of. All you need to do is spend a few minutes getting to know this unique company and it doesn't take long to find out why their diamonds are the best.
Crafted by Infinity is run by a trio of industry super-stars. Paul Slegers is an international authority on diamond cut-quality who is regularly consulted upon within the industry. Lieve Peeters is their Chief Gemologist with over 30 years of experience and holds a continuing position as a judicial expert with the Belgian Ministry of Justice. Her resume as a subject-matter expert is too long to list but can be found on the Crafted by Infinity website. John Pollard is a renown diamond educator, one of my personal mentors, and has worked with Brian Gavin, Whiteflash, and is now the US Executive at Crafted by Infinity.
What makes this company truly special is that Crafted by Infinity is the only company I know of who can claim that they manufacture all of their diamonds in-house. The advantages of this is threefold, and the first advantage is that they have the highest control over their entire production. Second, they get to choose the quality of the starting crystals that they work with to ensure they always start with the best material and Paul has access to some of the best rough in the industry.
Finally, they get to actually plan how the diamonds are cut and have the authority to make the tough decisions to sacrifice carat weight in order to preserve light performance and at the same time maximize the beauty of the diamond in terms of color and clarity. Their planning requirements are so strict that they have to reject more than a hundred crystals before one is accepted for the Crafted by Infinity brand.
So let's get specific with what you should expect from a Crafted by Infinity diamond.
First, all Crafted by Infinity diamonds as a minimum should meet the standard for a super-ideal hearts and arrows diamond. This standard is simple, a super-ideal diamond must have ideal light performance and it must also have hearts and arrows optical symmetry. Crafted by Infinity diamonds go beyond this by ensuring that there are no 'borderline' diamonds and that the diamonds are cut properly with regards to their spread so that there is no wasted weight.
The cut quality of Crafted by Infinity diamonds go beyond AGS0 in light performance, polish, and symmetry. The proportions of the diamond are such that it falls within the Tolkowsky ideal-cut range of proportions, which you can find in my tutorial on how to pick a diamond.
All Crafted by Infinity diamonds come with AGSL's Proprietary Diamond Quality Document. Crafted by Infinity has chosen to include both the top view ASET and the bottom view ASET of the diamond in the AGSL report. This is an important piece of information even though the ASET images in the AGSL report are computer simulated. The interpretation of computer simulated images is difficult and often look different to the real pictures of the diamond so this is an area where you can leverage my expertise to help you evaluate the images.
Crafted by Infinity is the only super-ideal vendor who has adopted the My Diamond report from AGSL for all of their new production. The My Diamond report is important because it contains a high resolution 360-video of the diamond that has been taken by an independent third party in a very consistent way. This will allow me to help you evaluate the color and clarity of the diamond very reliably.
Custom Conceived Settings
As a full service jeweler, High Performance Diamonds offers a full range of settings from low cost options like Stuller, Unique Settings, and Adwar to the higher-end designers Vatche and Beverly K. However, something that is definitely worth mentioning are their custom settings. High Performance Diamonds has put together a custom setting service that rivals the best in the business and their custom rings are made using heavier metals and stronger prong designs that provide what Wink calls 'generational security'.
The custom settings High Performance Diamonds offers are produced using a process known as CAD-casting. How it works is a CAD artist will work with you to develop an idea that they will use to create an original design. This is an iterative process so you will receive photorealistic computer renderings of the designs and you can make any changes you want so that the final design is only limited by your imagination.
A wax mould is created using the CAD in the High Performance Diamonds workshop, which is then sent off for centrifugal casting by the same goldsmiths who cast jewelry for Harry Winston. If you have a preference for a particular metal composition, you can discuss this with your sales associate during the design process.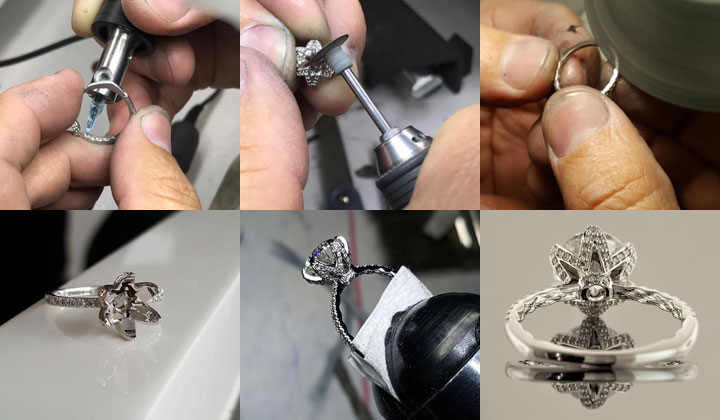 The rough cast is then sent back to High Performance Diamonds for finishing (clean casting and high polish) by High Performance Diamonds' polisher. This last step is arguably the most important step to creating the best looking final result. If your design incorporates small diamonds, make sure you ask for High Performance Diamonds' "Lux" hearts & arrows melee diamonds that are F/G in color and VS in clarity.
Photography
In my original review on Crafted by Infinity diamonds, the only real issue I had with them was that many of their pictures (especially the hearts images) made the diamonds look asymmetrical when I knew they weren't. What I found was that in almost every case, this was due to camera-tilt making it difficult to evaluate optical symmetry. You can read more about camera-tilt and how to detect it in my tutorial on facet-yaw.
For the most part, Crafted by Infinity has solved their photography problems of the past, but their images are still sometimes not perfectly level. What you can be sure of is that every Crafted by Infinity diamond gets checked to meet their highest cut standard before it leaves the factory and it's only on very rare occasions that I would reject a Crafted by Infinity diamond due to concerns about its optical symmetry. If you're unsure about how to evaluate a hearts image or any light performance image, please contact me and I will be happy to take a look at them for you.
I do want to give credit to Crafted by Infinity for providing what I think are the highest quality/resolution images and for displaying diamonds in the most accurate way (for example using a back-lit ASET). Crafted by Infinity has purposely chosen to use photography that allows you to critically evaluate their diamonds instead of opting for images that hide certain flaws. The take away from this is that when you buy a diamond online, pay attention to the photos of the diamond because there is likely a strong correlation between the quality of the images and the quality of the diamond.
Value Adding Policies
High Performance Diamonds offers a wire discount of 5%, free overnight shipping, and a 21-day return period. However, you will have to pay for the return shipping if you decide to return the diamond. One way to get around this is to ask them about their SEE IT TO BELIEVE IT program (not advertised) and in return for a shorter inspection period, you won't have to pay for shipping in either direction.
What really sets High Performance Diamonds apart is their 80% lifetime buy-back policy which is unheard of in the industry. Most jewelers don't even offer buy-back policies and only provide a 100% store credit, which means you have to go back and spend even more money with them (sometimes double what you originally spent). Even Whiteflash, with the next best policy (70% buy-back within the first year) doesn't come close.
Of course, High Performance Diamonds also has a lifetime upgrade program where you can trade-in your original diamond for a better one and it's totally unrestrictive so you only need to get a more expensive diamond, even if it's only a dollar more. The freebies that High Performance Diamonds gives away with your purchase are also the most useful that is out there. You get a 10x loupe, handheld idealscope, handheld ASET scope, a plunger type loose-stone holder, a ring type loose-stone holder, and a bottle of jewelry cleaner.
Conclusion
High Performance Diamonds receives my highest recommendation because when I help a client buy a Crafted by Infinity diamond, I know that it is going to be a diamond that has been cherry picked as a starting crystal and further cherry picked by me so that you end up with the best possible diamond money can buy. Buying a Crafted by Infinity diamond also offers you the most consumer protection, not only because of the value-adding policies I mentioned earlier, but their strict cut parameters protect you from loss of value if the major labs improve their cut-grading standards and if you ever have to make an insurance claim.
A diamond of this quality, if sold through traditional methods, would not be economical to sell. It's only because of Paul Sleger's ingenuity in his business model, which focuses primarily on manufacturing, and Wink Jones' reputation in the online community that is the unique combination that has allowed the highest quality diamond to be offered at competitive pricing. If you're interested in a Crafted by Infinity diamond but can't find one you want that meets your budget, please contact me and I'll do my best to help you out.
---
High Performance Diamonds
scores
5
out of 5 stars in this review by
Vincent Chan
---