I noticed this interesting question a few days ago.
You can read the original thread here.
The question, which of these two Good Old Gold premium cut diamonds is better?
Lets first have a look at them side by side.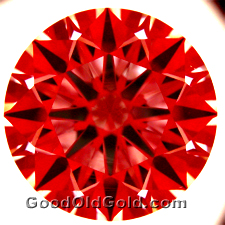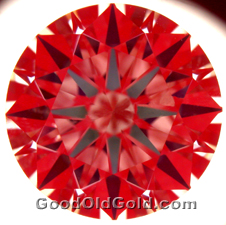 (The above images are courtesy Good Old Gold, used with permission.)
The diamond on the left is the 1.73 ct HSI1. The diamond on the right is the 1.88 ct ISI1. It can be seen from these diamxray photos (similar to idealscope but with a stronger backlight) that the 1.88 ct stone has better light return. However, if you look closely, some of the arrows are misaligned. Both diamonds are premium round diamonds so you would expect both of them to have some flaws.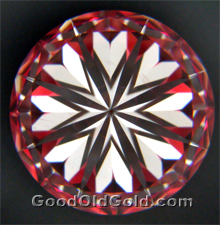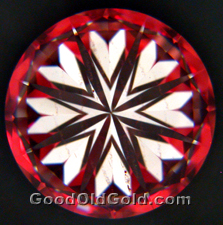 (The above images are courtesy Good Old Gold, used with permission.)
The misalignment of the arrows on the diamond on the right translates to the hearts image above. It is clear that the diamond on the left has a better hearts image. Therefore, Fizz83, if you are reading this, if your preferences are that you want to find a near-perfect hearts and arrows stone, the 1.73ct HSI1 is going to have better optical symmetry. If however, your preferences are for better light return, then the 1.88ct ISI1 is going to be the better choice.
The PSers are correct in pointing out that the 1.88ct is going to be visually larger. This is helped by the fact that it has better spread because of the shallower crown angle paired with a similar pavilion angle. It seems that you are ok with going with lower color to get the size upgrade so I'll leave that up to you.
I hope that I have helped shed more light on these 2 diamonds you have chosen. Thank you for giving me an excellent example to demonstrate the importance of finding out your preferences for the character of diamond before you purchase. If you haven't read it yet, you can check out my tutorial on the character of diamond for more information!
Best of luck in finding your perfect engagement ring.
-Vincent