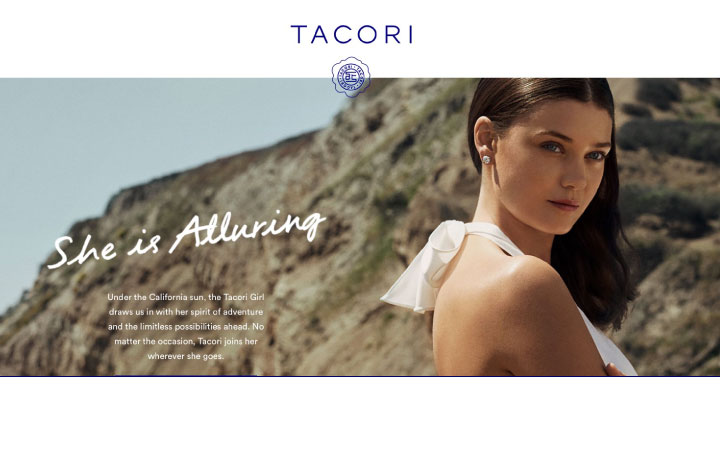 Tacori is one of the most successful stories in bridal jewelry and they have a history that exemplifies the American dream. Haig and Gilda Tacorian were originally from Armenia. In search of a new life away from a ruthless dictator, the couple brought their two children Paul and Nadine to the United States in 1969 where they settled down in Glendale, California.
Today Haig is still the head of the company, but Paul and Nadine also play significant roles as the head of sales and marketing and the head of design and operations respectively. Like many jewelry designers at the top of their game, Tacori engagement rings and wedding bands are only available through their network of authorized retailers.
Tacori has 5 different partnership levels with their authorized retailers: Blue Diamond, Diamond, Platinum, Gold, and Silver. The level of partnership of the authorized retailer will determine the turnaround time for your ring as well as the selection that is available.
A Blue Diamond partner has the largest inventory of Tacori rings and this together with preferred servicing time means that the turnaround time for Blue Diamond partners is within two weeks.
As of the time of writing, I'm only aware of 2 current Blue Diamond partners and these are H.L. Gross & Bro. (Since1910.com) and Arthur's Jewelers. Among the online retailers who specialize in selling super-ideal diamonds, Whiteflash is the only authorized retailer for Tacori that I am aware of. As a Gold partner, Whiteflash is able to provide a 3-4 week turnaround time on Tacori rings.
By choosing to deal only with the manufacturing side of the business, Tacori is able to focus on what they do well and this is evident in the quality of their rings. Their belief in the spirit of California – that anything is possible and that they should strive to do better tomorrow what they did yesterday is a reflection of the ethos behind what drives this manufacturing powerhouse.
The Tacori Touch
Tacori engagement rings are inspired through a combination of style from the brief Edwardian era (1901 – 1915) and Art Deco, which became popular in the 1920s and 1930s.
Edwardian jewelry is often described as light, graceful, and elegant with an extensive use of filigree (an ornamental technique that creates the look of lace in metal jewelry). Art Deco jewelry on the other hand brings geometric shapes, parallel lines, and symmetrical patterns that are associated with a more industrial era.
The fusion of the new with the old extends to Tacori's manufacturing process. Every Tacori ring is handcrafted in a process the company refers to as the Tacori Touch.
Every design starts off as a hand-sketch but is then converted into a 3D model using computer-aided design (CAD). A mold is created from the 3D model and the ring is created through a casting process by injecting liquid metal into the mold. Once the metal cools a goldsmith can put finishes onto the ring, adding detail, and polishing the ring to produce the maximum amount of shine in the metal.
This is actually a pretty straightforward casting method and what makes Tacori different is that they use lean manufacturing principles to reduce waste and this allows them to focus their resources on ensuring a higher quality product. In other words they keep things simple so that fewer things can go wrong.
Tacori also uses higher quality materials so their platinum is alloyed with iridium instead of ruthenium, and their 18k white gold is alloyed with palladium instead of zinc. This makes Tacori rings heavier, tougher, and whiter.
Tacori rings have small diamonds known as melee ("meh-ley") incorporated into their designs. A single small diamond is not expensive but some designs can incorporate literally a hundred of these small diamonds. It's important that the quality of the melee have a consistent brightness and color to them and Tacori ensures you get this by hand-selecting and hand setting every single diamond.
After the melee diamonds are set, the semi-mount (basically the setting without a center stone) goes through a final buffing process so that it is ready to be completed with a center stone. Tacori does the setting of the center stone so the authorized retailer you are working with will ship your diamond to Tacori to have it set.
Tacori's Hallmark: The Crescent Silhouette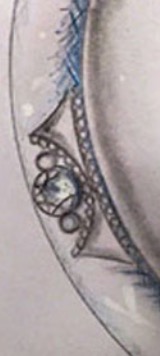 The Tacori hallmark is their Crescent Silhouette. Tacori describes it as "interlocking half-moon arcs, which provide windows of light to reflect the brilliance of the diamonds placed within each crescent silhouette semi-circle". It is a beautiful trademark that they aggressively defend to the benefit of all Tacori customers. Their popularity and exclusivity due to their cost make Tacori designs a prime target for copyright infringement, but Tacori's uniqueness is difficult to replicate and fakes are easy to distinguish.
Choosing an engagement ring setting is a very personal decision and it should reflect the style of the giver and also that of the wearer. If you're looking for an engagement ring that is a bit more special than a simple solitaire, then a Tacori ring will have many of the high-end design elements that you might be looking for such as melee, halo, filigree, milgrain, engraving, and accent stones.
Tacori Collections
Tacori has 12 collections of engagement rings and over 400 unique designs. If that is not enough for you, they also offer a custom design option so that you can literally get the ring of your dreams. Here are some of my favorites from each collection:
Top (From left to right): Starlit, Simply Tacori, Sculpted Crescent
Bottom (From left to right): RoyalT, Ribbon, Reverse Crescent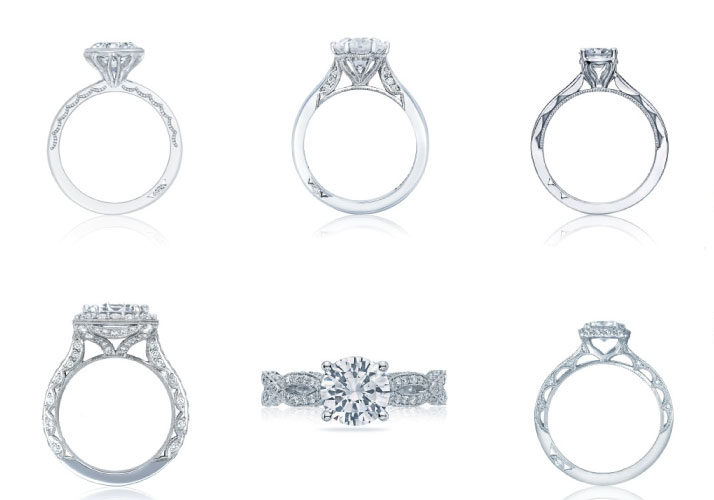 Top (From left to right): Reverse Crescent, Classic Crescent, Clean Crescent
Bottom (From left to right): Blooming Beauties, Full Bloom, Dantela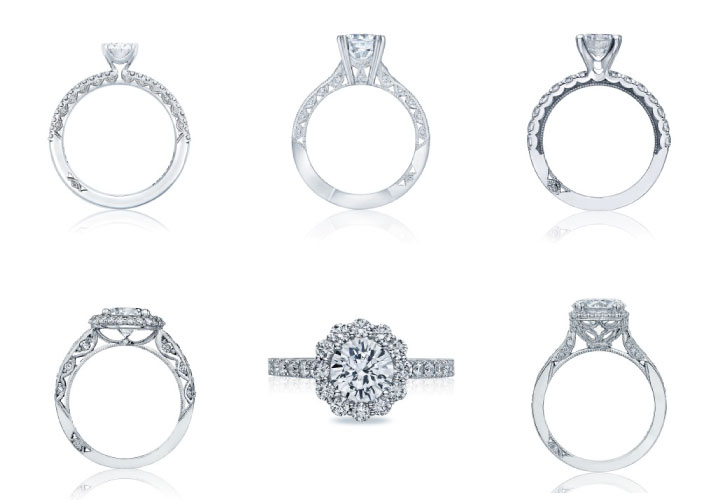 Conclusion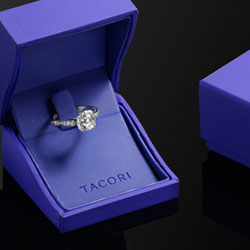 Tacori's attention to detail is second to none and this is evident in each one of their designs. I have to admit that a few of their designs are a bit over the top and will not be for everyone, but I think it is difficult to capture how beautiful these rings are in a picture. As beautiful as they look in 2D, they are much more impressive in person and I was blown away by the intricate details when I first saw one.
Finally, when you buy a Tacori ring it also comes with a beautiful patented ring box that is much thinner than a traditional ring box so that you can put it in your pocket without ruining the surprise. This is a nice practical touch that any guy with experience and hindsight would be able to appreciate. If you're thinking about getting a designer ring, then Tacori is one of the best designer brands available.