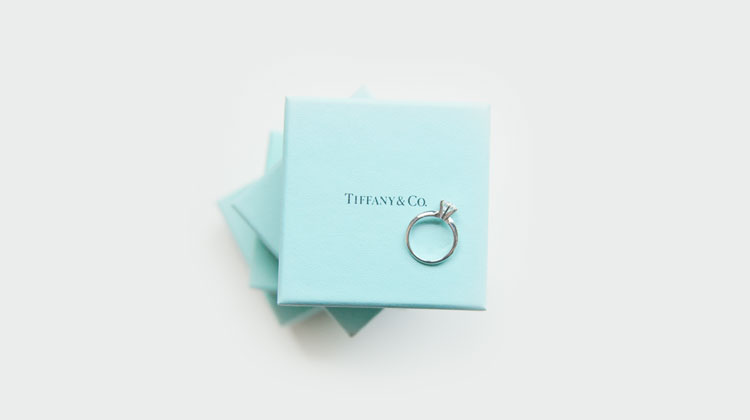 Tiffany & Co. was founded in 1837 by Charles Lewis Tiffany and since then, every piece of jewelry sold by Tiffany would be accompanied by one of their famous Tiffany blue boxes, a symbol that outdates even the diamond engagement ring. Tiffany also sells some of the highest premium engagement diamonds so many people want to know what makes a Tiffany diamond ring special.
Is it the cut? Is it the setting? Or is it just the price?
Well apart from the Tiffany Novo (a cushion brilliant) and the Tiffany Lucida (a square modified brilliant), which are proprietary cuts, the other diamonds that Tiffany carries are all standard cuts (round, princess, heart, emerald, oval, and pear).
But what if you love the look of the Tiffany Novo or the Tiffany Lucida but can't afford to buy one from Tiffany?
There are actually other cushion cuts and cut-cornered square modified brilliants that have a very similar appearance to the Tiffany Novo and Tiffany Lucida. If you're interested, you should check out Brian Gavin Diamond's H&A cushion.
Are Tiffany diamonds cut in-house?
Some of them are. Tiffany does cuts a portion of the diamonds that they sell, and the rest are purchased from third parties. The diamonds that they cut in-house are done so outside the United States and Tiffany makes no distinction between a polished diamond that has been cut at their own facilities and one that they have purchased.
Who supplies Tiffany with rough diamonds?
Tiffany is a sightholder (someone who purchases rough diamonds) of the Diamond Trading Company, which is an affiliate of the De Beers Group. But in order to secure enough supplies of rough diamonds, Tiffany invests in mining projects either by agreeing to purchase a portion of a mine's output or by loaning to, or investing in the shares of mining companies. Tiffany states that 65% – 75% of their polished diamonds have been produced from their own rough diamond purchases.
Being a sightholder, and in some cases having the ability to have the rough delivered directly to Tiffany's processing facilities from the mine promotes good corporate responsibility. Tiffany diamonds come with a promise that their diamonds and precious metals are sourced in a way that is socially and environmentally responsible. Tiffany also promises that their diamonds are conflict-free, that they are not from Zimbabwe (where diamond mining is associated with state-sanctioned human rights abuses), and that they are natural and not synthetic diamonds.
Tiffany Complaints
Every once in a while, a reader will email me to complain about their experience of shopping for a diamond at Tiffany's.
I'd be reminded about how their sales staff cannot adequately explain the difference in cut between two Tiffany diamonds. That Tiffany stores do not have hearts and arrows viewers, idealscopes, or ASET. I've heard complaints that their stores would be unable to help them find particular specifications that I recommend on Prosumer Diamonds. Most frequently, I would hear a complaint about how their pricing is unreasonable and that their diamonds don't come with GIA lab reports but rather Tiffany's in-house certificates.
These complaints aren't entirely wrong, but if you find yourself agreeing with these points then you are probably not Tiffany's target market. As their brand new CEO Frederic Cumenal wrote in the company's 2014 annual report, Tiffany's target market is a customer who values "brand heritage, great design, exceptional quality and craftsmanship, and exemplary customer service". Tiffany competes on its reputation and they do not engage in price promotion.
With this in mind, I will be evaluating Tiffany's on their marketing material, the diamond buying experience, the quality of their diamond, their pricing, and their value added policies in the same way I do all my reviews.
Marketing Material
Tiffany's website and promotional booklet both state that, "Tiffany uses stricter diamond standards beyond the oversimplified 4Cs.".
What exactly does this mean?
Well there is an entire page dedicated to explain what it means to be "Beyond the 4Cs". It turns out that what is beyond the 4Cs is 'Presence', a term used only by Tiffany to refer to the polish and symmetry of the diamond. Both polish and symmetry grading are basic information that you get with every GIA or AGSL graded diamond so I'm really hoping that this is not the extent of what Tiffany means by using stricter standards. Just so you know, almost all of the GIA/AGS diamonds I recommend have excellent/ideal grades in both polish and symmetry.
The booklet also states that "Tiffany diamonds are cut to maximize brilliance". My interpretation of this is that Tiffany diamonds are cut for maximum brightness and contrast. Although there is no industry standard for this, I don't think it would be unreasonable to expect no light leakage from Tiffany's diamonds. After all, how can you maximize brilliance in a diamond if it had leakage? Later on in the review I will look at whether the Tiffany diamond I was presented with at their store lived up to this statement.
It's also interesting to note that there is a hidden note on their website that states, "Tiffany gemological standards refer only to round brilliant diamonds from .18 to 2.99 carats set in certain ring styles". Unfortunately they don't elaborate on which ring styles so it's probably best to confirm with your Tiffany Sales Professional.
So who sets these standards?
The Tiffany Gemological Laboratory
Tiffany is often criticized for operating its own Tiffany Gemological Laboratory and issuing in-house certificates instead of relying on an independent lab like GIA or the AGSL. When you grade the diamonds that you sell, it's hard to avoid being seen as biased. I certainly would like to see Tiffany diamonds come with independent lab reports in addition to their own certificates. However, there are some legitimate reasons why Tiffany may want to operate their own lab.
One likely reason is that Tiffany believes that GIA's approach to grading diamonds is inferior. This makes sense because this would mean using GIA certification puts the Tiffany brand at risk. Consumers these days are being sold on the idea that cut is king, and while there is truth to this, we still cannot neglect the other characteristics that have a huge impact on the price of a diamond.
Tiffany recruits senior graders from GIA and Tiffany graders are some of the most experienced in the world. Since Tiffany guarantees and stands by every one of their grades, while every grade on a GIA lab report has a one-grade gemological tolerance, there is added value in having Tiffany certification.
What about inflating the grading of their own diamonds?
In my opinion, it makes no sense that Tiffany would try to rip you off in this way because if people discovered that Tiffany were inflating their grades, it would ultimately damage their brand. They also wouldn't be so bold about offering a guarantee that their grading is accurate.
Do they save money by not sending their diamonds out for GIA grading?
It costs a lot of money to run a lab and I'm sure it would be far more cost-effective for Tiffany to rely solely on GIA. Therefore, the only logical reason for them to operate their own lab is to ensure (or at least appear to have) the highest level of consistency in quality.
Diamond Buying Experience
If you want to buy a Tiffany diamond, you can of course head straight to one of their stores. But having explored Tiffany's website for this review, I highly recommend it to be your starting point.
When you browse for an engagement ring on Tiffany's website, you are simply presented with 48 choices organized into 12 pages with 4 rings on each page. Every ring is presented laying flat (so you can see the diamond face up) without any description until you mouse over it, which brings up its name and the image changes to the profile view of the ring. It is by far the easiest online experience I have had looking at diamond rings online and it's very easy to decide what you want to ask for in store.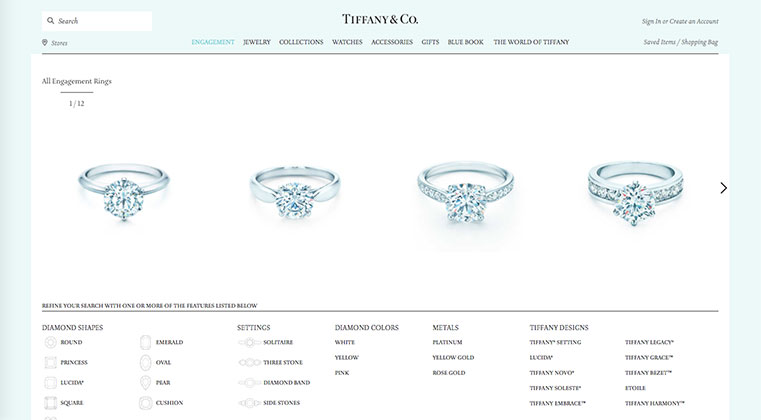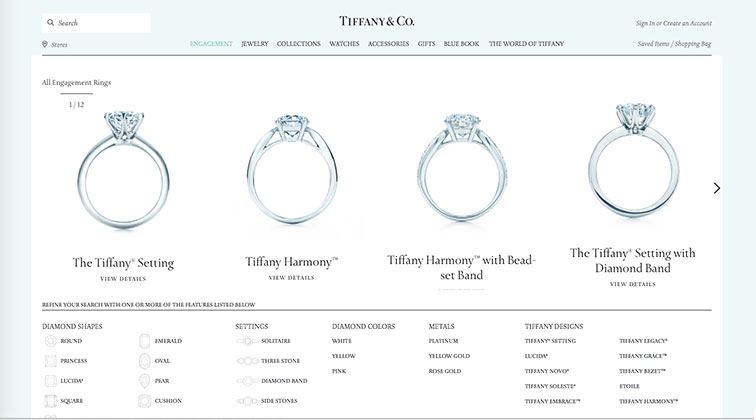 Having found a setting design that I like, I was ready to go my local Tiffany store. The reason why it's good to start online is because Tiffany diamond rings are all pre-set so you have to first decide on a setting and then they will find a diamond that fits what you're looking for with that setting.
At the store, the service level was excellent as expected, but the level of diamond education was very basic. There was such a limited selection and a focus on price that it made me feel like all I had to do was pick the color that I liked, determine the size that I needed, and let my budget decide what clarity to get. Cut was never the focus and when I asked about cut, I was told that all Tiffany diamonds would have excellent cut. All the diamonds I was shown had a lot of sparkle under their store lighting so I'm sure the average consumer would be led to think that all Tiffany diamonds were cut the same.
Quality of the Tiffany Diamond
So how good was the diamond that I was presented with? Here is the certificate of the 1.52ct HVS1 that I was presented with.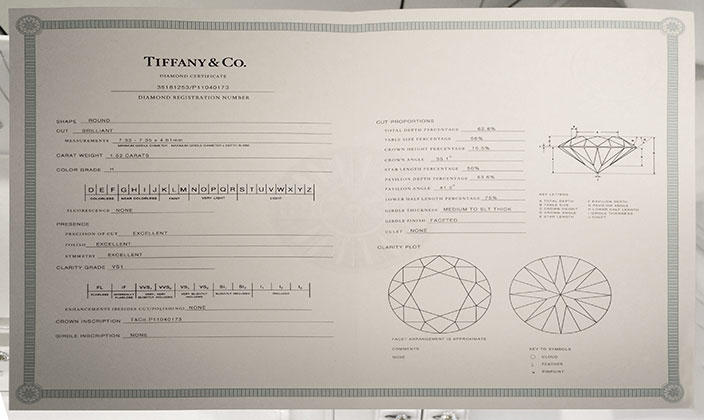 How does this diamond live up to the promise of maximizing brilliance? Well let's take a closer look at the proportions of the diamond. If you plug in the numbers on the Holloway Cut Advisor (HCA), you'll see that it doesn't score very well at all.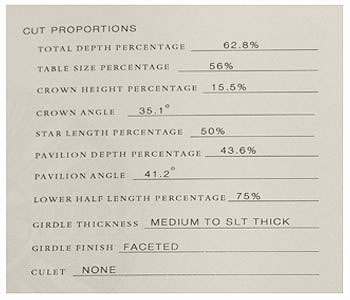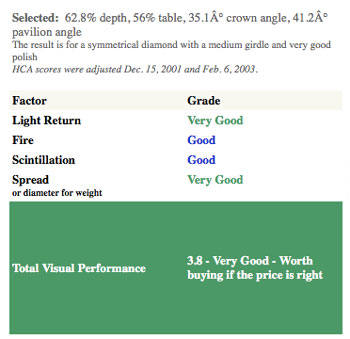 The truth is that this diamond has a slightly steep crown and a deep pavilion. It is a diamond that I consider steep-deep and one that has light leakage. In its mounting, light reflects off the bottom of the mounting to fill in the areas where the diamond is leaking light so it's impossible for you to see the leakage in the store. Under diffuse lighting, this diamond will not be one of the most brilliant diamonds and is not a diamond that I would recommend. In my opinion, this diamond falls short of Tiffany's promise that their diamonds are cut to maximize brilliance.
The reality is that anyone who is really concerned with cut should not buy a diamond at Tiffany. The sales staff are just not trained to sell in this way. The first time I was at Tiffany, I asked for a very specific set of specs and I was told that they would try to find it for me. I left my phone number but I never received a call back and when I followed up, they said they didn't have anything available.
It's been mathematically proven that there is a specific range of facet proportions that produces a quantifiably better diamond. If it were feasible for Tiffany to offer this, I am certain that they would. The truth is that at the scale that they are operating in, it is impossible for them to offer such specific cut criteria to their customers.
Pricing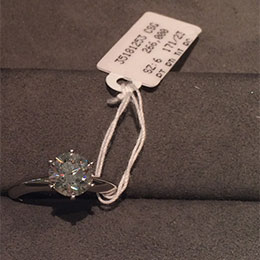 The price of the 1.52 HVS1 was $266,000 HKD ($34,300 USD) and as I mentioned earlier, there are no price promotions and no room for negotiation. A super-ideal diamond online with the same 4Cs would cost around $18,000 USD. A near-H&A from a budget online vendor with the same 4Cs would cost about $12,600 USD.
Value Adding Policies
Tiffany has different return policies depending on where you purchase your diamond. In Hong Kong, they did not offer any return policy, but can offer you store credit on an exchange within 30 days of purchase. They also do not offer any trade in, upgrade, or buy back policies over here. However, in the U.S., Tiffany has an upgrade policy where you will get 100% of your purchase price credited towards a diamond that is twice as expensive as the original purchase, but this is only applicable to diamonds purchased in the U.S.
What you do get with all Tiffany diamond rings is a lifetime guarantee that the diamond will be graded correctly. You will also get a lifetime of free cleaning at any Tiffany store in the world.
Conclusion
Buying a Tiffany diamond will never be a bargain and you'll need to decide is whether the Tiffany Setting, the Tiffany Blue Box, and the Tiffany promise is worth the huge markup. But honestly, even if the price of a Tiffany diamond ring was not so expensive, I will probably never buy a diamond from Tiffany. It's just not the place to buy a diamond for anyone who cares about cut.
So if you're looking for the highest quality diamond and you don't want to pay the huge premiums of a Tiffany diamond, I recommend you check out some of the vendors that carry super ideal-cut diamonds. If you find that you need some help, you can always contact me and I'll be happy to point you in the right direction.
---
Tiffany & Co.
scores
3
out of 5 stars in this review by
Vincent Chan
---