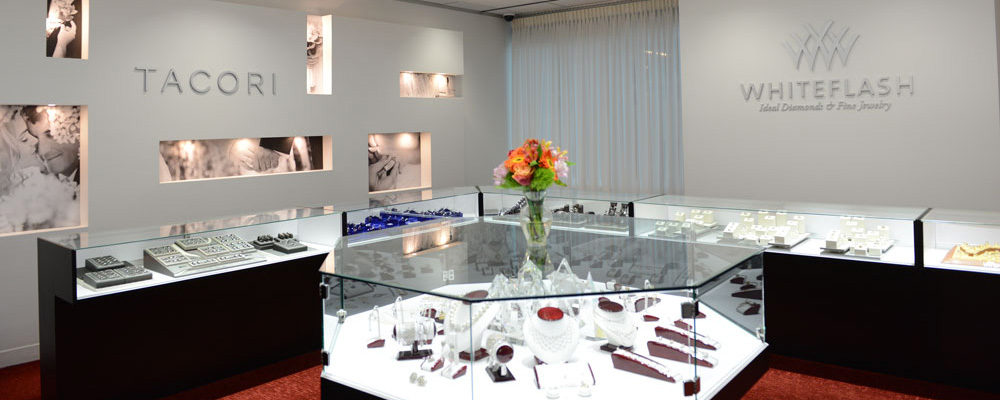 Whiteflash is an online jeweler based in Houston, Texas. Known as a pioneer in the online diamond industry, Whiteflash has been selling diamonds online since 2000 and they have one of the largest collection of super-ideal round and princess cut diamonds. Whiteflash's signature diamond, the A Cut Above® is highly regarded as being one of the world's best super-ideal diamonds.
Earlier this year I visited Whiteflash so I could check out their diamonds and see for myself how their operations and processes set them apart from their competition. Despite being primarily an online seller, they have a beautiful showroom with all of their designer rings on display so if you're within travel distance, I think it is definitely worth making a trip especially if you find picking a setting difficult to do online.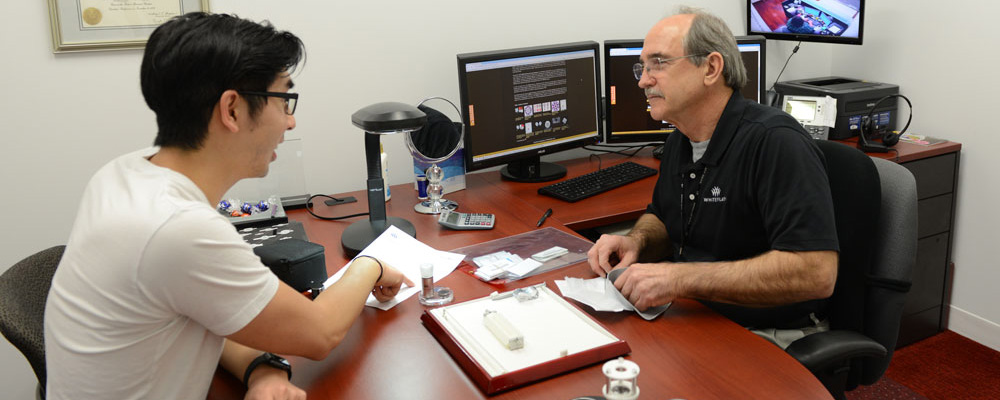 The Whiteflash business model combines all the good vibes that you might get in a small traditional family-business jeweler with the sophistication and scalability that you would expect from a large corporation. Most impressive to me is that Whiteflash is ISO 9000 certified. For those of you who aren't familiar with this international standard, I think it's worth us pausing to try to understand what this really means for an organization.
In order to become ISO 9000 certified, an organization needs to be compliant with international standards and also be submitted to an external assessment. This means that the organization must follow best practices in quality control and have processes in place for continuous improvement. But since it isn't a requirement for jewelers to do this, most simply just don't bother.
ISO 9000 certification means that you can be assured that when buying a diamond from Whiteflash, the information being presented about a diamond is accurate and that the diamond you receive is always going to be the diamond you purchased. It also means that they provide some of the most reliable information that enable me to help you choose the best of the best.
Point of Contact
As soon as you get in touch with Whiteflash they will assign you one of their diamond consultants. All their consultants are highly trained and talking to them will be like a breath of fresh air if you're tired of dealing with the sales staff from large jewelry chainstores.
A state-of-the-art customer management system keeps track of your project so that there is always someone who will be able to assist even if the diamond consultant you have been working with suddenly becomes unavailable. The customer service processes that are in place ensure that they won't miss a beat.
Whiteflash's attention to customers has won them the BBB Winner of Distinction for every single year since 2004 and they were the winners of the 2012 and 2015 Pinnacle Award for being the top jeweler in Houston.
The A Cut Above® Round

Whiteflash has one of the largest inventories of super-ideal diamonds. But what sets them apart is that they are the only super-ideal vendor I know that publishes a set of meaningful criteria on what qualifies a diamond into their signature line. Most importantly are the cut parameters for the proportions of the ACA and the guidelines on the optical symmetry requirements.
Every ACA is guaranteed to be AGSL Triple Ideal, which means that all ACAs have received AGS0 in all three cut grade categories of light performance, polish, and symmetry from the American Gem Society Laboratories. AGSL is recognized as being the top grading lab known for being the strictest in evaluating cut grade. In fact, Whiteflash's cut parameters fall right in the middle of the traditional AGS ideal standards.
| | | |
| --- | --- | --- |
| | AGS Ideal | Whiteflash ACA |
| Depth % | 58 – 62.3% | 59.5 – 62.0% |
| Table % | 53 – 58 | 53 – 58 |
| Girdle | T – M – ST | T – M – ST |
| Culet | N – P – S – M | N – P – S |
| Polish | Ideal | Ideal |
| Symmetry | Ideal | Ideal |
| Crown Angle | 33.7 – 35.8 | 34.0 – 35.0 |
| Pavilion Angle | 40.15 – 41.2 | 40.6 – 40.9 |
| Star % | N/A | 48 – 55% |
| Lower Half % | N/A | 76 – 80% |
A Cut Above diamonds must also pass a visual inspection and imaging tests to meet their standards for what a true hearts and arrows diamond is.
Whiteflash evaluates the hearts and arrows pattern for each ACA using the following checklist:
Check for eight equal, uniform and symmetrical hearts that are distinct and separate from the arrowheads above.
Check to see if the hearts are split and if so, measure length of heart then the length of the split.
Calculate the % of the length of the split and if it is greater than 8% and there are more than 2 of them the pattern fails.
Each arrow must be clearly visible with a shaft and an arrowhead.
The 8 arrow shafts and heads must be straight and in correct position.
The 8 tips of the arrowheads must meet the girdle.
There must be uniformity and balance.
Any diamond that falls outside the proportion guidelines or fails the pattern assessment will miss the mark of the ACA. In-house diamonds that don't make the grade become part of Whiteflash's Expert Selection line and this helps them keep their costs down. Sometimes Expert Selection diamonds have negligible visible defects and can represent excellent value for money.
The A Cut Above® Princess

The Whiteflash A Cut Above princess is a true super-ideal princess cut diamond. In order to properly be considered super-ideal, a diamond needs to have ideal light performance certified by an independent lab and then go above and beyond by adding stricter criteria in a meaningful way that produces a genuinely superior product.
Whiteflash has set the strictest standard for princess cuts and have put in place a process to ensure that every ACA princess meets this standard. Like their ACA rounds, every ACA princess goes through physical inspection and imaging where it will be checked to make sure that there are no clarity issues that have an affect on light performance.
Although there isn't an optical symmetry standard available for princess cut diamonds, every stone will still be reviewed to ensure that it meets the ACA standard for princess cuts.
The ACA princess is evaluated based on the following criteria:
The diamond is a square princess with a length/width ratio within 1.03.
AGS0 in overall cut grade.
No inclusions that affect the durability of the corners.
No light leakage in the center of the diamond.
There are no limitations on the facet arrangement of the crown and pavilion because Whiteflash recognizes that there are many different combinations that can produce excellent results. This means that although you can expect ACA princesses to all have ideal light performance, each one will have a different structured contrast and will perform with different light characteristics.
It's important to understand that AGS0 is a high starting point for a princess cut. In order to get AGS0 in light performance, it basically constrains the cutter to aim for a crown height of over 12%. Of course 'rule of thumb' standards are also impliedly met so you won't find an ACA princess with a table percentage larger than the total depth.
Like for their round diamonds, Whiteflash uses a two-tier system to cherry pick the best cut stones for their A Cut Above collection and any diamond that doesn't meet all of the requirements would become part of the Expert Selection line. Whiteflash's focus on a process driven quality assurance means that the ACA princess collection is the highest standard princess cut stone available.
Whiteflash has clearly come up with a system that for the most part does a very good job at choosing the best performing princess cut diamonds. However there are certain aspects of evaluating a princess that only comes with experience and cannot be written down easily in a guideline. The structured contrast of the diamond is one of the things that can be subjectively good but also in some cases objectively bad.
Whiteflash's vetting process is aimed at catching the objectively bad but requiring their diamond pickers to adhere to a strict guideline as to what is and what isn't an ACA means that occasionally bargains can be found in their Expert Selection princesses. Browsing Expert Selection diamonds and comparing them to ACAs is also one of the best ways to get an education on princess cut defects.
Designer Rings


From left to right:
Ritani French Set Cushion Halo in 18k WG $1,990
Vatche U-113 6 Prong Solitaire in 18k WG $1,600
Simon G. MR2566 Caviar in 18k WG $2,420
One of the key benefits of buying your engagement ring from Whiteflash is that they have access to some of the top brands in bridal jewelry making the task of completing the ring after you've picked out your center stone a breeze. Whiteflash is an authorized distributor for Verragio, Simon G., Vatché, Ritani, Danhov, and Benchmark.
They also have a pretty large selection of house branded jewelry, which is a good option if you just want something simple. One of their most popular settings is the Legato Sleek Line Solitaire, which combines their classic 'Legato' head with a smooth cathedral setting.
The photo team at Whiteflash deserves a shout out for providing some of the most stunning images of diamond rings. Check out this gallery where they post glamour shots of rings that were taken for their customers.
A Cut Above Melee
When you have a row of diamonds next to each other it's very important that they match. In typical melee, you might find that there is a huge inconsistency in the cutting of each individual diamond so that their light characteristics don't match. It's glaringly obvious if one small diamond is much darker compared to the others around it.
Whiteflash ACA melee diamonds come as small as 0.01cts, are F/G in color, VS in clarity, and cut to the highest standards available. Bear in mind that diamonds in this size range will not usually come with certification.
However, each ACA melee is reviewed following Whiteflash's strict internal processes so although these are not true super-ideal diamonds in my books, you can be assured that no matter how small these diamonds are that they will all have exceptional light performance.
Photography and Video
Essential to the online diamond buying experience are the photos and videos that you can obtain from the seller. In this regard Whiteflash is my number one choice as the vendor who provides the highest quality images that can allow a prosumer to confidently choose the best quality diamond.
Whiteflash has three dedicated photographers, each specializing in a different area of diamond photography (light performance images, HD videography, and jewelry creative photography). All are cross trained in the other areas so there is never an interruption in service. I was invited to see how their images are created and like everything at Whiteflash, it is highly process driven to ensure consistency, reliability, and accuracy.
One of the best things at Whiteflash are the high quality 360 videos they provide for all of their in-house diamonds so you can see how clean that SI1 is or confirm if that VS2 is completely eye-clean. If you have trouble identifying inclusions in the video then it's safe to say you won't be able to see them with your naked eye!
Eye-clean Policy
Whiteflash does a good job indicating clearly on every in-house diamond whether it is eye-clean or not. They are actually the only retailer I know that has a published statement on their eye-clean policy. Whiteflash defines eye-cleanliness to mean:
"No inclusions visible to the naked eye of a person with 20/20 vision when viewing the diamond in the face-up position at a distance of approximately 10 inches under normal overhead lighting."
Normal lighting conditions usually means diffuse fluorescent lighting.
Packaging and Delivery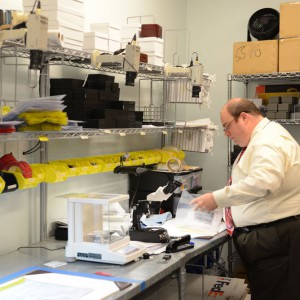 When you buy a diamond at Whiteflash you can be certain that the diamond you receive is the diamond you purchased. Each time a diamond moves from one department to another it is checked to make sure it is the correct diamond. There are limits to how many diamonds that can be handled at a time and everything occurs under CCTV.
Before the diamond is shipped, the lab report number is checked again and the diamond is packaged in a designated area where each step is filmed using three separate cameras. Whiteflash also provides free worldwide shipping and diamonds are fully insured to your local Fedex facility.
Before you purchase your diamond, I recommend that you familiarize yourself with their shipping policy.
The packaging that comes with a Whiteflash diamond is also something that sets them apart from other sellers. You get a high quality wooden ring box, a hearts an arrows view, and if you're buying a loose stone you will also receive a ring holder for your diamond. When you think about it, the cost of the packaging is very small when compared to the diamond so it's not an area that sellers should cut corners taking away an important part of the online diamond buying experience.
Conclusion
Whiteflash is clearly extremely process-driven and it is evident from point of contact to delivery. This allows them to provide the highest quality product and peace of mind that goes above and beyond what is expected of a retail jeweler. What's more is that I can clearly understand how their business achieves excellence and cost-effectiveness and this translates directly to money-saved for you without having to compromise on quality.
Whiteflash has created a diamond shopping experience that is easy and stress-free. At the same time they cater to those prosumers who want to take it to the next level. No matter where you are at in your diamond education, Whiteflash will hold your hand as much as you need or provide you with as much information as you desire and that is why they are one of my highest rated diamond vendors.
---
Whiteflash
scores
5
out of 5 stars in this review by
Vincent Chan
---