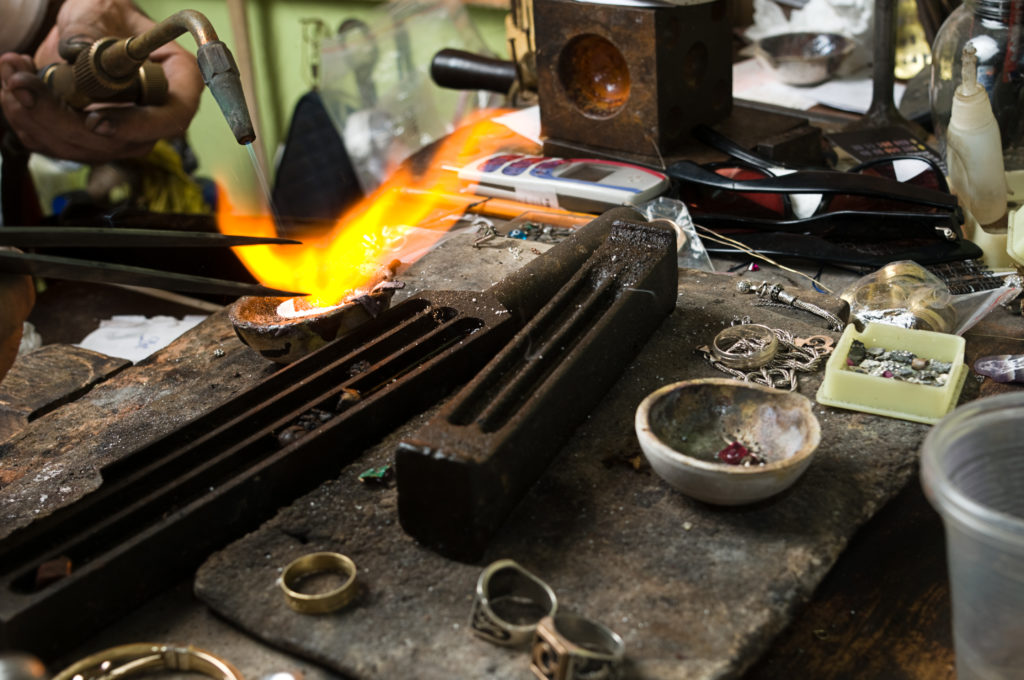 In last week's article: Is your custom CAD done by a CAD Artist? I explained why choosing the right jeweler is important. A good jewelry designer is not only an artist but a skilled craftsman so today I want to go through some of the issues that can come up when a jeweler casts a piece of jewelry.
Casting is a jewelry manufacturing process in which a molten metal is poured or forced into a hollow mold made of refractory material such as sand, plaster or clay and allowed to solidify within the mold before it is removed or broken out to get a fabricated jewelry part. The process akin to making jello from a mold.
Many beautiful pieces of jewelry can be created with this method but, as with anything else, quality control is incredibly important because there are many ways where the simplest things, like gas, can introduce flaws into a casting. Some flaws are never seen by consumers, as pieces that exhibit these flaws are usually destroyed immediately. But other flaws do make it out of some workshops, and those are the ones we'll discuss today.
Porosity
The easiest way to understand porosity is to imagine a piece of Swiss cheese. The metal is the cheese and the bubbles are the result of the metal absorbing gas during the casting process creating pits and holes. Porosity can be concentrated in certain areas, or spread throughout a piece weakening it so that it becomes prone to breaking. Porosity can be particularly problematic in pieces that have thin shanks or when it effects the prongs.
Some jewelers try to fill porosity on the surface of an item with solder which will leave speckled, discolored areas possibly even visible to the naked eye. If your jeweler does this without telling you about it first, that can be a red flag that perhaps your jeweler is not the right one for you. Some jewelers will try to conceal porosity by "burnishing" the surface of the piece.
Burnishing can best be described as an extreme polishing where high sliding pressure is applied to the surface of the piece which compresses the surface of the metal removing the appearance of defects. The problem with burnishing is twofold. First, burnishing metal simply hides the appearance of the surface bubbles, the air pockets below the surface are still there. Second, it's only a temporary solution, which means when the piece is serviced or refinished in the future the porosity will becomes visible once again, which would cause a need for further burnishing, which is an expensive process.
In addition, each time you burnish your jewelry it makes the metal thinner, even weaker, and can even distort the shape of a piece and obscure those delicate details you love. Do not accept burnishing on rings and other pieces that will incur a lot of wear and tear, and therefore need to be resurfaced frequently. If it's a piece that does not incur a lot of wear and tear, then the decision should be yours as to whether burnishing is right for you.
Keep in mind that once the metal is casted, there is no remedy for porosity. In most cases, the piece will need to be remade.
Cracks
Another common problem seen in castings are cracks. There are a number of different causes for cracks seen in castings but often cracks form due to incorrect cooling. These cracks are known as quench cracks and can happen when the metal has been overheated before cooling, over aggressive cooling, improper cooling technique, or due to a problem with the design of the piece.
Some cracks are obvious and can be seen even with the naked eye. Other cracks are difficult to see without magnification and as a result, can find their way to an unsuspecting consumer. Again there are no remedies for cracks and the piece must be remade.
Sink Marks
Sink marks occur when metal in different parts of a piece responds unevenly to cooling. Although sink marks generally do not affect the strength or durability of a piece, the presence of sink marks is considered a major defect as they can significantly impact the appearance of an item. Sink marks look like small depressions on the surface of a casting.
Though typically small, sink marks are often distracting because they reflect light in a different direction compared to the rest of the piece. If these sinks are not too deep, refinishing the item may result in the flaw disappearing, so if your jeweler wants to give this a go, it is fine to agree with it. But, if you are not happy with the result of the refinishing, then your jeweler should agree to remake the item.
Investment Inclusions
Investment powder is a key ingredient used in the casting process that normally you would not need to know anything about if everything went smoothly during manufacturing. Unfortunately, if you see a square-cornered depression in a piece, it is typically the result of chunks of the white investment powder used in casting having been concentrated in a location and leaving their mark on the metal.
It'll usually be a pointed indentation on the surface of the item. If this mark is not too deep or not in a visible location, refinishing the item may work. Investment inclusions do not typically affect the strength or durability of a piece, unless they are located in a delicate area.
Conclusion
How do you know if you have any of these concerns? First, you should pore over any item you buy with a loupe, and I recommend a 20x magnification loupe as it makes it easier for untrained eyes to see flaws or areas of concern. Do not be afraid to pop that loupe out right in front of the jeweler because you're able to prove it was pre-existing if you happen to be at a less than reputable jeweler.
Second (and even more important), this is why I recommend that a good independent appraiser, that is not a retail jeweler themselves, be your first stop after you get a new item. A trained professional, who is not in competition with the jeweler you purchased your item from, is your best resource. They are a neutral party to the entire project, so you'll get an unbiased appraisal of you piece. You can even request that your jeweler send the piece directly to the independent appraiser of your choosing. Be sure to tell any appraiser you hire that you specifically want them to examine the piece for manufacturing defects.