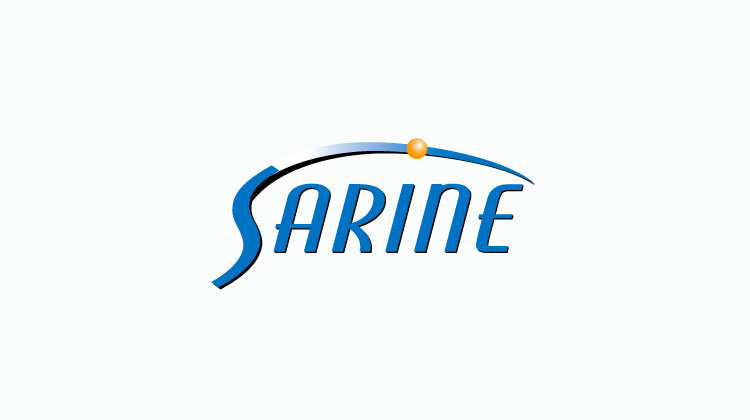 Sarine Technologies, headquartered in Israel, is one of the largest technology suppliers in the diamond industry. The company was established in 1988 and is a listed company on the Singapore Stock Exchange.
Sarine's products can be found in gem labs, diamond appraisal businesses and manufacturing plants all over the world. Their bread and butter products include non-contact measurement, inclusion mapping, and diamond imaging devices and services.
Earlier this year I met Michael Goren, who is Managing Director of Sarine's new Hong Kong subsidiary, at the Hong Kong International Gem, Diamond, and Pearl Show. Michael explained to me how Sarine sees a changing landscape in the diamond industry and the company is now making a push to provide retail solutions for the consumer.
He also showed me some of Sarine's latest products, the Sarine Light, Sarine Loupe, and Sarine Profile. This was pretty exciting stuff and together, they may just revolutionize the way we buy diamonds.
The Sarine Light, Sarine Loupe, and Sarine Profile are products that aim to solve the lack of transparency faced by consumers when buying a diamond.
Consumers are usually surprised to learn that a GIA lab report, while essential, is not sufficient for making a fully informed purchasing decision. It then becomes very difficult for the average consumer to determine how good a diamond is whether purchasing from a brick and mortar store or online.
Many jewelry companies don't provide adequate training for their sales staff and salespeople usually work on commission so unscrupulous sales tactics are frequently employed. Online, consumers face a different set of problems because many diamonds purchased online are still being bought sight-unseen.
Even when images are available, a consumer needs to spend time learning how to interpret what they see in an image if they want to buy a good diamond. This is no easy task on its own, but a general lack of consistency in imagery makes this an even more difficult task for the average consumer.
So what exactly are the Sarine Light, Sarine Loupe, and Sarine Profile?
Sarine Light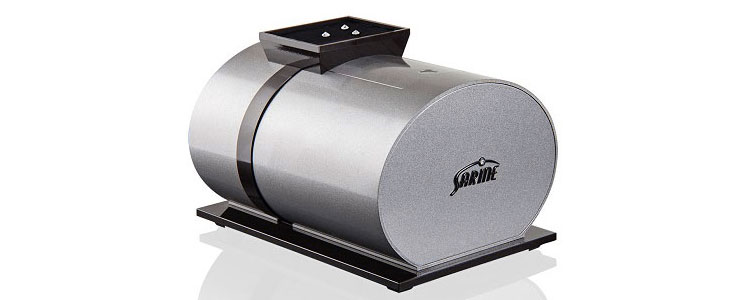 The Sarine Light is a machine that uses digital imaging analysis to measure the light performance of a diamond. The Sarine Light hardware is based on ISEE2 technology and Sarine's proprietary software analyzes the images and outputs a light performance grade.
Light performance, for those of you who are new to diamonds, refers to how a diamond returns light to an observer. Light performance is critical in an objective evaluation of a diamond's beauty so having a tool evaluate light performance in a meaningful way will be very useful for consumers.
Now I know some of you out there are thinking that there are already other popular tools out there that help assess light performance in diamonds. There are calculators such as the HCA, reflector technology such as the idealscope and ASET, and of course the cut grades issued by the labs.
Do we really need another system?
Sarine Light vs HCA
There is a big difference between a tool like the HCA and the Sarine Light. The HCA takes in only 5 inputs, which are rounded averages of only a few of the proportions of a diamond. Also, the HCA only works for round diamonds and the reference charts used contain many assumptions. I've written a whole article on the HCA that you can read here, but the conclusion is that it's not a very reliable tool for diamond selection.
In comparison, the Sarine Light measures the actual light being returned by a diamond and every aspect that impacts light performance is accounted for including the color and clarity of the diamond. Unlike the HCA, the Sarine Light can determine the light performance of round and princess cut diamonds and soon will be available for other shapes as well.
Sarine Light vs Reflector Technology
The Idealscope and ASET allow you to quickly determine the light performance of a diamond. However, this first requires you to learn how to interpret what you are seeing. It's easy to learn how to use these images to reject a diamond, but it's much more difficult use them for the purpose of selection. One reason for this is because the lighting environment and camera setup can have a huge affect on the validity of reflector images.
The Sarine Light on the other hand is fully automated so it lets you compare two diamonds without human error in a controlled environment with results that are repeatable. The Sarine Light also comes up with a single overall light performance grade that will tell you whether or not a diamond is a top performer.
Sarine Light vs Lab Cut Grades
We rely heavily on labs to grade the color and clarity of diamonds accurately and reliably, so why is it that we cannot do so with cut? The truth is GIA has a dominant market share and to have even introduced a cut grade in 2006 was a remarkable achievement that affected many people in the diamond industry.
The GIA Excellent cut grade ended up covering such a wide range of proportions that you're really nowhere close to being guaranteed a diamond with exceptional light performance. The AGS has a stricter AGS0 ideal-cut grade and a more comprehensive light performance grading system, but AGSL graded diamonds currently account for only a very small percentage of diamonds worldwide. Sarine's light performance grade is meant to be additional information to supplement a GIA lab report.
The Sarine Light sounds very impressive in theory so I wanted to take a closer look at the technology behind the Sarine Light and the methodology behind Sarine light performance grading.
How the Sarine Light Works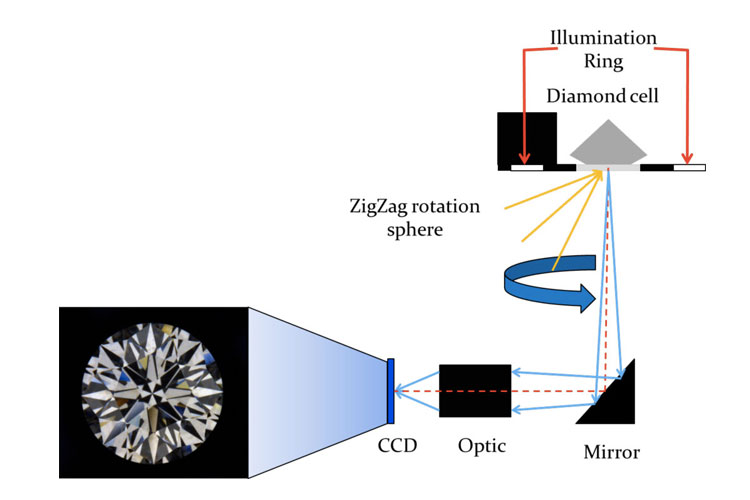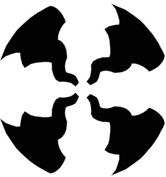 Inside the Sarine Light, there is a ring of light that illuminates a diamond through a rotating zigzag hemisphere. This zigzag pattern causes the facets of the diamond to switch between returning no light, colored light, and white light. Images are captured using a high definition digital camera.
The results are displayed as a series of images that show us how the facets return white light and colored light.

The Sarine Light software analyzes the images and uses algorithms to determine four parameters that make up Sarine's overall light performance grade.
The four parameters are:
Brilliance
Fire
Sparkle
Light symmetry
Each parameter is graded individually and the results are then combined to form an overall light performance grade. Let me break down how these parameters are determined by the Sarine Light.
Brilliance
A common gemological definition of a diamond's brilliance is that it is a combination of its brightness and contrast. However, Merriam-Webster's online dictionary defines brilliance simply as the quality of being very bright. Sarine takes the more literal approach and measures brilliance as the average brightness of the light returned across the entire diamond.
The Sarine Light compiles all of the images with white light return to create a single image called a 'grey-level image'. The overall brightness of the image is taken as the average brightness of the grey-level image.


Using this approach, a mirror would achieve the highest brilliance with 100% light return. This approach allows brilliance to be measured in an absolute way but ignores contrast. We also know that overall brightness in itself is not necessarily correlated to the beauty of a diamond.
Fire
Fire is the term given to the colored light given off by a diamond when white light is dispersed into its spectrum of colors. Sarine goes one step further to separate total fire into static and dynamic fire.
To determine static fire, the Sarine Light analyzes the digital images taken and looks for groups of pixels called 'clusters' to see whether they return colored light. A cluster can return blue light in one image and yellow light in another. The Sarine Light measures the intensity of every color in each cluster of every image taken and adds them all up to determine the total magnitude of all the color in a diamond. The result is an absolute value that can represent the static fire of a diamond.
Dynamic fire takes into account the change in color of a cluster from one image to the next. A diamond with more dynamic fire will have a faster play of light. In other words, the diamond will have more sparkle. So you see, dynamic fire is not only a property of fire but also a property of the sparkle parameter.
Sparkle
Sparkle is technically referred to as scintillation. In gemology, scintillation is a dynamic property and can only be observed when there is relative motion between the diamond, the light source, or the observer. Sarine defines sparkle as a combination of dynamic contrast and dynamic fire. In other words, sparkle is made up of many changes in brightness levels and color and the Sarine Light measures the magnitudes of these changes to determine how much a diamond sparkles.
Light Symmetry
Sarine measures light symmetry by comparing one part of the grey-level image with another after rotating the image at 45-degree intervals for a round diamond and 90-degree intervals for a princess. This process is done 8 pixels at a time until every pixel of the image has been compared in this way. Initially, this seems like a bulletproof way to evaluate light symmetry, but there are some limitations to the system.
If the Sarine Light were set to a very high sensitivity, it would potentially be misleading because if a diamond is not perfectly round, it is actually preferable that it is cut with opposing facets that are symmetrical. Such a diamond can still be a hearts and arrows diamond, but measuring light symmetry at 45-degree intervals would likely produce a false conclusion that the diamond is not very symmetrical.
To avoid such problems, the Sarine Light has to be set to a lower sensitivity and this allows non-H&A or near-H&A diamonds to achieve the highest light symmetry grade. So it is important to reiterate that the Sarine Light does not evaluate hearts and arrows patterning, even though hearts and arrows is an indication of a very symmetrical diamond. The hearts and arrows viewer is still the only way to properly assess hearts and arrows in a diamond.
The Sarine light symmetry grade also cannot replace the physical symmetry grade issued by the labs. Also, because the Sarine Light grades light symmetry from the face up view using the grey-level image, you can't use it to determine optical symmetry defects such as facet yaw that can only be determined from the pavilion view of the diamond.
Nevertheless, a diamond with exceptional light symmetry and brilliance grades from Sarine is unlikely to be a poor performing diamond. This is because light symmetry has a huge affect on both fire and sparkle. The traditional concepts of brilliance, fire, and sparkle are actually quite intertwined and is one of the reasons why it has been so difficult to come up with industry standard definitions.
Overall Light Performance Grade
The Sarine Light Performance Grading system is pretty complicated so let me try to explain how it works.
There are 4 main grades and 3 sub-grades making a total of 12 overall light performance grades. The main grades are Ultimate, Premium, Classic, and Low and each sub-grade is indicated with a 3-star rating system. For example, the best grade would be an Ultimate 3 and the worst grade would be a Low 1.
The overall grade is calculated as an aggregate of the individual grades. The individual grades are further divided into 5 categories (Exceptional, Very High, High, Standard, and Minimum). Each parameter's individual grade is given an equal weighting in determining the overall light performance grade of the diamond.
Sarine recognized that it was difficult to rank each parameter in a meaningful way so instead, Sarine takes a conservative approach and will only give an Ultimate 3 to a diamond that achieves the highest individual scores on all four parameters. If only one parameter misses the Exceptional grade, then the diamond would be graded as an Ultimate 2 and if two parameters miss the Exceptional grade, then it would be graded as an Ultimate 1.
With 70 possible parameter combinations and only 12 possible overall grades the exact determination of each overall grade is not very intuitive. For example, it's not immediately clear from an Ultimate 2 designation which of the parameters failed to make the Exceptional grade. However, this is actually by design in order to support the different tastes of consumers and why Sarine also reports the individual grades for each parameter.
Sarine Loupe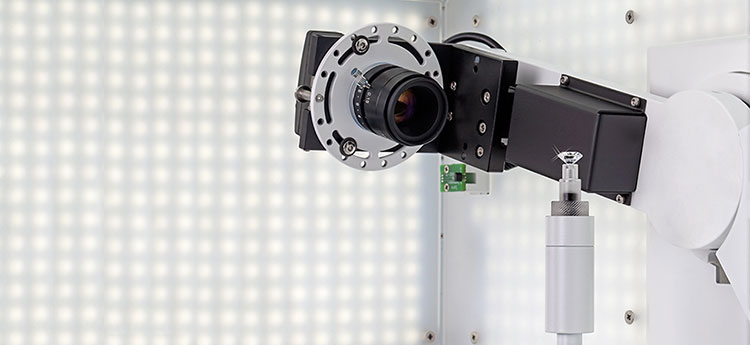 The Sarine Loupe is a high-definition camera mounted on a mechanical arm that can photograph a diamond from all angles. The best way to experience what the Sarine Loupe can do is to try it out for yourself here.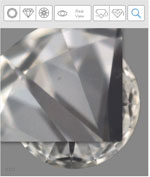 The Sarine Loupe allows you to examine a diamond as if you were looking at it through a jeweler's loupe like a professional jeweler. You no longer have to worry about shaky hands or straining your eyes to identify the inclusions in a diamond.
The 3D-model is actually constructed using real images that are stitched together so that it is truly photorealistic. Professionals and avid prosumers can use these high-definition images, which have been taken in a consistent lighting environment, to evaluate every aspect of a diamond.


You can use your mouse or finger to move the diamond around virtually and there are also several default views that you can choose from. I like using the profile view for evaluating color and the girdle of the diamond.
Sarine Profile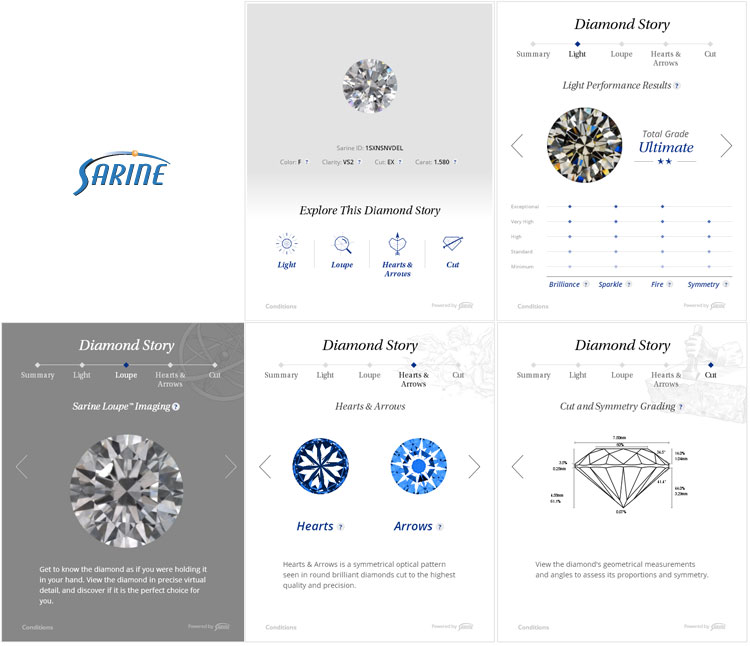 A Sarine Profile (click here to try it out) is a web application that allows you to explore a diamond's story from a mobile phone, tablet, or any personal computer. It was designed as a sales tool, so jewellers can customize the look and feel to suit their needs.
You start off with a photorealistic model of the diamond, which is a nice touch, but an average consumer is unlikely to be able to differentiate between two Ultimate 3 diamonds. The web app takes a while to load depending on your internet connection, but once it's loaded the navigation was smooth and intuitive.
The section on light performance brings you to the Sarine Light results so you can tell whether your diamond has more brilliance or fire. What the Sarine Light doesn't tell you is what kind of sparkle (more pin-flash or more bold-flash) to expect out of the diamond, but using the Sarine Light image, you can actually determine this yourself by looking at the size of the flashes.
Next is a section that has the virtual image created using the Sarine Loupe. On a phone or tablet, it is very easy to zoom into the diamond. I do prefer the full set of features of the Sarine Loupe, but what is provided in the Sarine Profile can give you a good idea whether or not a diamond is likely to be eye-clean.
There's also a hearts and arrows section where you can see the H&A images for the diamond. This was put in primarily because the Sarine Light does not measure hearts and arrows and with this information, you get a full picture of the diamond so that you can determine for yourself whether you're looking at a true super-ideal diamond. Finally, to complete the story, you can get quick access to the information on cut (proportions) and physical symmetry.
What I love about this tool, apart from the fact that it allows a novice to quickly compare two diamonds and identify the better diamond, is that it is actually a compact crash course in diamonds. You can click on the question marks that are next to all the key terminology and you are presented with additional information about that term.
Can the Sarine Light replace what I do?
I'm certain that one day, it will be possible for technology to replace the advice that I can give you. You will be able to talk to a computer and it will be able to understand your preferences and tailor to your needs. But apart from that, there are real limitations that prevent current technology from doing what I do for my clients.
The real barriers to achieving this isn't with the technology, but rather it is with the realities of commerce. In order for tools like the Sarine Profile to become mainstream, Sarine must balance the needs of consumers as well as those of retailers who still need to sell diamonds.
Eventually there will be a shift, and once retailers begin to realize consumers are choosing better cut diamonds, this realization will pass through the diamond supply chain and manufacturers will begin to cut diamonds to meet consumer demands. Sarine's technology can then further improve and the cycle will continue. It will be a slow process.
So although I'm not a huge fan of how the overall light performance grade is currently determined by Sarine, its light performance grading does fills a gap that has been left in a GIA lab report. The Sarine Light, Sarine Loupe, and Sarine Profile are game changing tools that I can see will play a huge part in the way we buy diamonds in the future.
The information Sarine has currently made available empowers those who know how to interpret it. Personally, I'm most excited about the Sarine Loupe and I can't help but think about how convenient it will be if I am able to evaluate every diamond that I'm asked to evaluate using it. With the Sarine Profile, Sarine has made it possible for anyone to make true comparisons in order to identify the best diamond out of a selection.
Unfortunately, currently only a small number of retailers have adopted it and most consumers don't even know these technologies exist. But you can make a difference, and I believe that the new generation of diamond buyers are demanding a much more transparent buying experience so I don't think it take long before you can go into any jewelry store and browse diamonds using these exciting technologies.
As always, if you're looking for help with you diamond search, please don't hesitate to contact me.