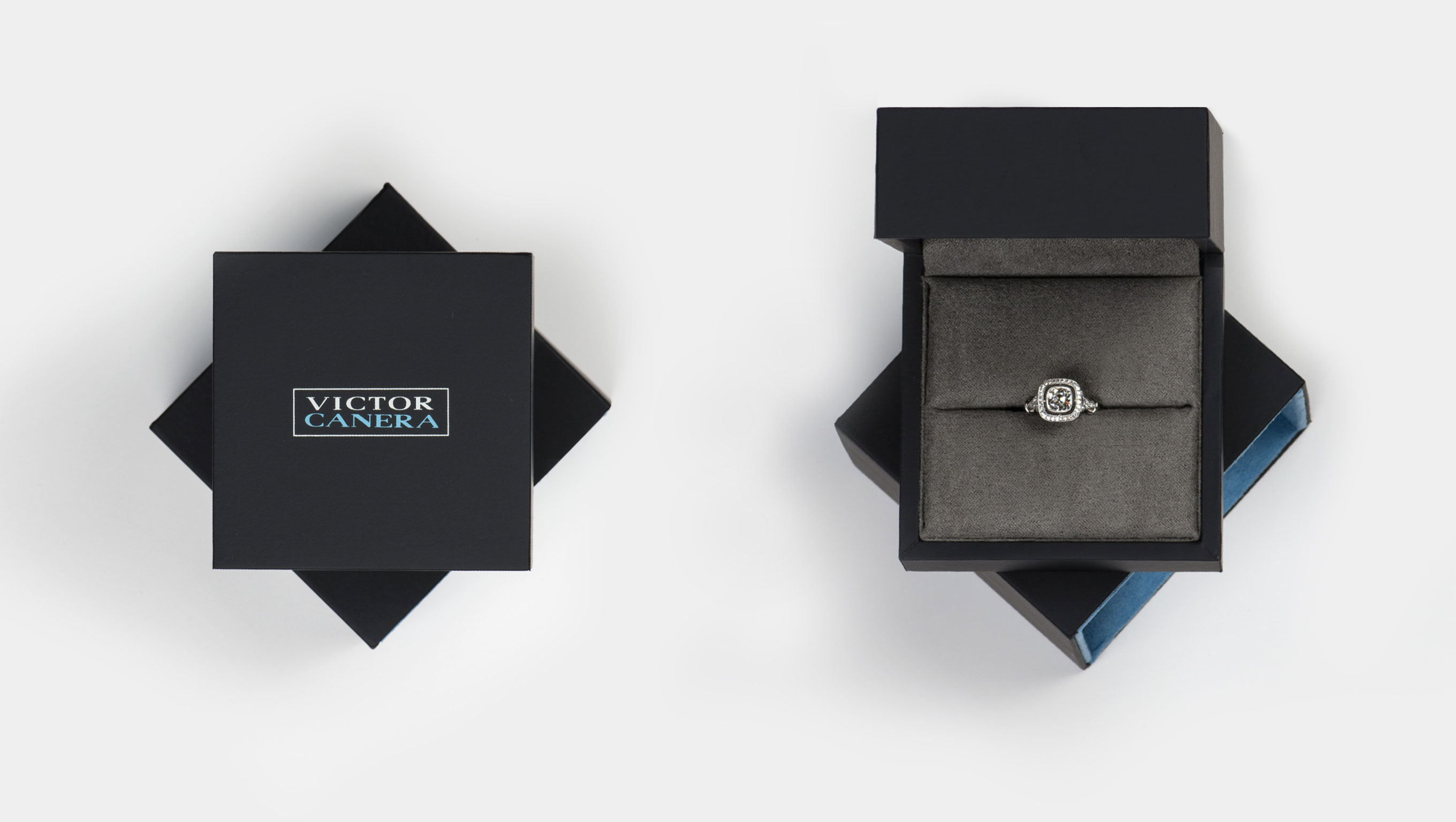 Victor Canera is a world-renowned custom jewelry maker and diamond designer. He also just happens to sell super-ideal diamonds with some of the best hearts and arrows patterning I have ever seen. Now you might be wondering, why buy a diamond from Victor Canera?
Victor grew up around diamonds. He had a grandfather who was a jeweler and his father was also a jeweler who later became a diamantaire (someone who imports diamonds). He was also heavily influenced by his uncles who had jewelry manufacturing businesses. Victor began helping out in the family business since the age of 12 and then went on to graduate from the GIA in 1994.
When Victor started his own business in 2000, he began to make his mark in the world of custom-made hand-forged jewelry and is now undisputedly one of the top custom jewelry makers in the world. If you're familiar with his work, then you will know that Victor loves vintage design. Victor's passion inspired him to design two proprietary vintage-cut diamonds, the Canera Antique Cushion and the Canera European Round.
In 2012, Victor launched his long overdue online website and introduced the Canera Ideal Hearts, his very own brand of super-ideal round diamonds. When I asked Victor what drives him to do what he does, he told me: "it's an extraordinary experience putting just the right diamond in just the right setting". Victor describes his hand selected diamonds as being like "a symphony orchestra where all of the various aspects contribute to a beautiful stone."
All of the diamonds on Victor Canera's website are in-house diamonds, meaning that these are diamonds that he owns and has access to. This is entirely different and a much safer way to buy diamonds than to buy from someone who is selling you a virtual diamond (a diamond that they do not own and have not seen) and telling you only what they want to from the limited information in their supplier's notes.
It's in the interest of a super-ideal vendor to only keep diamonds of the highest quality in-house so you can see why virtual diamonds are generally those that are of a lesser quality. The point I'm trying to make is that if you really care about how your diamond is cut and you want to prioritize quality then you should stick to in-house diamonds.
If you are a well-educated consumer who appreciates true craftsmanship in both diamond and setting, then you are Victor Canera's target customer. When I interviewed Victor for this review, he made it very clear that his goal is to take products that were previously only accessible by a very exclusive club and bringing that level of quality to a much wider audience. In fact, Victor wants you to compare the quality of his products to the very best from the finest jewelry houses in the world.
Since I'm not an expert in custom-made jewelry, I won't be reviewing the quality of Victor Canera's jewelry in this review. Instead, I'm going to be focusing on the quality of the Canera Ideal Hearts diamond to see how they hold up against my highest standards. As with all my reviews, I will also be evaluating Victor Canera's website on the use of marketing material, ease of use, value adding policies, and pricing.
Marketing Material
Victor Canera describes his Canera Ideal Hearts as some of "the most finely crafted diamonds" that "exhibit exemplary brilliance, fire, scintillation, and superior optical symmetry". He's emphasized that these are "world class, precision cut diamonds" that "represents the pinnacle in cut quality".
In other words, the Canera Ideal Hearts are being represented as true super-ideal hearts and arrows diamonds.
According to Victor Canera, each Canera Ideal Hearts diamond must:
Have superior optical symmetry with perfectly shaped and symmetrical hearts
Have exemplary light performance based on Victor Canera's standards which go above and beyond the AGS0 light performance grade.
Pass the highest standards of physical (facet meet-point) symmetry and polish, which are verified using high-resolution microscopy and reflector technologies.
Fall within Victor Canera's ideal proportions, percentages and angles.
All of his Canera Ideal Hearts have to meet at least the following proportions requirements:
Depth: 60.2 – 62.1%
Table: 53 – 58%
Crown: 34.0° – 35.0°
Pavilion: 40.6° – 40.9°
Lower Girdle: 76 – 80%
Girdle: Thin to Slightly Thick
Culet: None or Pointed
Polish: AGS Ideal
Symmetry: AGS Ideal
Light Performance: AGS Ideal
When I asked Victor why he doesn't sell different tiers of branded diamonds, he told me that he simply rejects those that don't meet all of his strictest standards. These strict proportion requirements, if coupled with perfect optical symmetry, will essentially ensure that Victor Canera's diamonds are in the sweet spot of super-ideal diamonds.
Ease of Use
One thing I was personally very impressed with when speaking to Victor was how much he understood the technical side to building a quality website. The site is very clean, fast, and responsive and it's clear that a huge effort was put into both the aesthetic and technical design of each component.
You can browse for loose diamonds, or you can start with some eye-candy and get inspiration from over 100 engagement ring designs that can be special ordered. Victor also has a smaller but excellent selection of right hand rings and wedding bands.
At the time of writing this review, Victor Canera had 151 in-house loose diamonds and 50% of these were Canera Ideal Hearts, 30% of them were Canera Antique Cushions, 10% of them were Canera European Round, with the remainder being a small but excellent collection of other fancy shape and fancy color diamonds.
All of the Canera Ideal Hearts diamonds are J-color and above and almost all of his diamonds are SI1 and above in clarity. Actually, I found that 80% of Canera Ideal Hearts were in the VS2/SI1 clarity range, which tells you how rare a super-ideal diamond that is VS1 and above really is. I just want to mention that Victor Canera's eye-clean policy is that a person with 20/20 vision will not be able to see the inclusions from a distance of 8 to 10 inches away under normal office lighting conditions, which is a fair standard.


You'll find a very standard diamond search filter on Victor Canera's website that's super easy to use even with the most basic understanding of the 4Cs. But for the most part, I found I only had to input a price range to really narrow down the selection to a few diamonds. The most number of diamonds was actually found in the $8000 to $9000 price range.
Once I added a filter to include only VS2/SI1 diamonds, I was left with the six diamonds that I wanted to review.
Analysis
| | | | |
| --- | --- | --- | --- |
| | Diamond 1 | Diamond 2 | Diamond 3 |
| SKU | MV2ZEN | LQ8463 | R4EKY5 |
| Depth Percent | 61.50% | 61.90% | 61.80% |
| Table Percent | 55.90% | 56.80% | 56.90% |
| Crown Angle | 34.9° | 34.8° | 34.9° |
| Pavilion Angle | 40.8° | 40.7° | 40.7° |
| Dimensions (LxWxD) | 6.65×6.62×4.08 | 6.77×6.79×4.13 | 6.81×6.79×4.21 |
| Fluorescence | Negligible | Negligible | Negligible |
| Culet | Pointed | Pointed | Pointed |
| Girdles | Thin, Medium | Thin, Slightly Thick | Thin, Slightly Thick |
| Lower Girdle Facet Percent | 77.00% | 77.00% | 77.00% |
| Star Length Percent | 51% | 52% | 56% |
| Cut | Ideal | Ideal | Ideal |
| Symmetry | Ideal | Ideal | Ideal |
| Light Performance | Ideal | Ideal | Ideal |
| Polish | Ideal | Ideal | Ideal |
| | | | |
| --- | --- | --- | --- |
| | Diamond 4 | Diamond 5 | Diamond 6 |
| SKU | UTX3PA | 97K403 | BW3ETR |
| Depth Percent | 61.90% | 61.80% | 61.90% |
| Table Percent | 56.20% | 56.90% | 56.10% |
| Crown Angle | 34.8° | 34.8° | 34.9° |
| Pavilion Angle | 40.7° | 40.7° | 40.8° |
| Dimensions (LxWxD) | 6.82×6.81×4.22 | 6.88×6.9×4.26 | 6.95×6.93×4.29 |
| Fluorescence | Negligible | Negligible | None |
| Culet | Pointed | Pointed | Pointed |
| Girdles | Thin, Slightly Thick | Thin, Medium | Thin, Medium |
| Lower Girdle Facet Percent | 76% | 77% | 76% |
| Star Length Percent | 54% | 53% | 52% |
| | | | |
| Cut | Ideal | Ideal | Ideal |
| Symmetry | Ideal | Ideal | Ideal |
| Light Performance | Ideal | Ideal | Ideal |
| Polish | Ideal | Ideal | Ideal |
Looking at these 6 diamonds, you can see that generally the depth percentages are between 61.5 – 61.9%. You might note that these proportions are outside the values that I typically recommend in my how to pick a round diamond tutorial, but it's important to note that in my tutorial, I also say that the total depth can be up to 62.5% for a 4% girdle. When I calculated the girdle thicknesses for these diamonds, Diamond 2, 3, 4, and 5 had slightly thick girdles (all over 3.5%) despite the AGSL noting that Diamond 5 has a thin to medium girdle.
A diamond's girdle does not have a significant effect on the light performance of the diamond but it is a form of weight retention so any weight going into the girdle isn't going to make a diamond look larger. However, you should never sacrifice the crown and pavilion angles just to get a thinner girdle. Actually, too thin a girdle can have durability issues so you want to avoid thin girdles if possible.
All 6 diamonds have excellent crown heights and ideal table sizes and so they will have excellent fire and sparkle. The crown angles on these diamonds are fairly consistent at 34.8° – 34.9° and this is actually very typical for super-ideal diamonds. What I really like is that the pavilion angles are all between 40.7° – 40.8° and you can see that 3 out of the 6 diamonds even have crown/pavilion combinations of 34.8°/40.7°.
This is great because it shows that Victor Canera's stones maximize light return instead of trying to save additional weight by taking the pavilion angle to the maximum 40.9 degrees and these diamonds strike a perfect balance between fire and brilliance.
Another thing I'm also quite impressed with is that the variation in the L/W of these diamonds is very tight with only diamond 1 having a difference of 0.03mm so essentially these diamonds are perfectly round. The larger the variation in the L/W, the more attention you will need to give to the H&A image to ensure that opposing facets are symmetrical.
You'll be able to notice that the lower girdle facets are all between 76 – 77%. The ideal lower girdle length in hearts and arrows is 77 – 78%, and the precision on a diamond has to be that much greater to make a hearts and arrows with 76% lower girdles. The shorter the lower girdles, the closer the Vs will be to the hearts in an H&A image and the diamond will be disqualified from being a true H&A if they are touching. I'll be looking out for the gap between the hearts and the Vs when I evaluate the H&A images.
Finally I'd like to point out that although the star facet length is not defined in Victor's proportion requirements, the star lengths in this sample are between 51 – 56%. You can get away with slightly longer star facets in super-ideal diamonds so I agree that longer stars should not be penalized. However, generally you want to have star lengths below 60% and you will want to check the ASET image whenever you have longer stars just to make sure the upper girdles are not too steep.
So let's take a closer look at the imagery that Victor Canera provides and evaluate these diamonds in more detail. Please bear in mind that I will be assessing these diamonds to my highest standards because they are being represented as the best of the best in terms of diamond cut quality.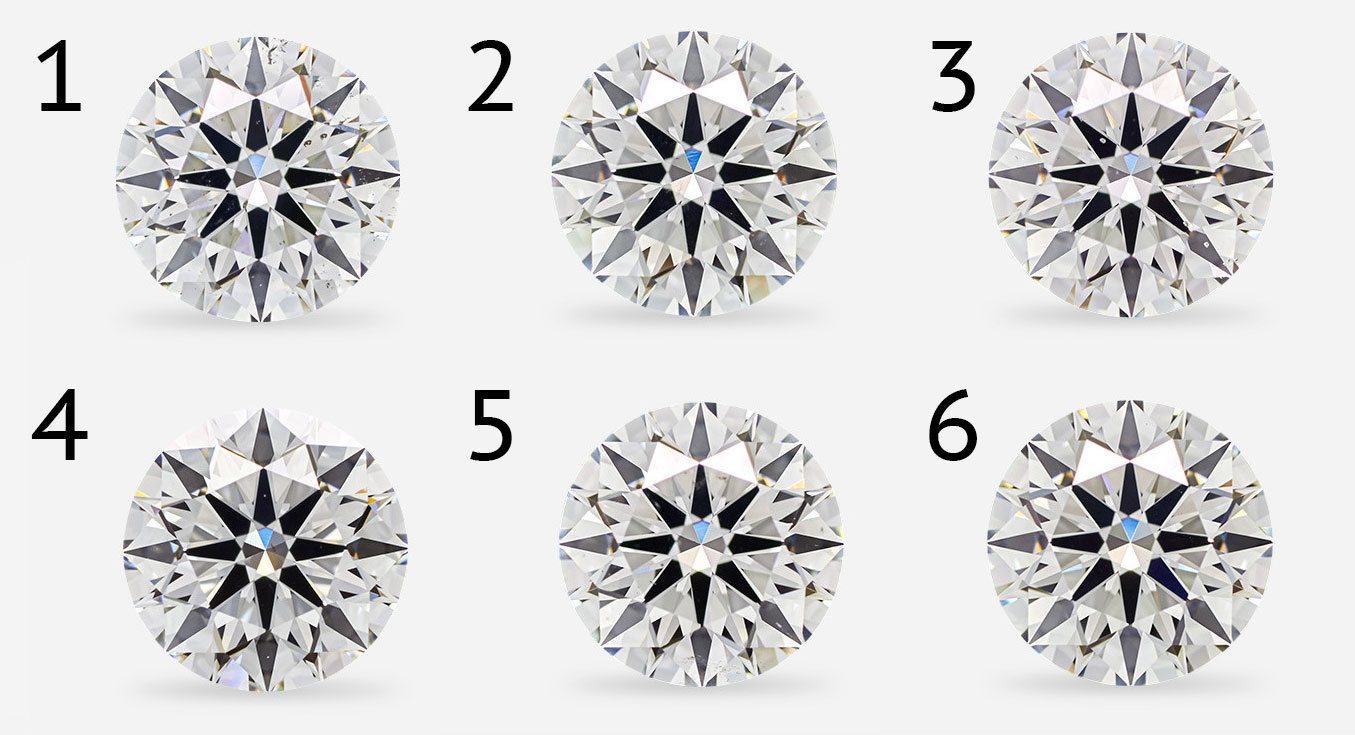 The first thing that strikes me is how high quality these images are. You can very clearly see the inclusions in both VS2 and SI1 diamonds and this makes it very easy to identify stones that are likely to be eye-clean. Without doubt, these are some of the best and most consistent images of diamonds that I have seen from any diamond vendor.
These photographs show the diamonds displaying some colorful hues and this is due to the angle and type of light being shone onto the diamond as it was photographed. With these actual images, you should be focusing on the overall brightness and contrast of each diamond. Admittedly, the differences here are quite subtle but it is obvious that these are all very bright and beautiful diamonds.
You don't have to worry if you find that you have trouble identifying the differences, Victor Canera provides a full set out light performance images on all his diamonds including idealscope, ASET, and hearts and arrows images so that you can be sure about the light performance of each diamond.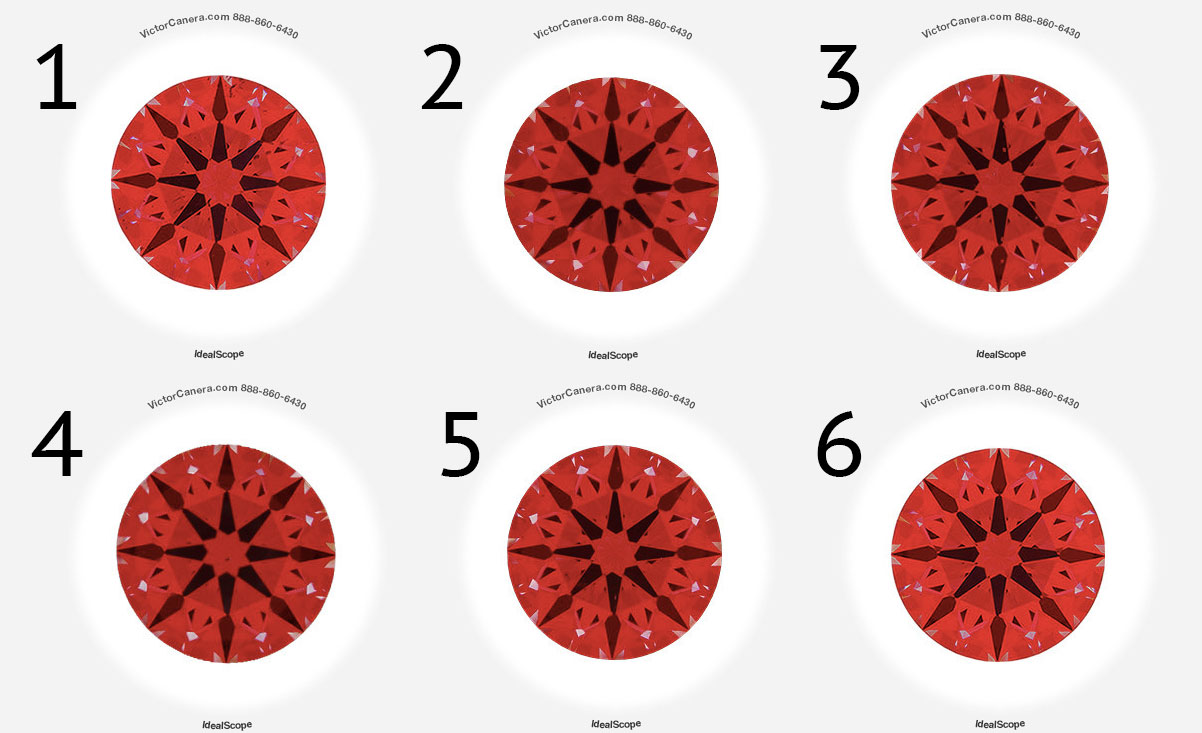 The idealscope was designed to be an easy way to reject poor performing diamonds that display light leakage. However, idealscope images are not so easy to interpret when the diamonds don't seem to have any obvious light leakage. What you should look at are the relative brightness between the red within each image and not compare one image to another.
You can see that the difference in the shade of red in diamond 1 and diamond 6 are the greatest indicating weaker light return underneath the table facet and this corresponds to the slightly steeper crown and pavilion facets. None of these diamonds have unwanted light leakage, but the idealscope does reveal which diamonds have the weaker light return. These idealscope images confirm that all of these diamonds have excellent light return.
Next we will want to look at the ASET images to see how each diamond handles light.
The ASET is a difficult tool to use and ASET images are difficult to take. When they are taken properly, they can reveal a lot about a diamond. For example, we can tell that Diamond 1 is a diamond with some painting of the upper girdles. The ASET can reveal even the most minor defects such as a couple of upper girdles that are slightly too steep in Diamond 4 that can be seen between the 9 o'clock and 10 o'clock arrows.
One thing the ASET should not be used for is to evaluate the intensity of light return because this tool was not designed for this purpose. You can see that Diamond 1's ASET was taken with stronger backlighting and this has exaggerated the weak light return under the table. Use the idealscope image to evaluate light return and the ASET to evaluate where that light is coming from.
It's important to note that Victor Canera's ASET images have backlighting and many vendors actually provide ASET images with periphery lighting and a dark background to make the ASET image look better. Victor Canera goes above and beyond to show you a diamond in its most critical light and for that I have the highest respect for the way he presents his diamonds.
Having evaluated the light performance images of the diamonds, I can properly conclude that all of these diamonds have edge-to-edge light performance and in particular, Diamond 2, 3, 5, and 6 have the very best in light performance. Now that we've verified that the light performance of these diamonds meet super-ideal standards, it's time to evaluate the optical symmetry. The proper way to do this is to look at the hearts and arrows images.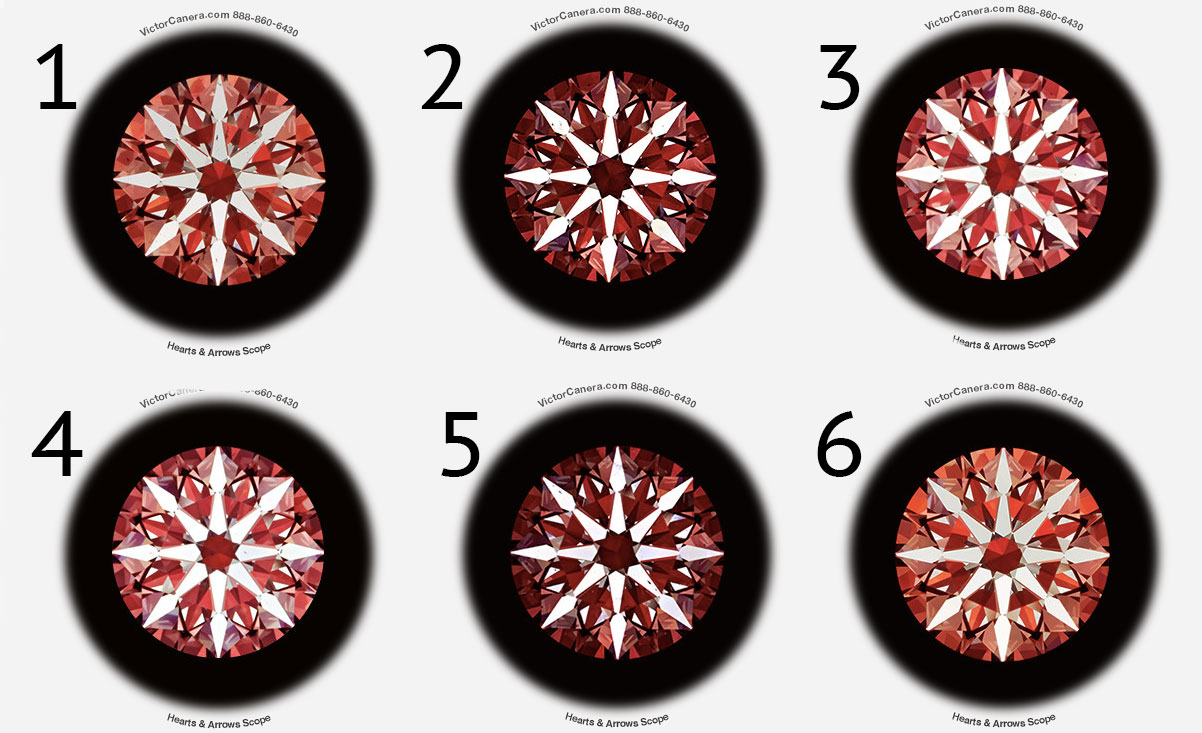 It's always difficult to take a perfectly level arrows image and you should not use an arrows image alone to evaluate optical symmetry. However, as you can see, all of these diamonds display a very crisp arrows pattern with every single arrowhead perfectly aligned with each corresponding arrow shaft.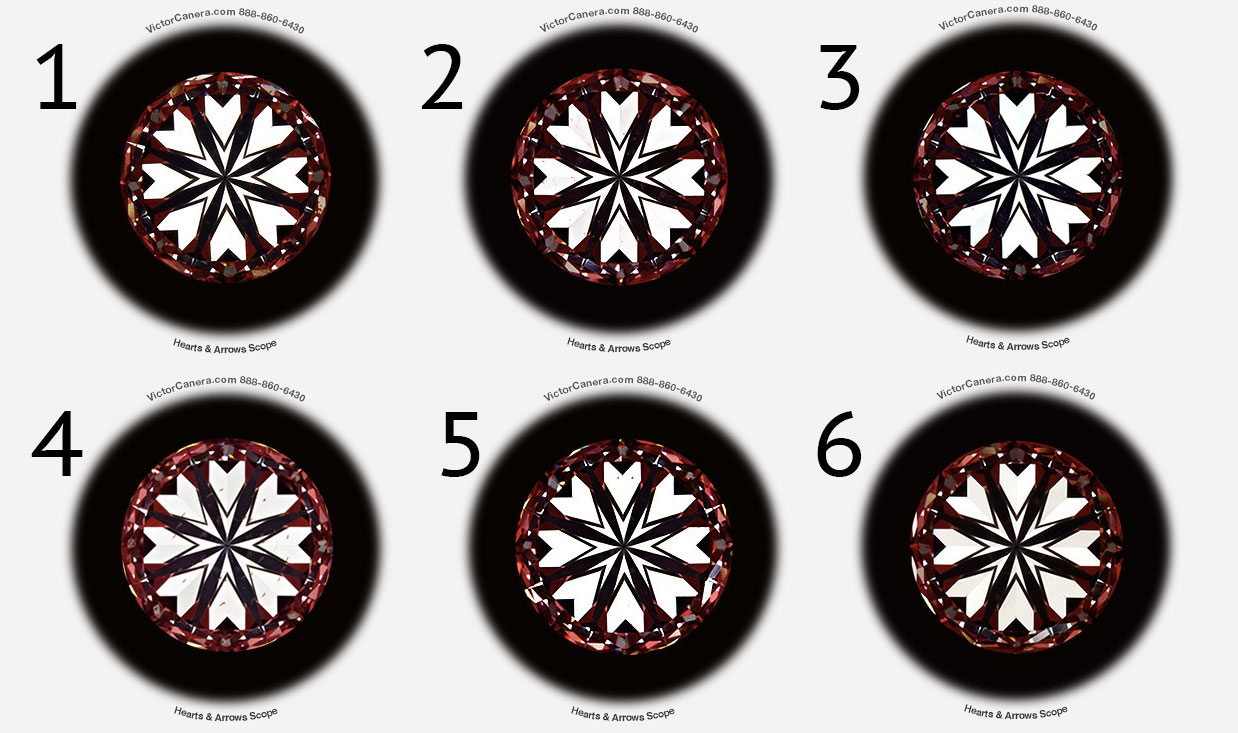 The hearts images truly reveal the cut precision of any diamond. Here is the checklist for assessing hearts and arrows that I've written about in my tutorials.
8 equally symmetric hearts and V's that are the same size
There should not be a clef between the hearts
There should be a slight gap between the V's and the hearts
The tops of the hearts should be flattened off
There should be no misalignment or distortion of the V's or hearts
What is very revealing is that Victor Canera provides very high-resolution hearts and arrows images. Not all super-ideal vendors do this because a high quality image does not always help vendors sell diamonds. A low-resolution image can hide the minor defects that are almost always present.
All six diamonds meet my highest standards for being proper super-ideal hearts and arrows diamonds. These are picture perfect hearts images and even diamonds 4 and 6, with 76% lower girdles have a nice visible gap between the Vs and the hearts. At this point, although it's possible to rank each of these diamonds in terms of how perfect they are, it really is splitting hairs and there are bound to be other more important differences between the diamonds that should be affecting your purchasing decision.
Value Adding Policies
Victor Canera offers standard overnight FedEx shipping within the US that is insured for the full value of the diamond. They also provide free return shipping and Victor Canera will provide you with a FedEx label that includes insurance for the return shipping.
It's important to know that if you plan to special order a ring, shipping will not be included and you will have to get an estimate from them. The cost of the shipping will depend on how much it will be to fully insure the item. If you're buying from Australia, Victor Canera will provide you with an AUSFTA form that may help reduce your import tax by 5%.
Victor Canera's return policy is 21 days. It's important to know that this does not apply to custom made or special order jewelry. Since custom or special order is currently the only options for setting your diamond from Victor Canera, essentially this return policy only applies to loose diamonds.
Once you have exceeded the satisfaction period of 21 days, Victor Canera has a one-year buy back policy that is 70% of the original purchase price of the diamond. Although this is not the highest percentage buy back in the industry, many vendors do not offer buy back policies at all so it's good to know that you can get at least 70% of the value of your diamond even in the case of a distress sale within 1 year.
If you've exceeded one year, Victor Canera will evaluate each buyback on a case-by-case basis and make you an offer on that diamond that is likely is better then what you can get elsewhere if you need cash immediately. Otherwise, your best bet is probably still to try to sell it yourself.
Hopefully you will be exercising your right to an upgrade rather than to buy back. For upgrades, Victor Canera has a two-tier upgrade policy so you need to pay attention to what applies to the diamond you're considering. There is a platinum upgrade policy that applies to the Canera Ideal Hearts and Canera European Round and there is a gold upgrade policy that applies to the Canera Antique Cushion.
The platinum upgrade policy gives you a 100% credit toward the purchase of an in-house diamond of equal or greater value. Basically the only difference between the platinum and gold upgrade policies is that a Canera Antique Cushion can only be upgraded to another fancy shape diamond. This also means that you cannot upgrade a Canera Antique Cushion to the Canera Ideal Hearts or Canera European Round.
It's important to note that anyone who wishes to returns a diamond for an upgrade will be charged a $200 re-certification fee for that diamond. The costs of re-certifying a diamond with the AGSL varies by carat but it averages around $150 so this is not an unreasonable fee to charge. It's also important to know that the credit only applies to the diamond and not any jewelry so if you purchased a ring with the diamond then you would not get credit for the ring.
Price
| | | | | | |
| --- | --- | --- | --- | --- | --- |
| | VC | CBI | SKU | BGD | SKU |
| Diamond 1 | $8,905 | $8,871 | HPD7171 | n/a | n/a |
| Diamond 2 | $9,162 | n/a | n/a | n/a | n/a |
| Diamond 3 | $8,956 | n/a | n/a | n/a | n/a |
| Diamond 4 | $9,059 | n/a | n/a | $9,806 | AGS-104071675021 |
| Diamond 5 | $9,265 | $10,266 | HPD7007 | n/a | n/a |
| Diamond 6 | $8,332 | $9,058 | HPD7048 | n/a | n/a |
It wasn't possible to find comparable diamonds for all six diamonds but generally you will see that Victor Canera is usually less expensive than the other vendors who are also selling diamonds that are the best of the best. If you're looking for a super-ideal diamond and you've found one in Victor Canera's inventory, then you'll know that you're getting pretty good value for what you're getting.
Conclusion
I'm extremely impressed with what Victor Canera is offering with the Canera Ideal Hearts. Diamonds 2, 3, 5, and 6 are really some of the best hearts and arrows diamonds I have ever seen. What's more is that they provide the highest quality and most consistent images to back up their claims so it makes me very comfortable when evaluating their diamonds for you.
I do wish their return policy was slightly longer, as 21-days can go by really quickly. I would also like to see them implement 360-degree video. A video is very useful for evaluating inclusions and diamond color, and you can also get a good idea of how much theses diamonds sparkle.
If you're thinking about getting custom jewelry made by Victor Canera, then getting a loose diamond from him is a no brainer. I always recommend that you get the diamond from where you have it set because if anything happens to the diamond as it is being set, then it becomes the jeweler's responsibility and not yours.
A Victor Canera diamond ring is a unique treasure that will last for generations so if you're looking for the ultimate heirloom or an engagement ring that will blow everything else away, then I highly recommend getting a diamond from Victor Canera where you will be guaranteed a super-ideal hearts and arrows diamond for your custom-made, hand-forged piece of jewelry.
---
Victor Canera
scores
5
out of 5 stars in this review by
Vincent Chan
---